VISITS TO GERMAN NURSERIES: CONIFERS AND OTHERS
In January and February, you can walk in the winter gardens.
There are regularly marcescent fruit trees, such as some plum or ornamental apple trees; barked trees or shrubs such as birch, dogwood, maple; dried flowering plants, such as hydrangeas, grasses or certain perennials; but also evergreens whose coniferous trees carve out a variety of colors and textures.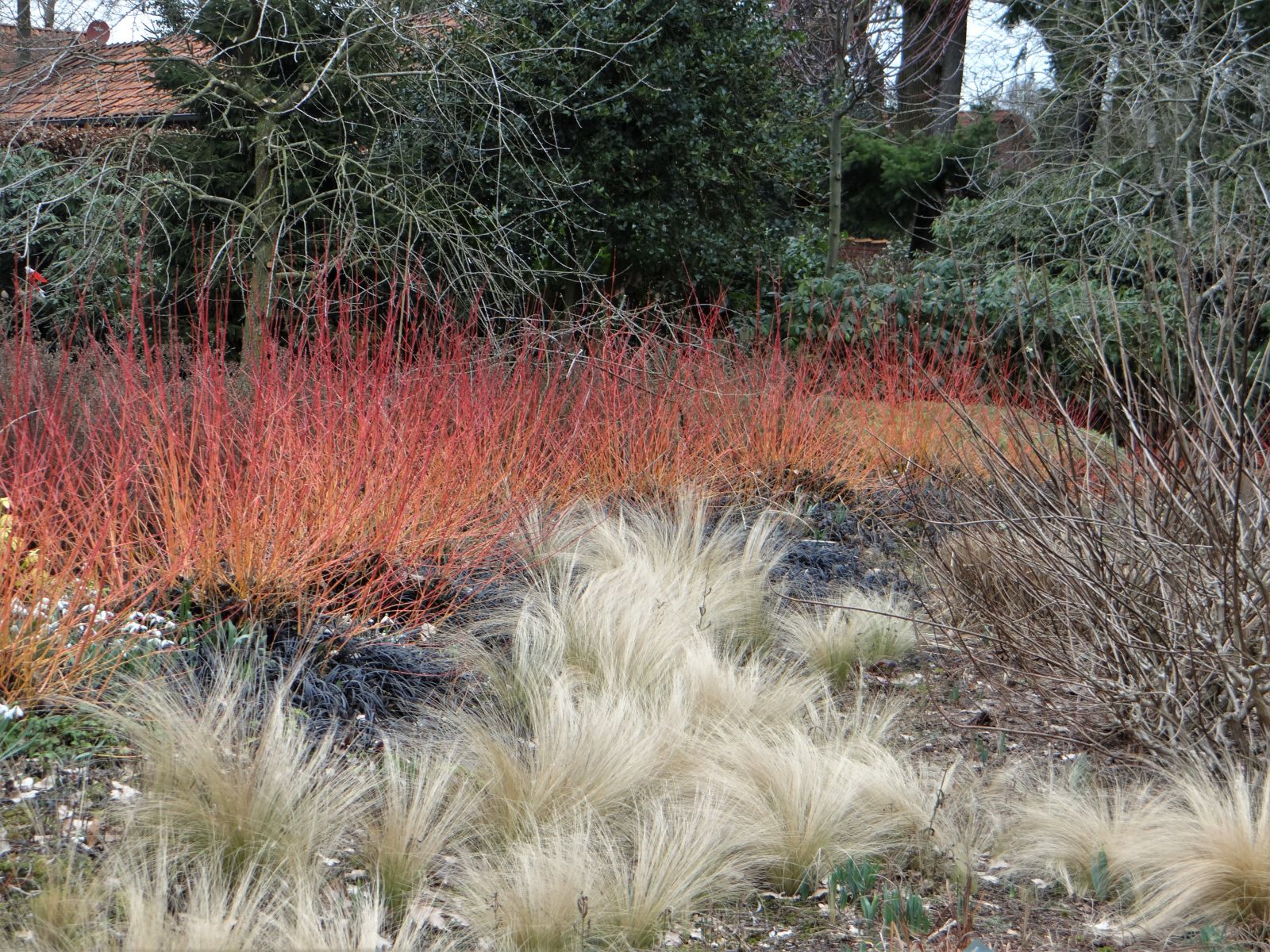 Zu Jeddeloh nursery Pinetum
If many plants display their major advantage in the off season, conifers are revealed. Landscape architects, they carry the garden by structuring it. In high season, they disappear behind the beautiful plants, the abundant flowers, the lush colors. They offer homogeneous, sometimes dark backgrounds and highlight the stars of the season. However, it would be enough to withdraw them, to fully understand their role. Without them, everything becomes chaos, intermingling; our vision is blurred and everything is mixed.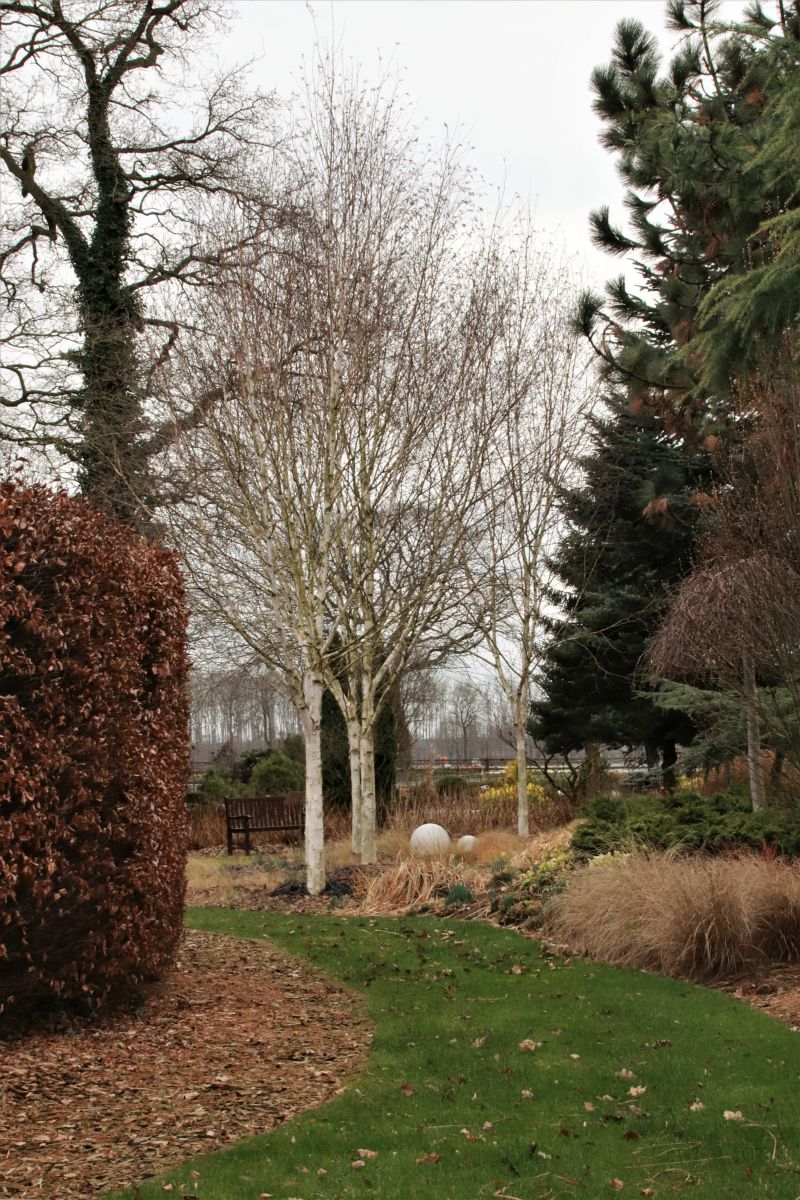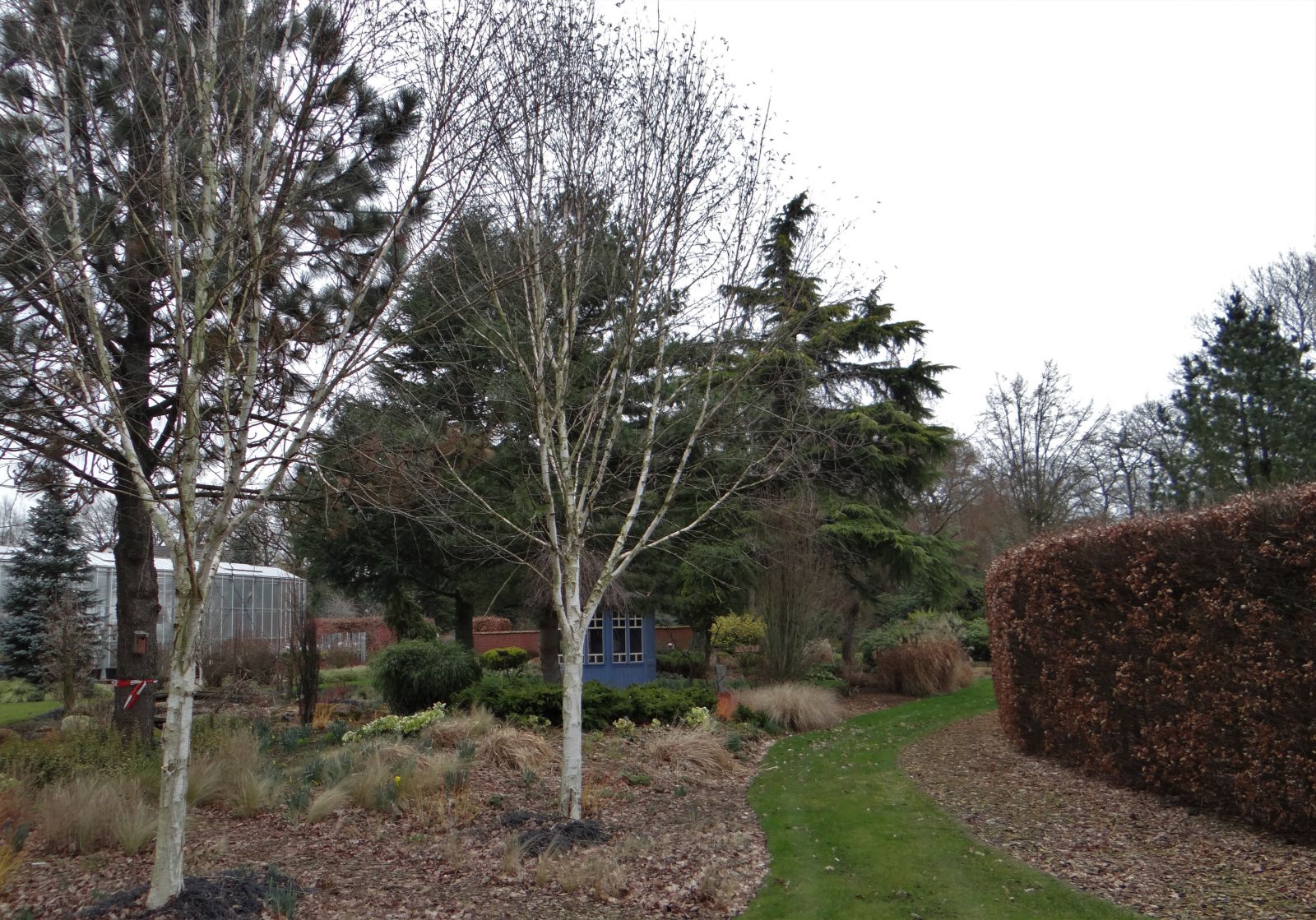 Zu Jeddeloh nursery Pinetum
Once the abundance has been abandoned, the bare trees, the withered flowers, the evergreen trees come alive and reveal their presence: the structure of our gardens. We can foresee it rhythmic, or on the contrary landscaped, but it is in winter that we imagine it best.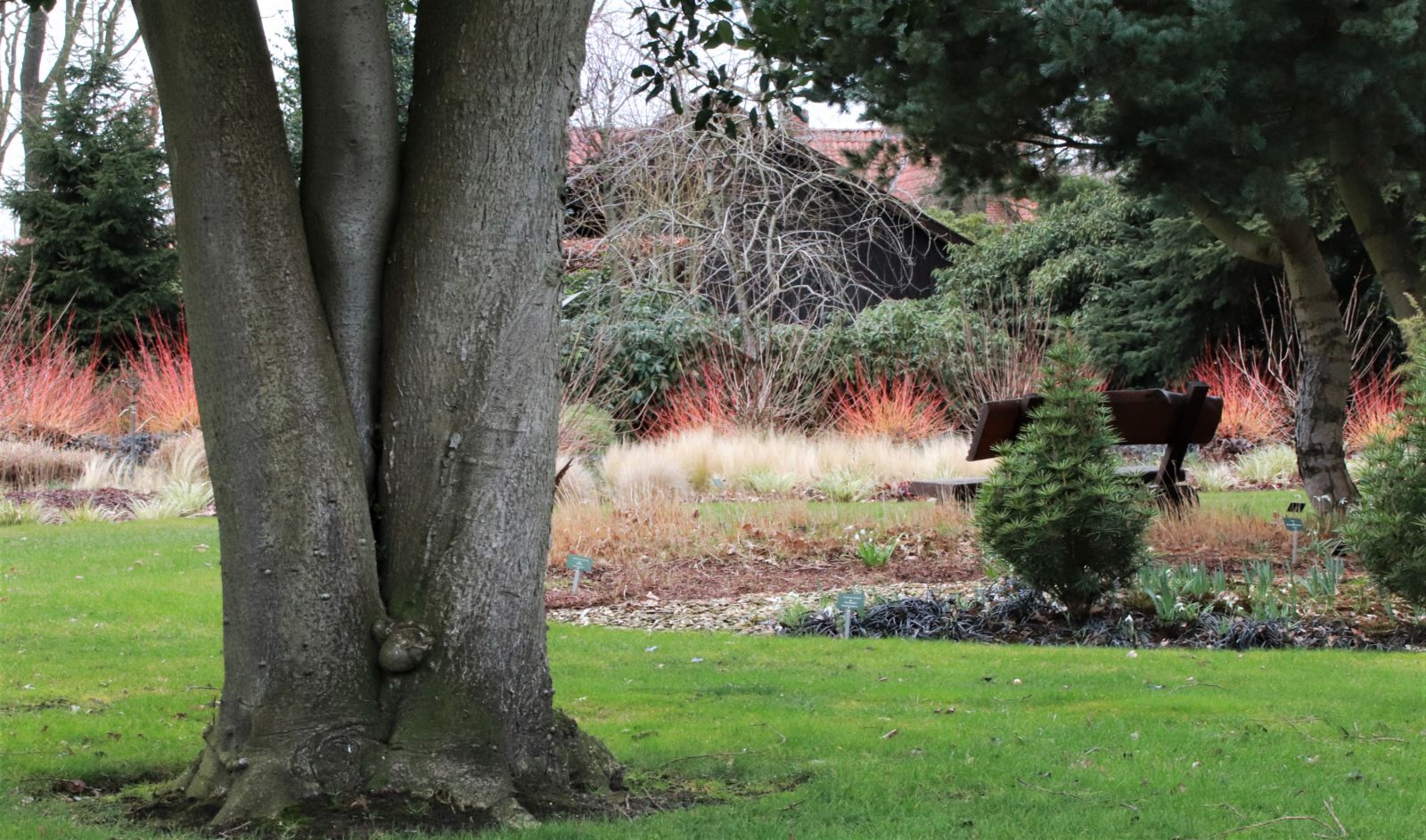 ​
Zu Jeddeloh nursery Pinetum
                                                                                            ***
It is therefore in winter the best season to visit specialized producers. You can see the conifers with their most beautiful dress and therefore make the best choices.
We take you to the north of Germany, a very peaty region, where conifer producers gather.
Arrived in Lower Saxony, the atmosphere is given breathtaking. We are entering a land of culture, that of the dwarves and giants, those that men have tamed and which they play with.
It is also not uncommon to see giants move.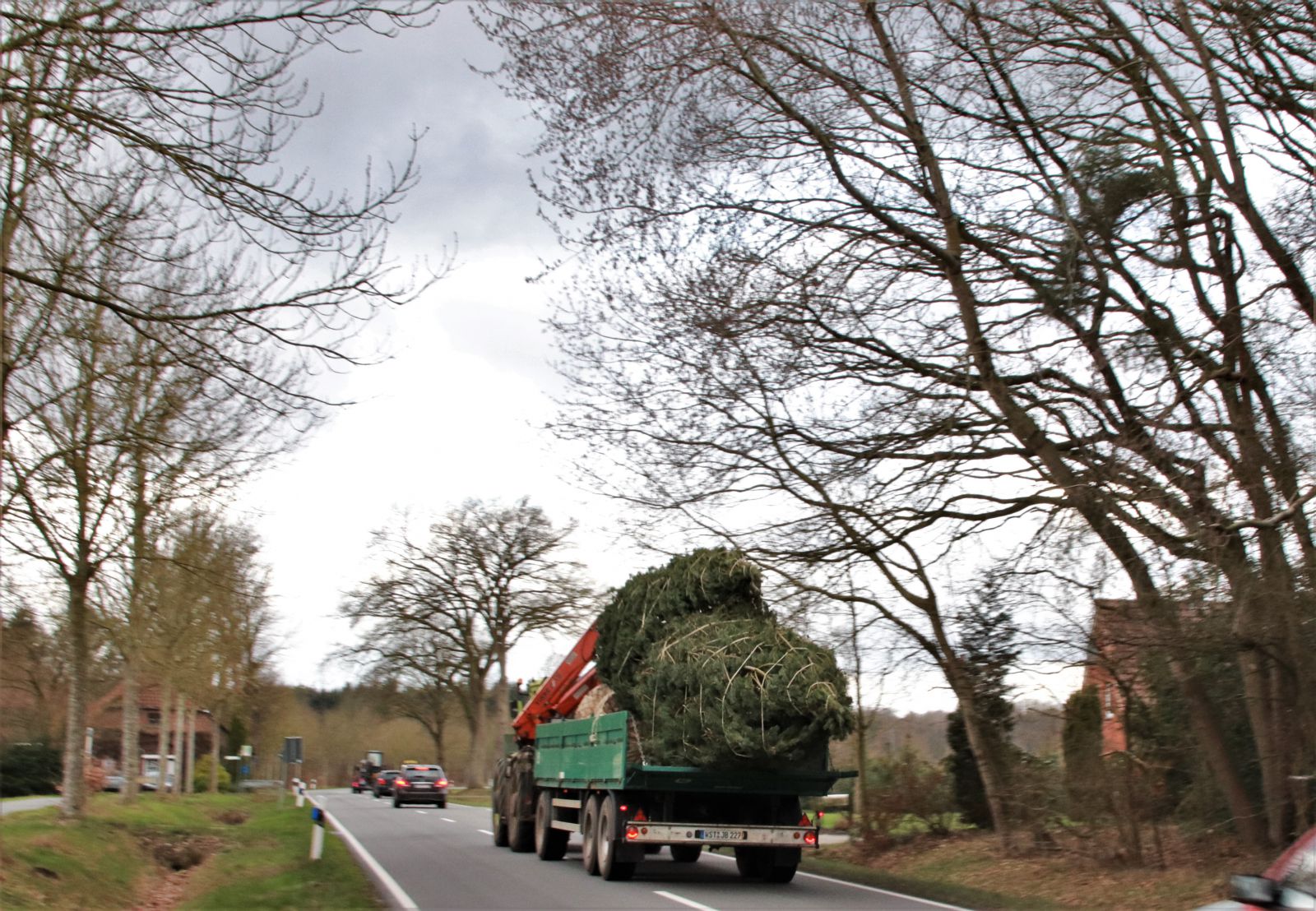 Passionate individuals are also exposed. one thing is certain, here we like conifers. This elegant Picea abies 'Cranstoni' sets the tone.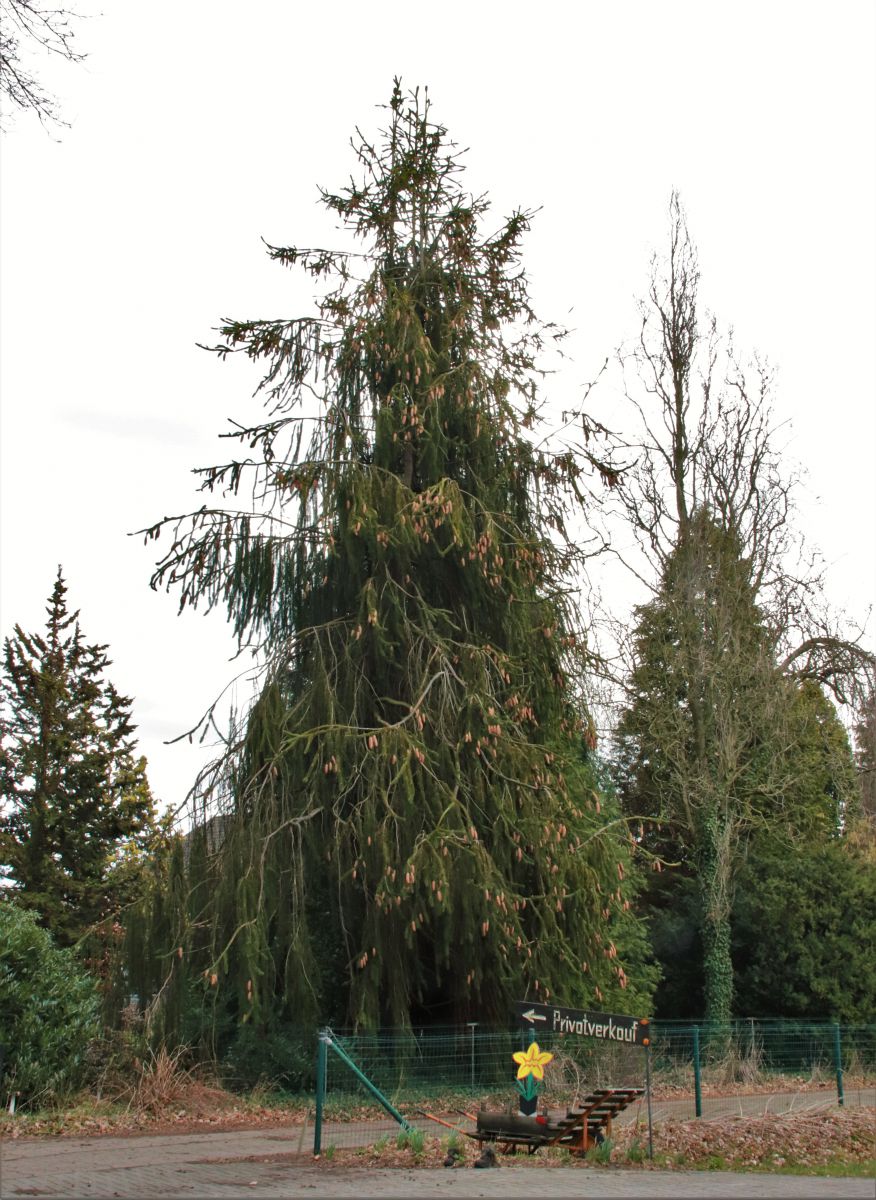 ***
BRUNS

A famous name in the region, and without a doubt the largest nursery in the country, the prestigious Bruns pflanzen nursery. On its 500 ha of cultivation, it is well known to landscapers in Europe. It forms trees, very large subjects, to perfection; the oldest are 50 years old. Also the landscape is punctuated by large areas dedicated to this somewhat special breeding.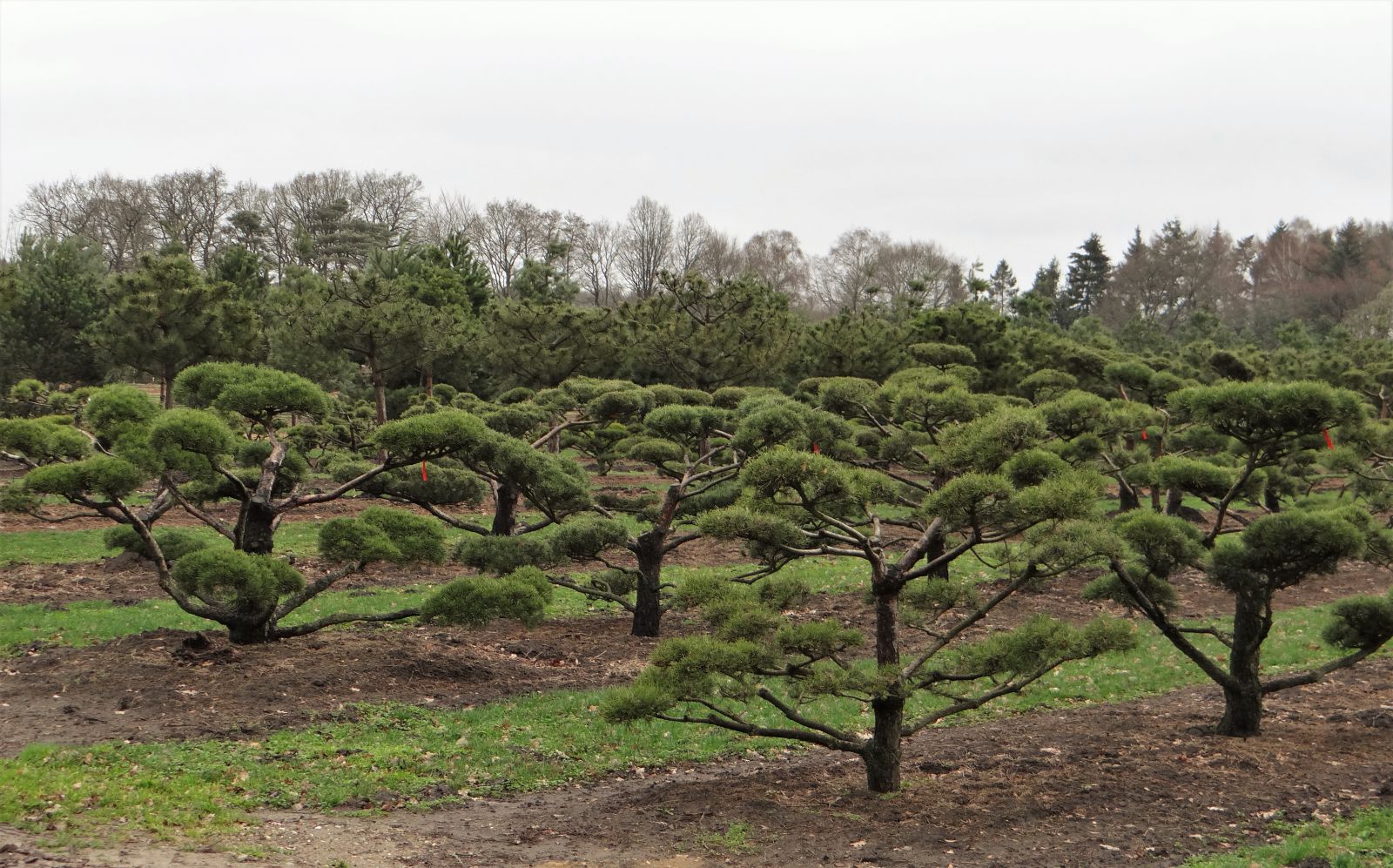 ***
In reality, we are in the region, looking for Sciadopitys and the fathers of their varieties. So finally, we will look with an impressed, but more distant, eye on all these gigantic cultures.
WITTBOLDT-MÜLLER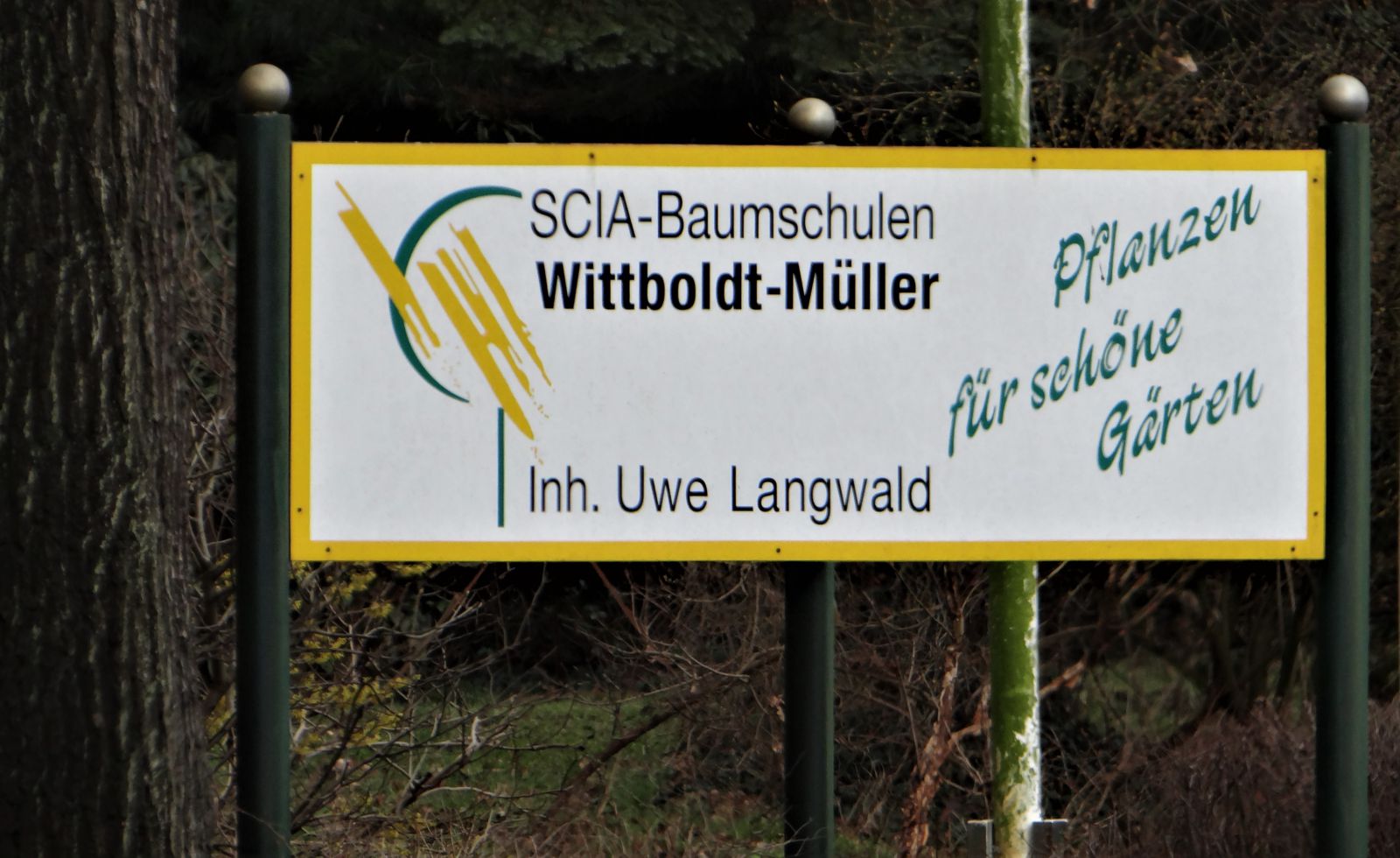 More than 50 years ago, the WITTBOLDT-MÜLLER nursery was the seat of research in conifer hybridization. Kurt, the founder, who died in 2017 at the age of 86, leaves behind an impressive number of cultivars, launching the German craze for Japanese umbrella pines.
One of Kurt's flagship plants is the Abies nordmanniana. One can admire, in the forest that has become the nursery, very beautiful specimen.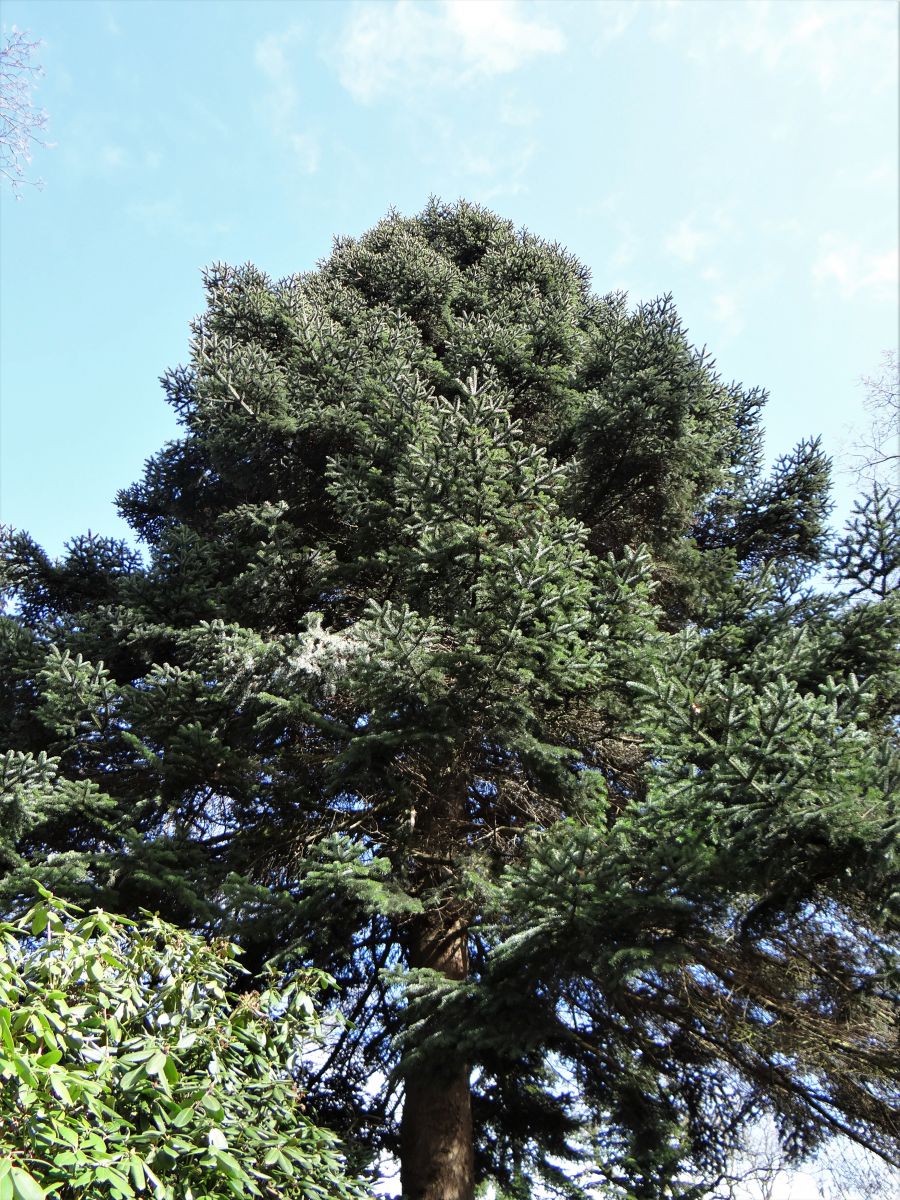 Uwe Langwald, Kurt's loyal gardener, continues to plant seedlings to find a possible new nugget today.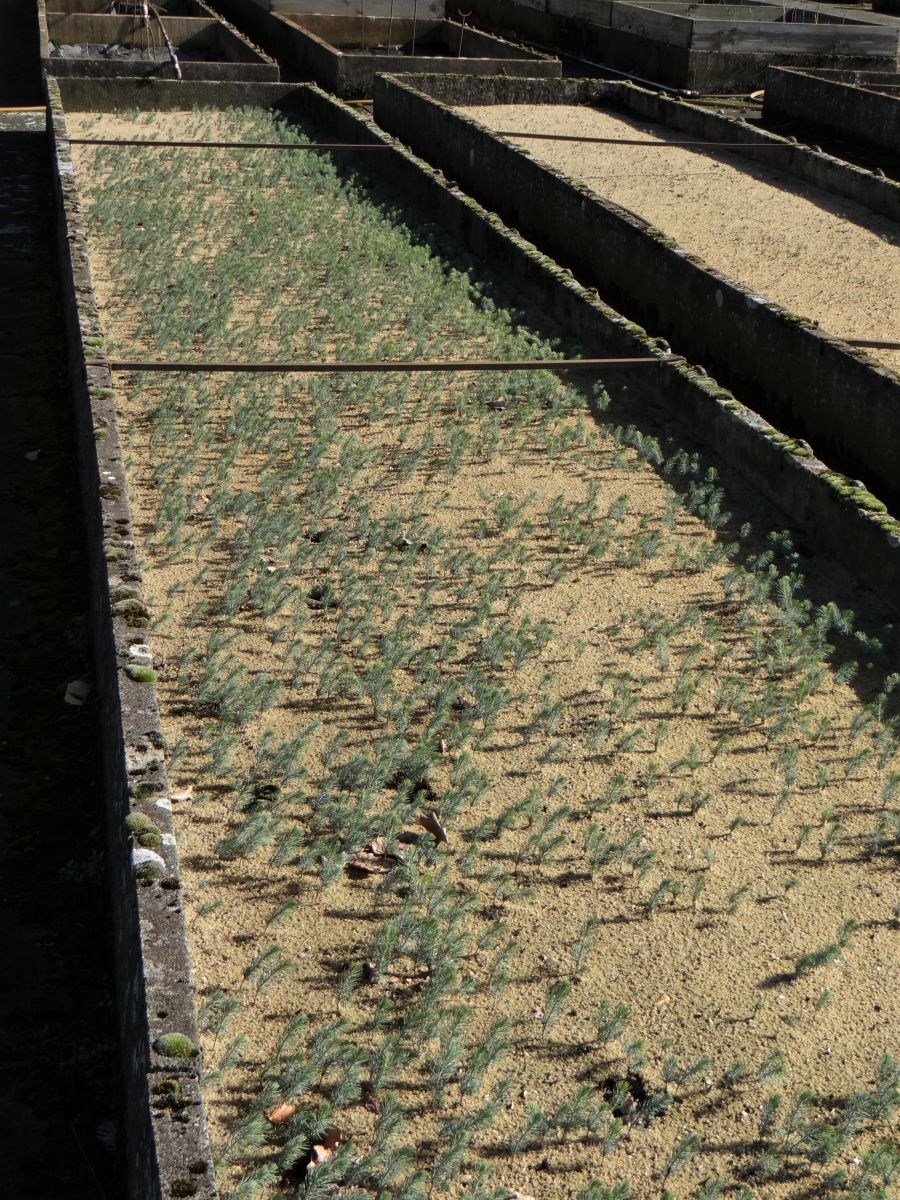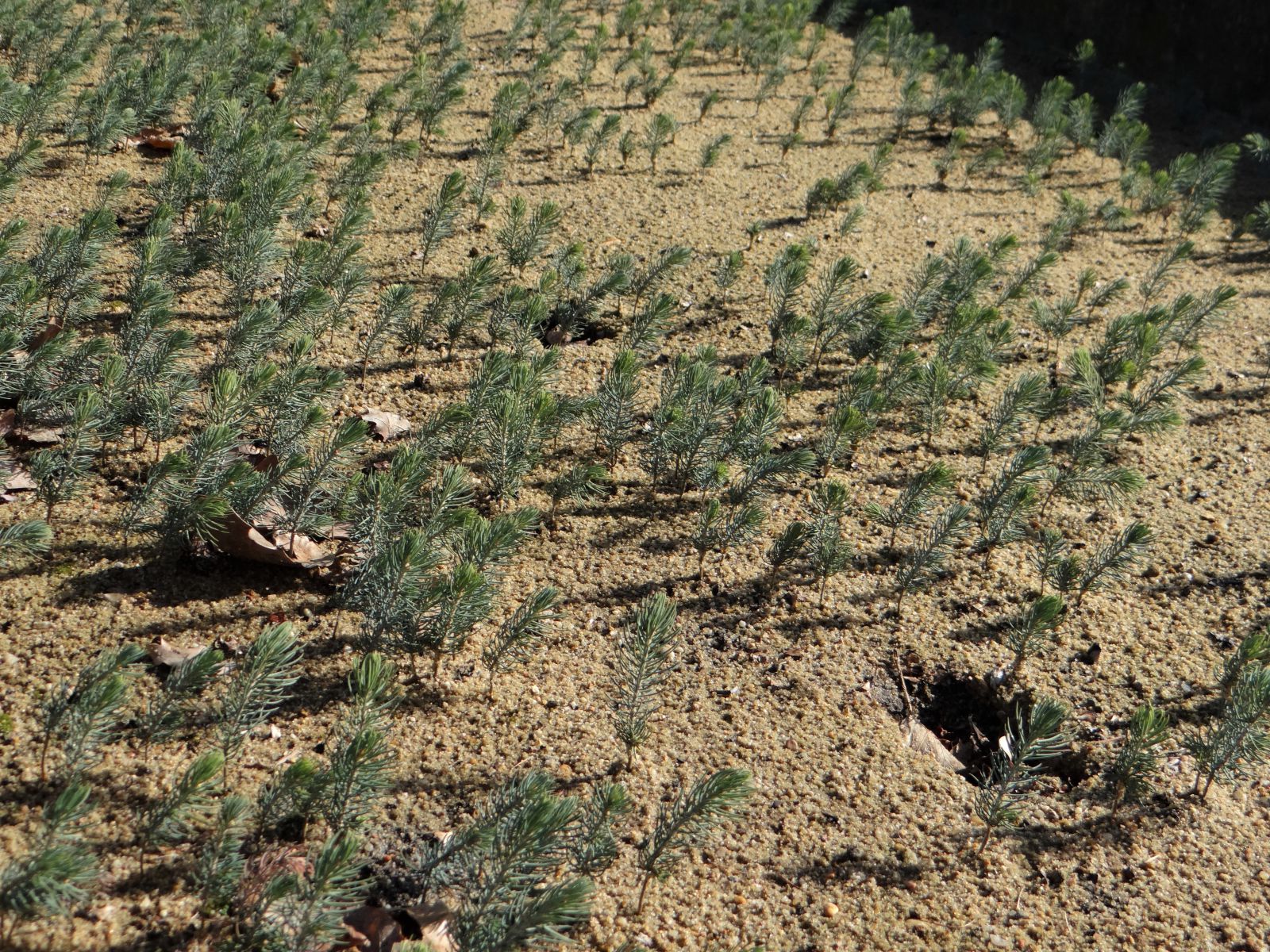 The Sciadopitys.
Over the years, the nursery obtains a large number of varieties: 'Gold Star', 'Goldammer', 'Goldmähne' or even 'Golden Rush' for the yellow ones, 'Feuerwerk', 'Grüne Kugel', 'Megaschirm', ' Shorty ',' Speerspitze 'to name a few.
Uwe takes us through the woods.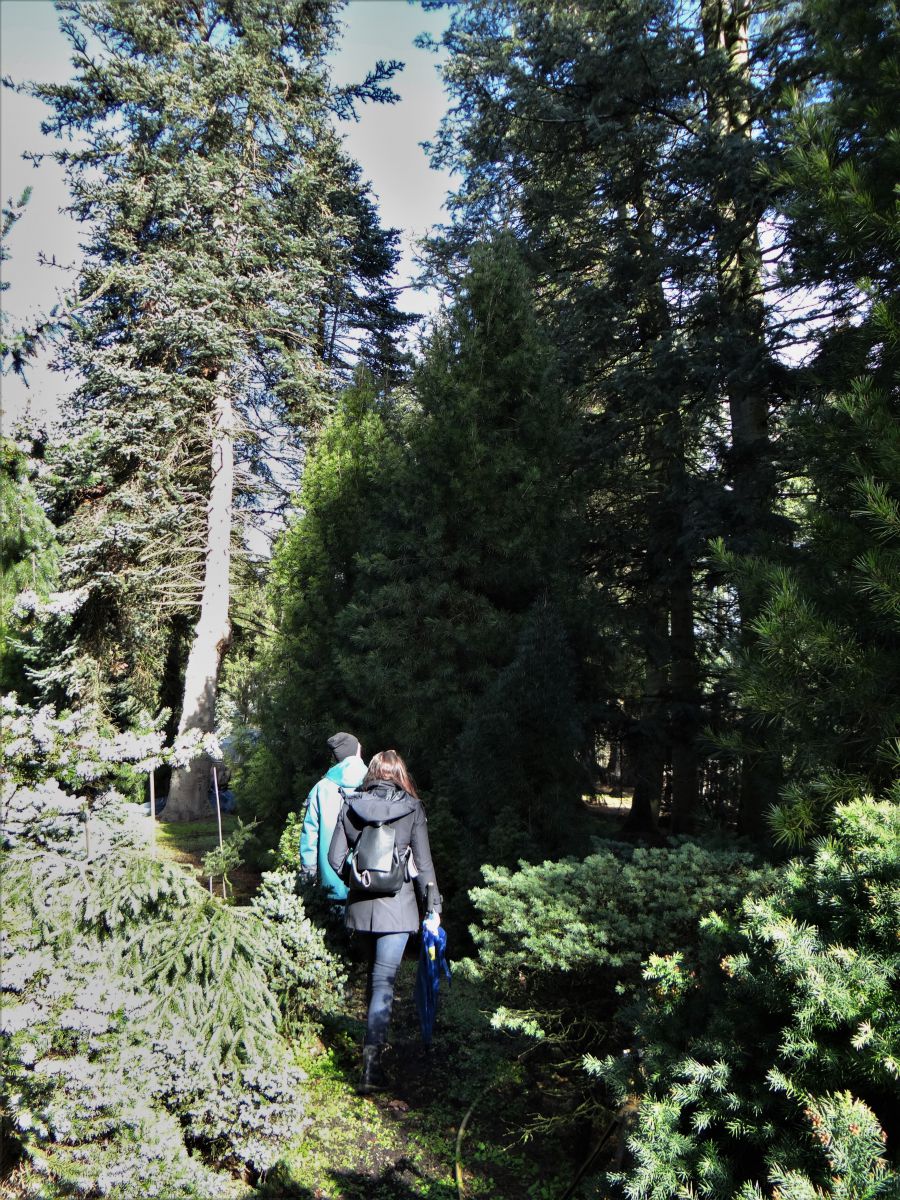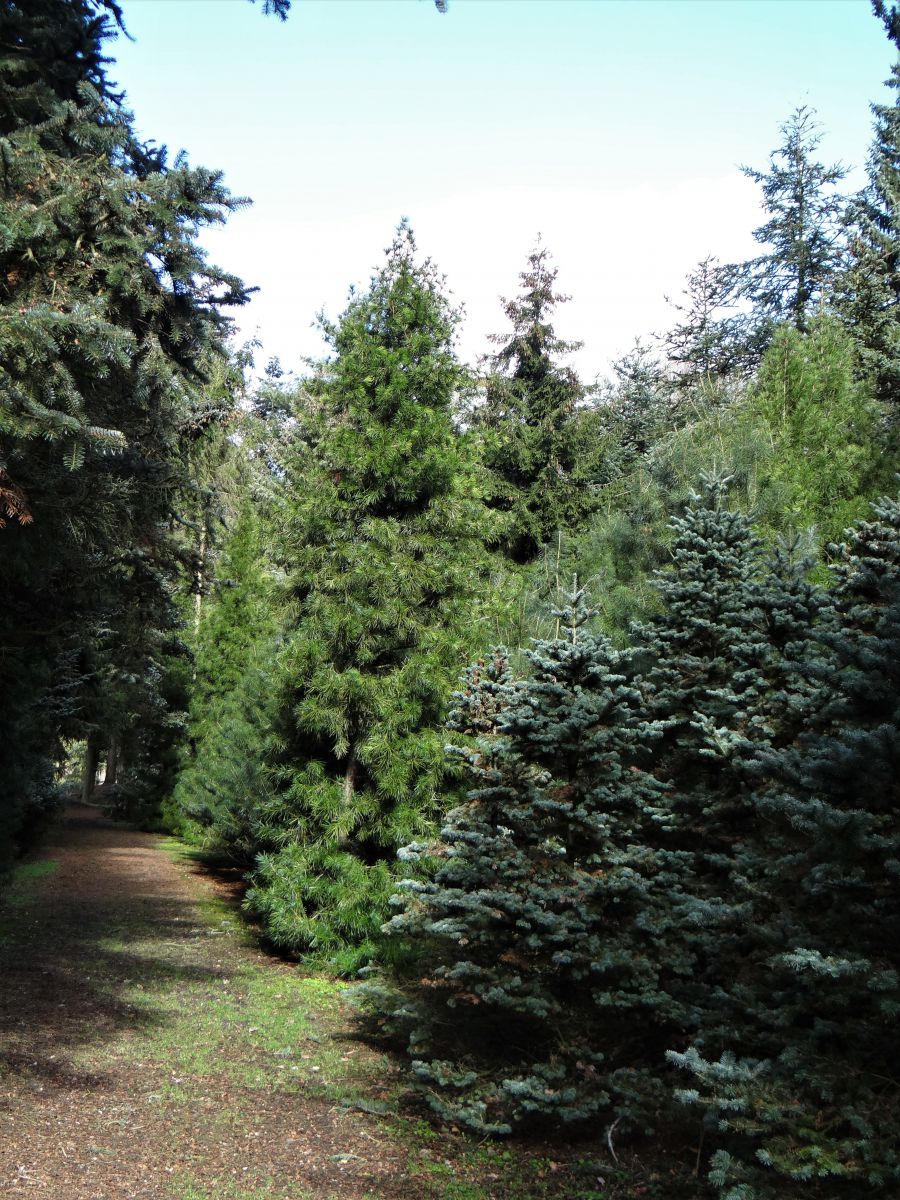 We will not see any variety or mother plant. We are impressed by the quantity of Sciadopitys still under observation. By next year Uwe will retire, and hardly anyone in Kurt's family is really interested in this priceless treasure. What will they become?
Uwe is not stingy and takes us to see the alignment of Cathaya argyrophylla, well known to all seasoned collectors. These are rare examples in Europe, brought back as young plants from China by Kurt. Many nurserymen, including Kurt, have tried to multiply them, without much success. cutting, grafting on any type of stem, sowing, nothing to do, everything was doomed to failure. Even the most gifted among us have failed.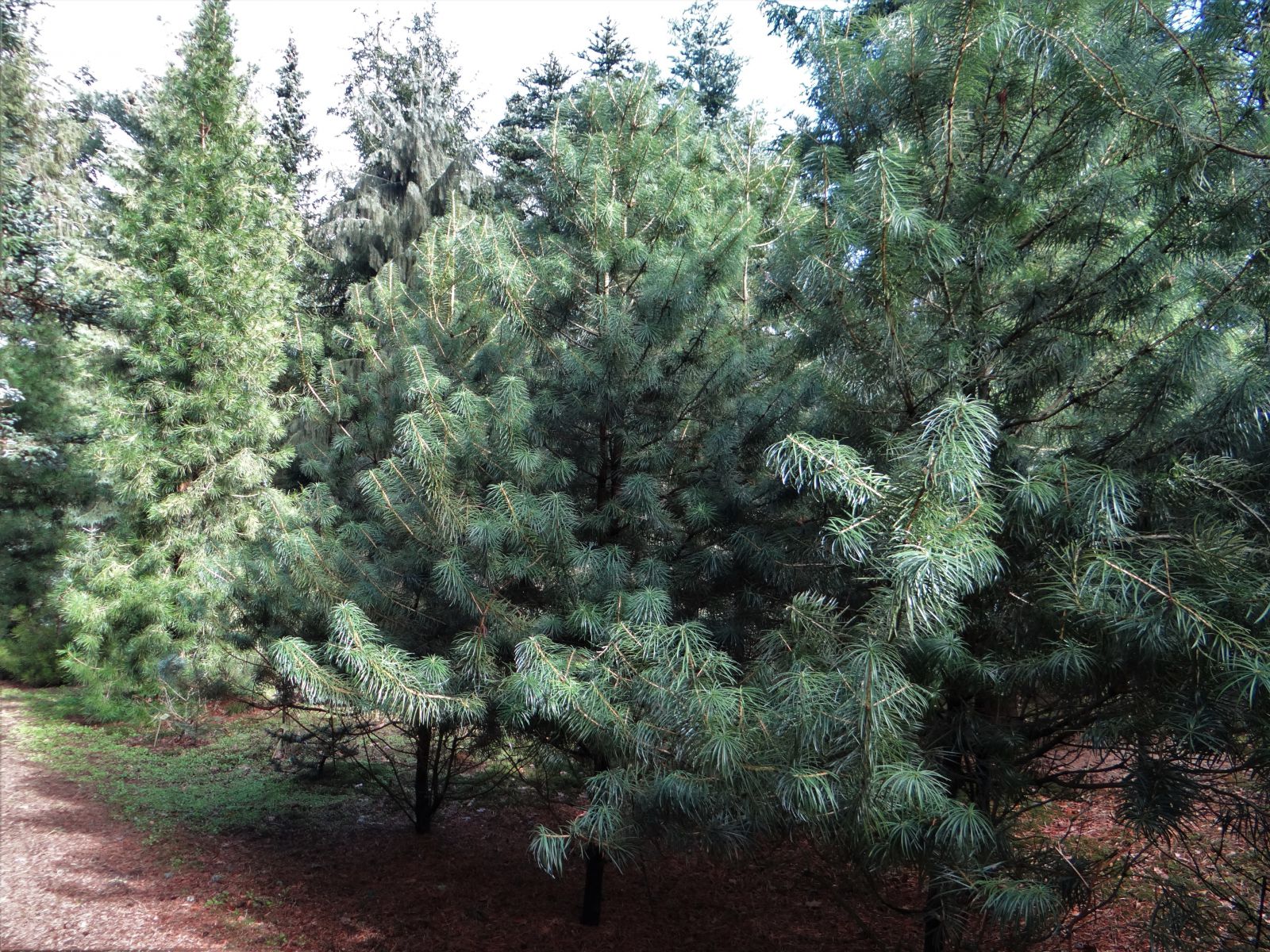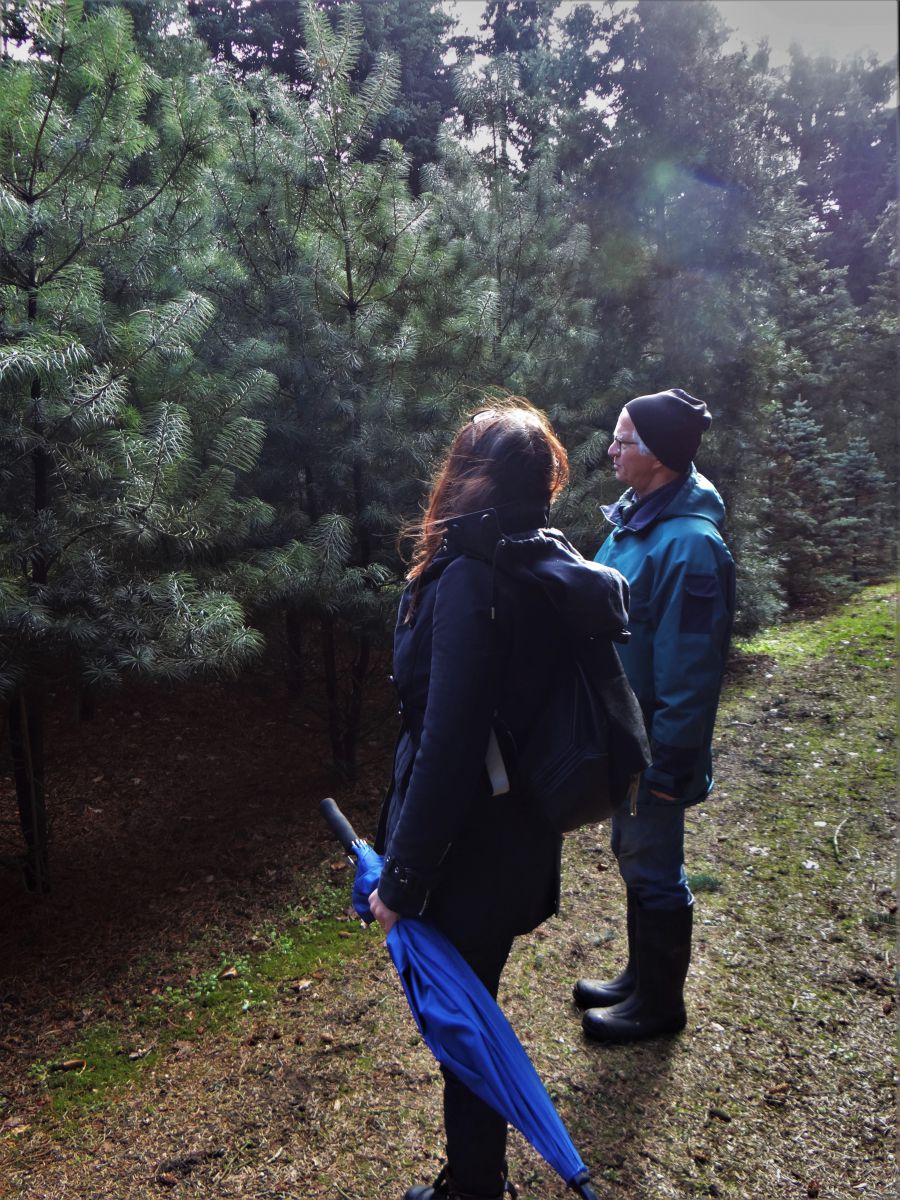 At the end of the walk, we collect a few feet of young plants, carefully selected by Uwe.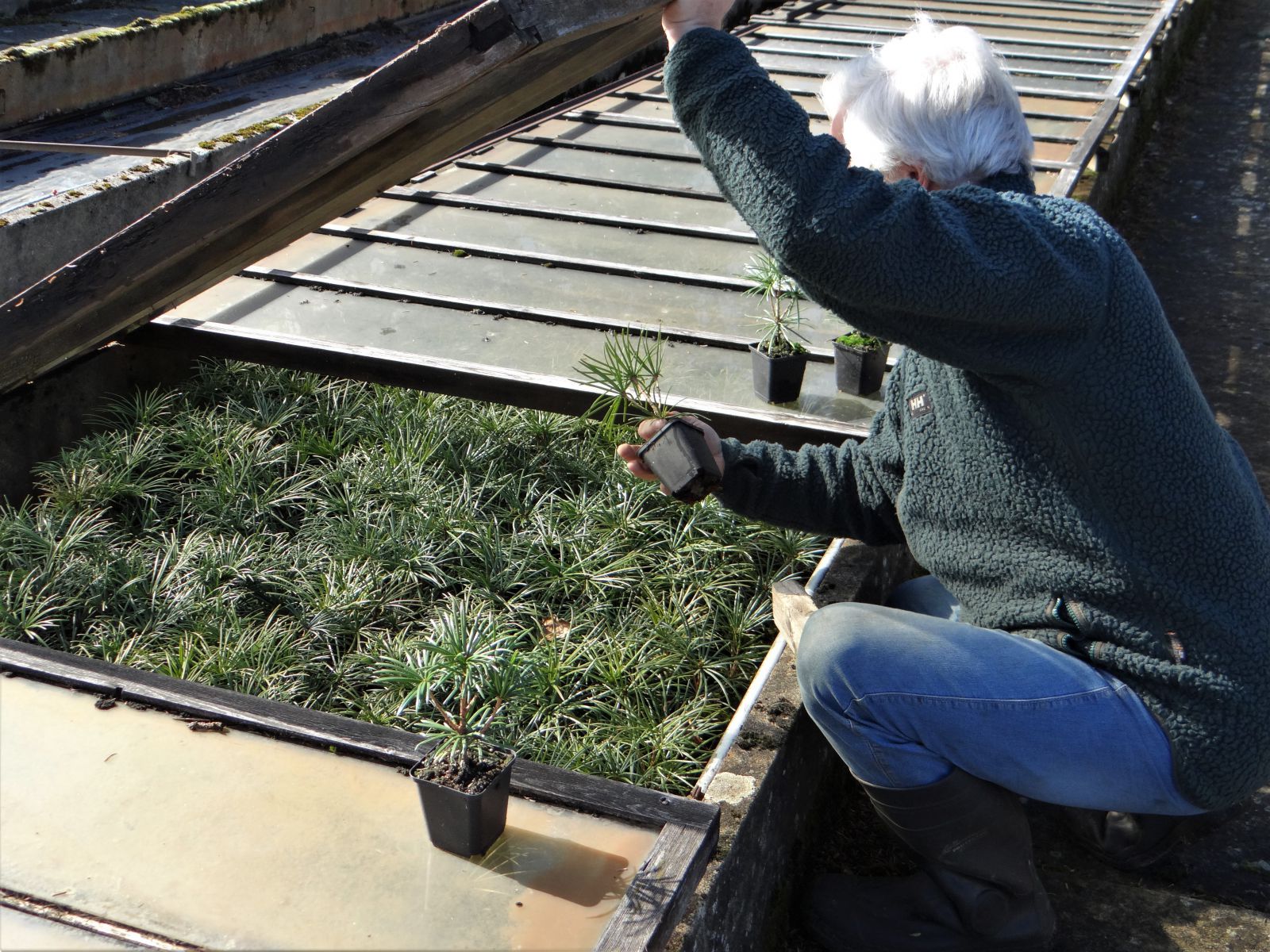 It's time to leave and load the trailer.
                                                                                            ***
CARSTENS
The passion of the Sciadopitys is not, however, extinguished in the North of Germany. Andre and Swenja Carstens have been pursuing the family passion with more diligence since 1954.
The decor is set, from our arrival, with this crowning of Pinus mugo 'Carstens Wintergold', a dwarf and intense lemon yellow variety in winter. these small golden cushions are of the most beautiful effect in this rather gray season. We specify that these pines are pinched every season, in order to stay really low. Normally they can reach 1m high easily. This technique is common and much appreciated in Germany. many plants sold in nurseries are thus preformed, one of the symbols of quality or of the German personality.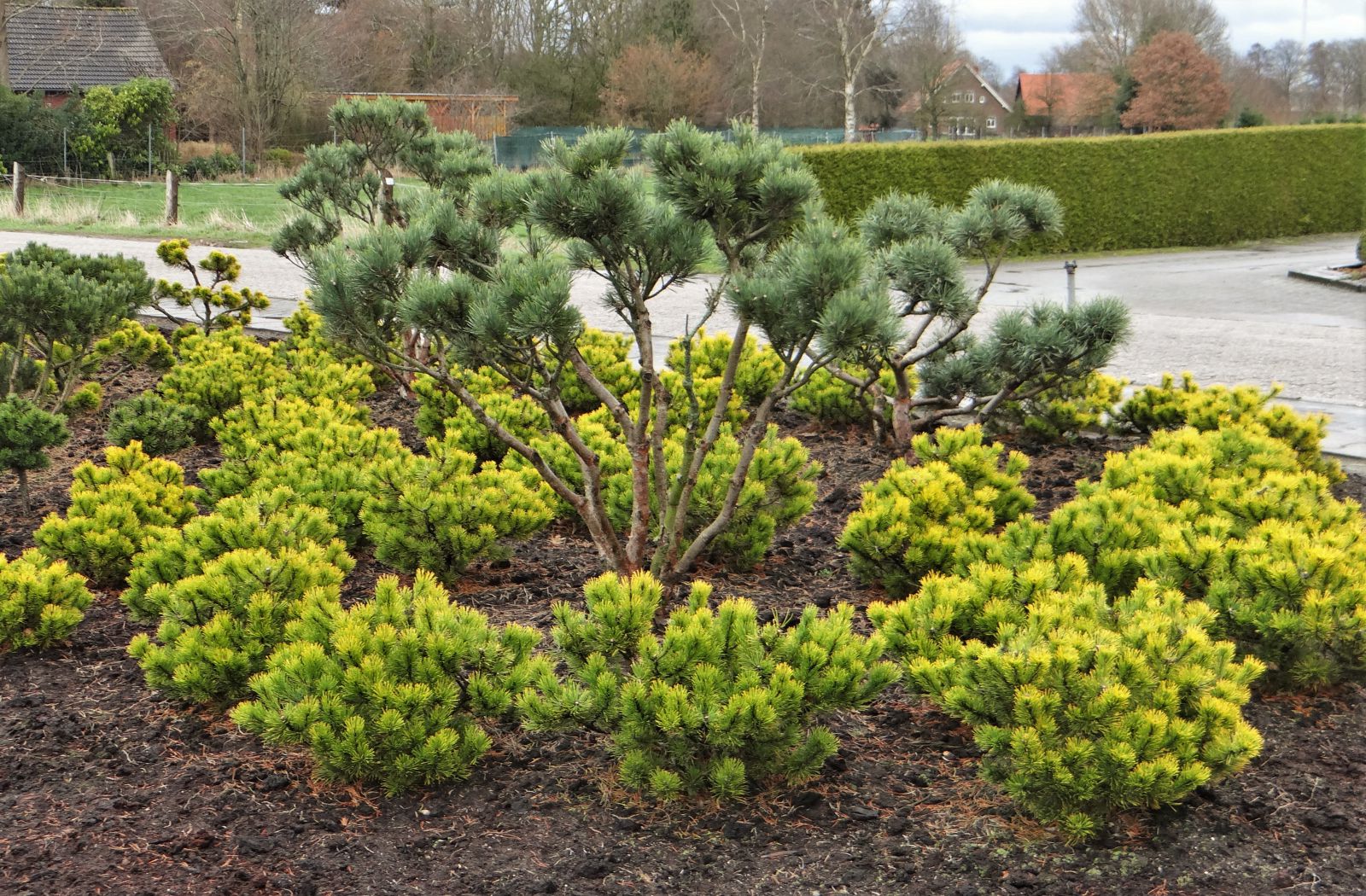 We find colorful flowerbeds. The plants stand out well on these dark lands.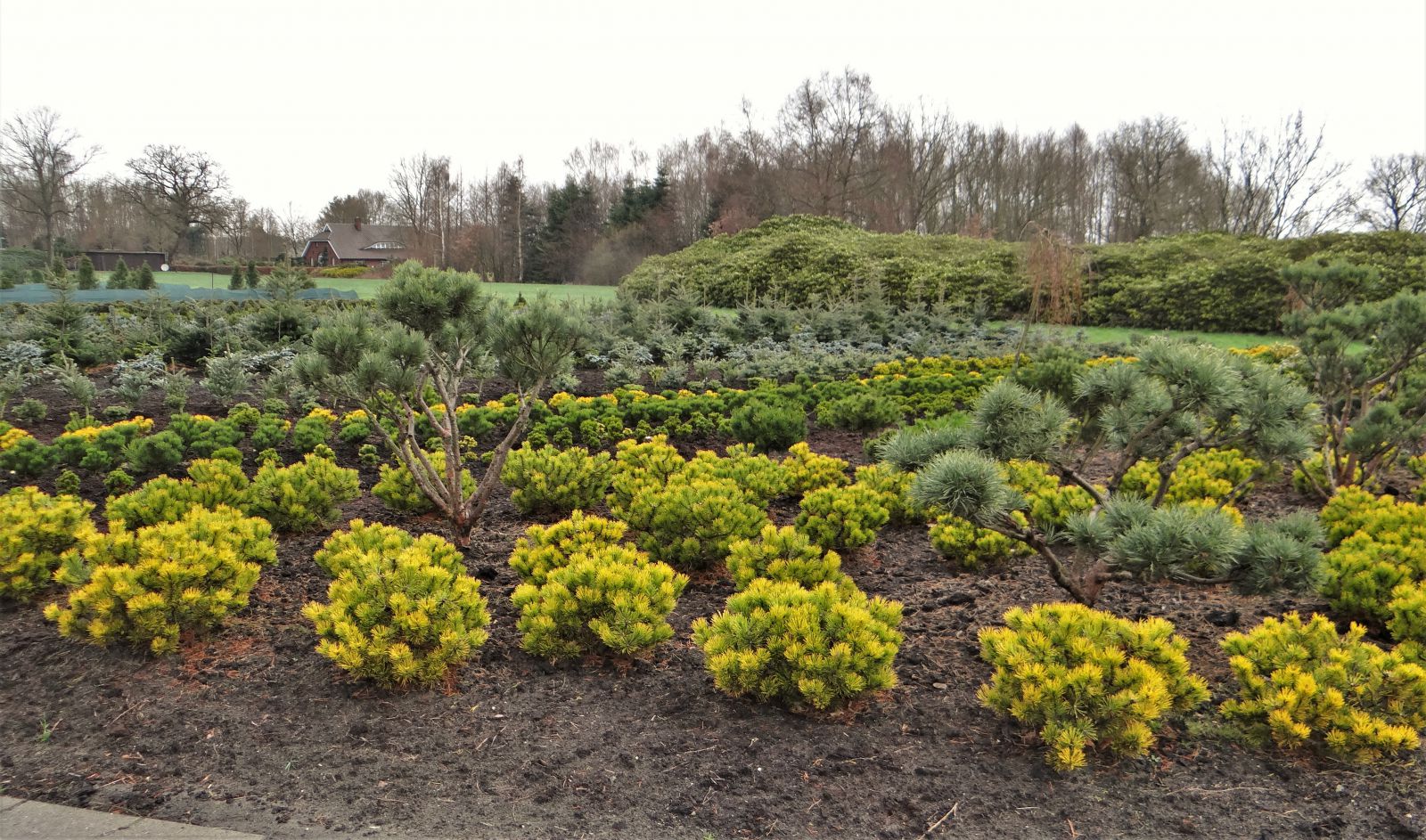 Andre is the breeder of varieties well known in the coniferous kingdom:
Pinus mugo 'Varella', Abies balsamea 'Piccolo', undoubtedly a safe bet among rock conifers, Taxus baccata 'Carstens Summer Gold', Taxus baccata 'Micro', one of the smallest columnar yew trees that exist.
And for Sciadopitys, we can name 'Beauty Green', 'Big Green', 'Twister', 'Golden Flash', and the most recent and medalist 'Kobito'. We cannot forget the spectacular 'Schneekönigin' and 'Carstens', which become totally cream in winter.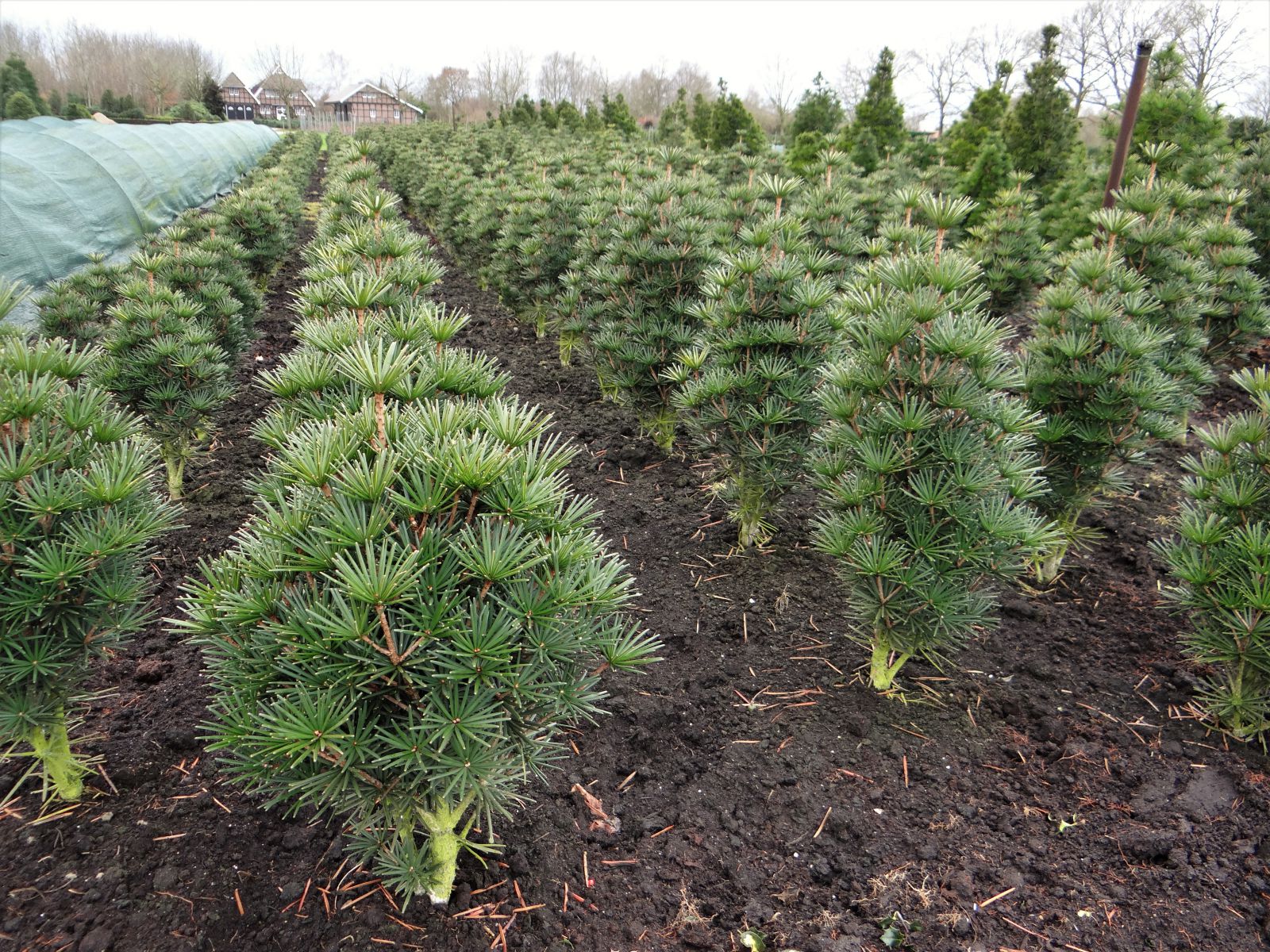 ***
E.A. STÖCKMANN
We change the register slightly and go to E.A. STÖCKMANN to collect our order. It is located just opposite Ernst Stöckmann, our specialist in Rhodos and Kalmia. It is true that this peat land is ideal for this type of culture.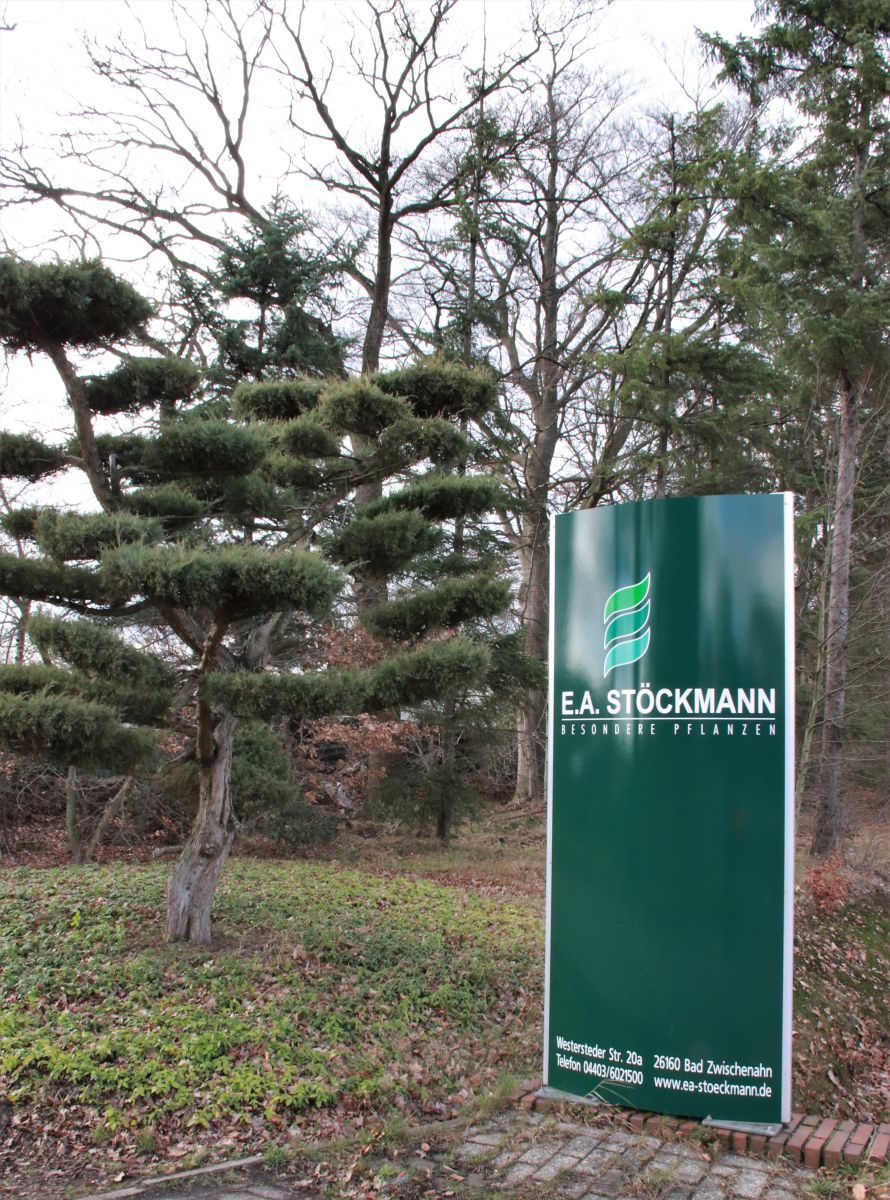 Besides some very interesting selections of conifers, this nursery is also specialized in topiary, or bonsais, or more simply said, preformed plants.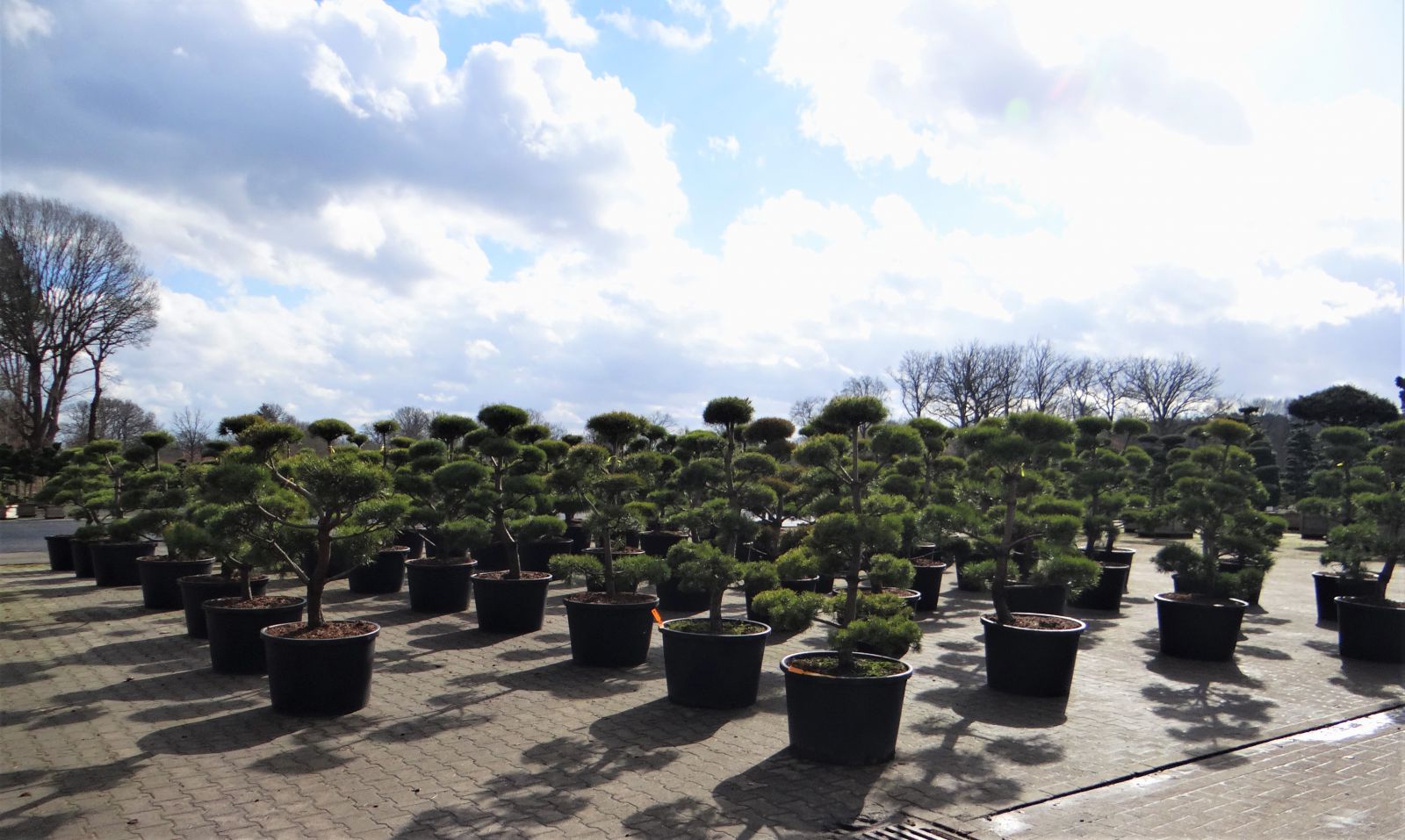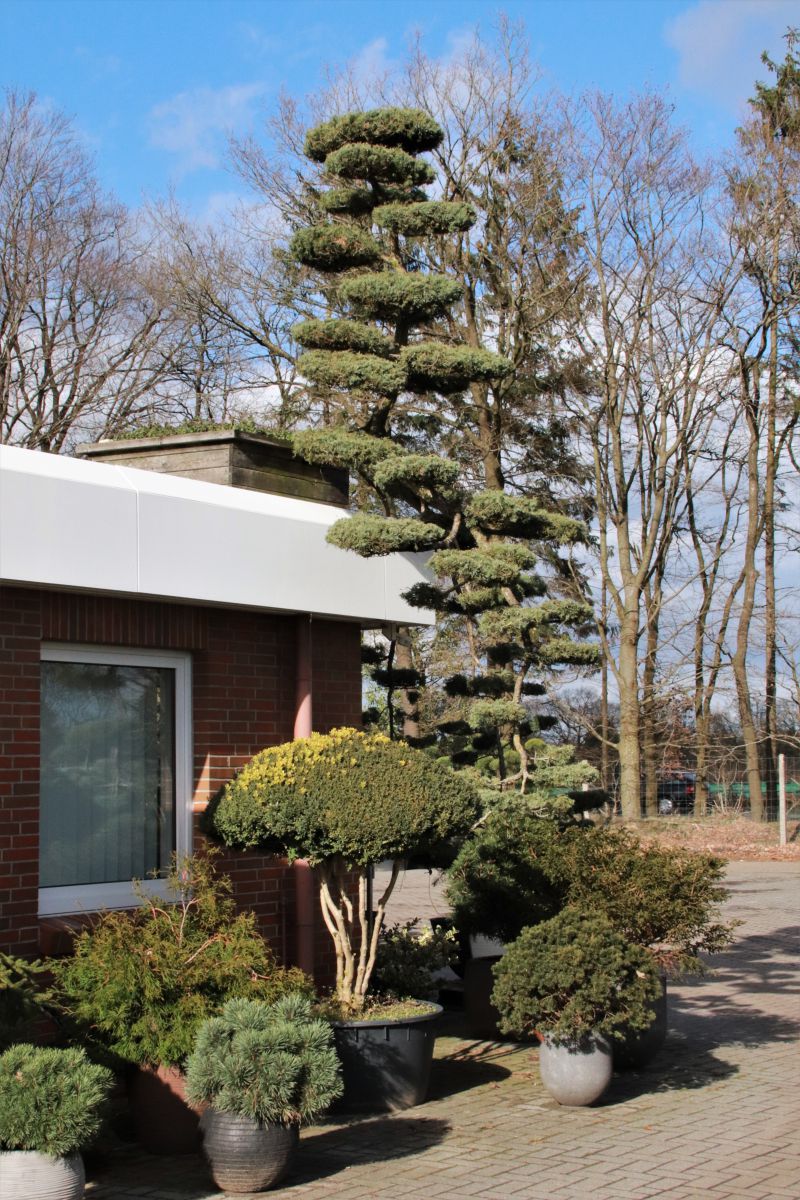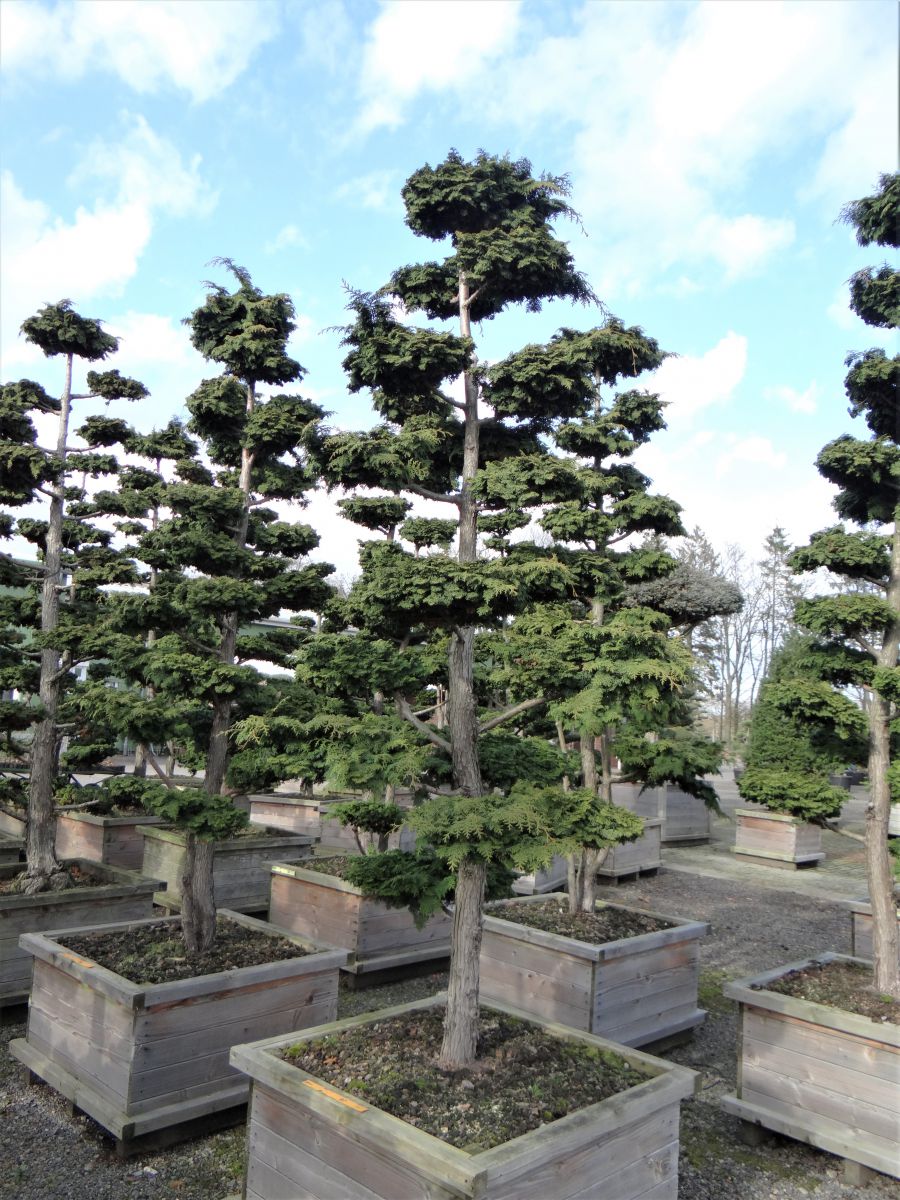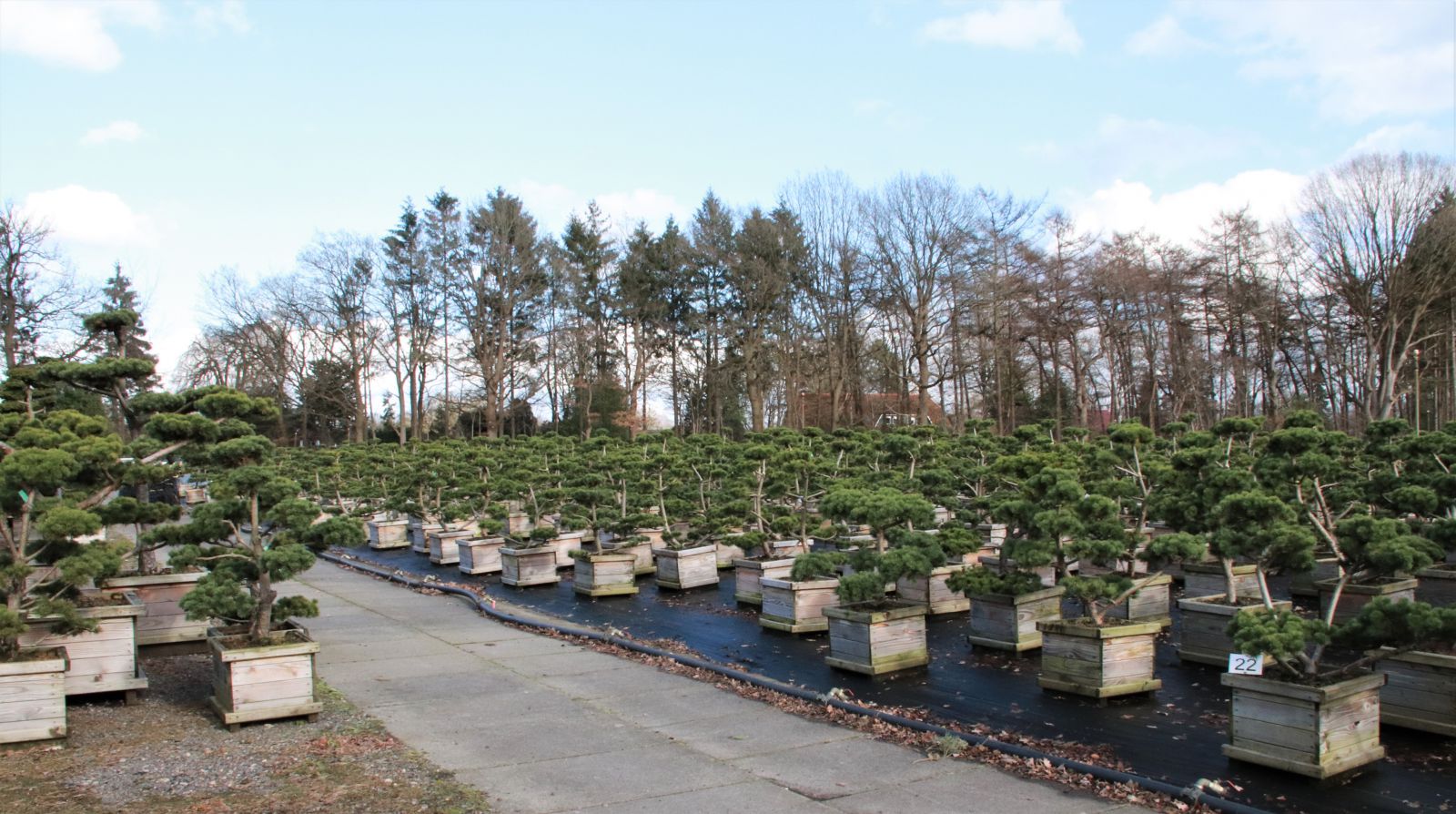 But also miniature hardwoods.
Fagus, Tilia, Ginkgo, Hamamelis, ... all in different forms, like these Fagus sylvatica 'Sandrode' cut into cones, with the advantage of marcescent foliage: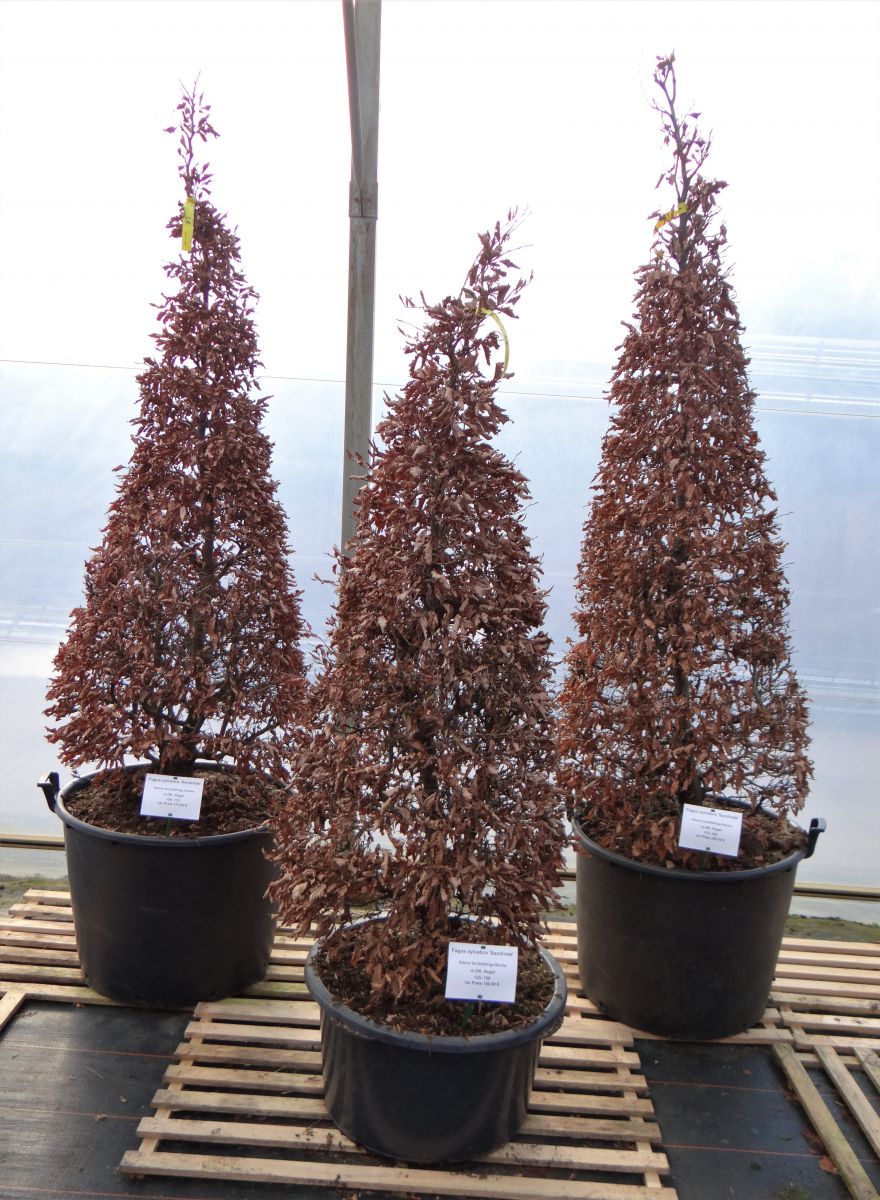 Our favorites in conifers: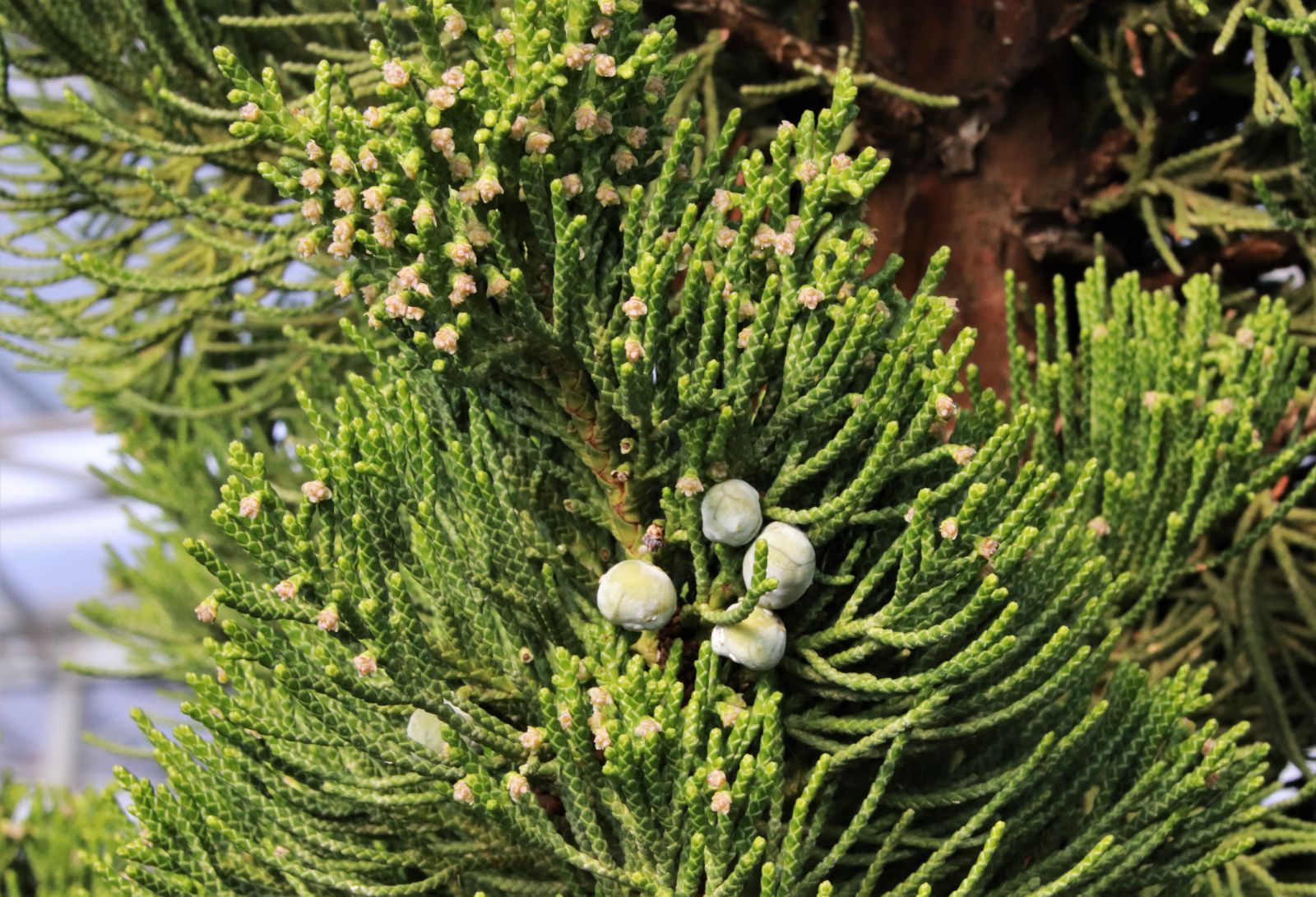 A very beautiful subject, very graphic, of Juniperus chinensis 'Kaizuka'. Its flexible and well branched foliage in slender, spiral plumes gives a nice visual effect on this tortured trunk.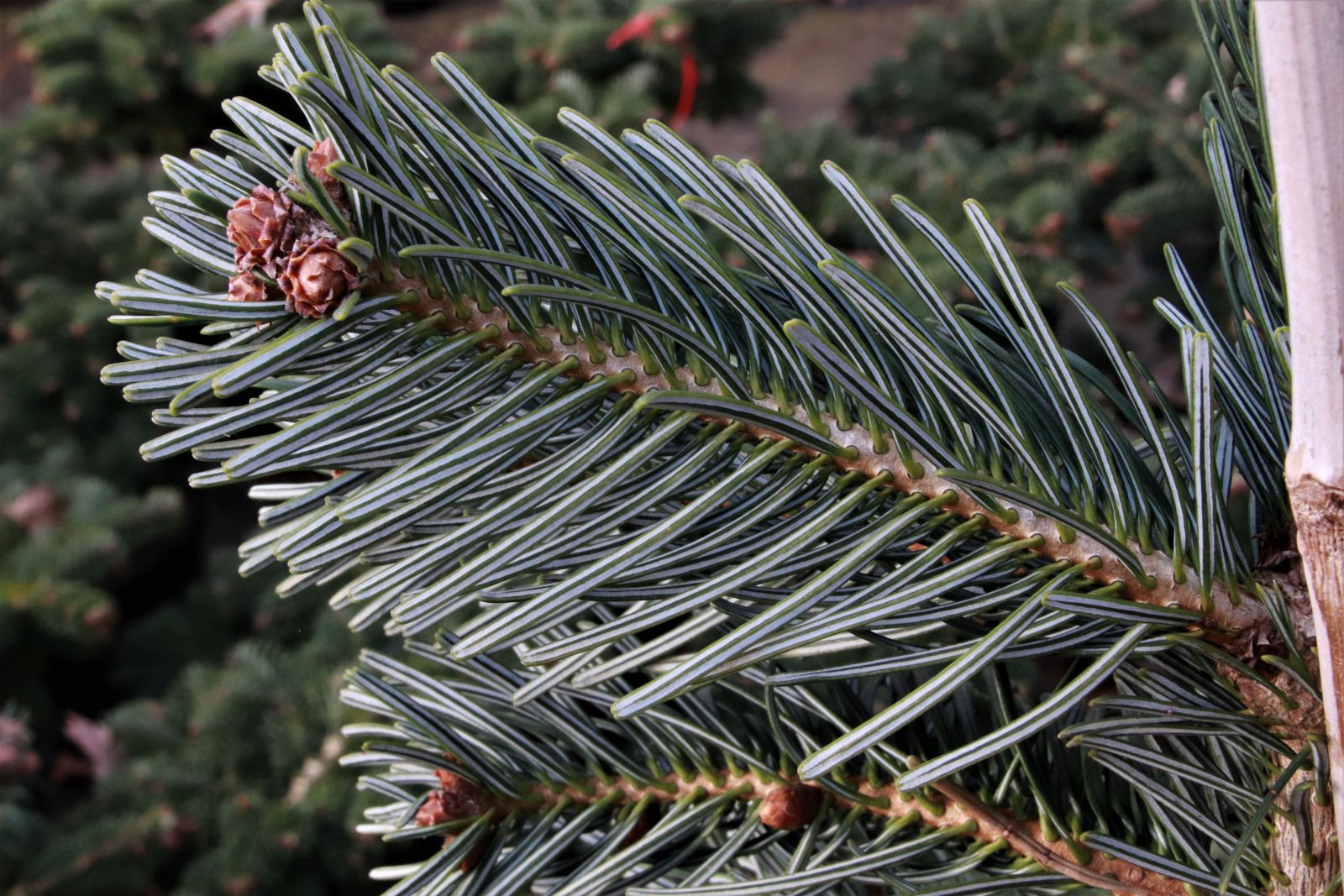 Here is one that will get bigger, but with its thick, nuanced needles and densely implanted on thick, straight branches. It is a very original variety to plant in medium-sized gardens.
Abies nordmanniana 'Robusta'​
Here he is grown up in our Florilège gardens, with his beautiful velvet green, lively and dark at the same time: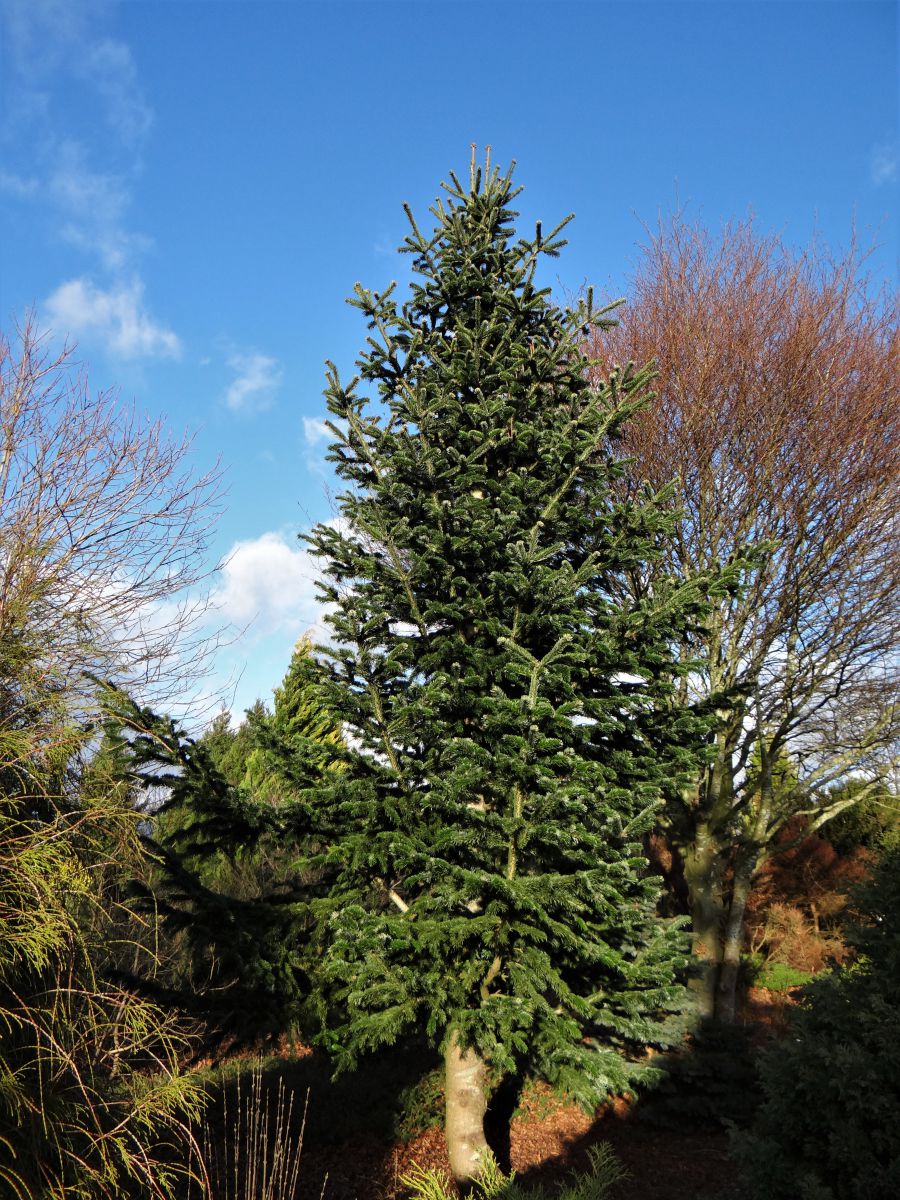 And a variety we didn't know yet, Thuja occidentalis 'Sagrada', whose name is rightly inspired by Gaudi Cathedral. Here is a beautiful variety, ideal for rock gardens. The branches, like those of an art-deco candelabrum, blossom in winter, providing a very attractive additional shade.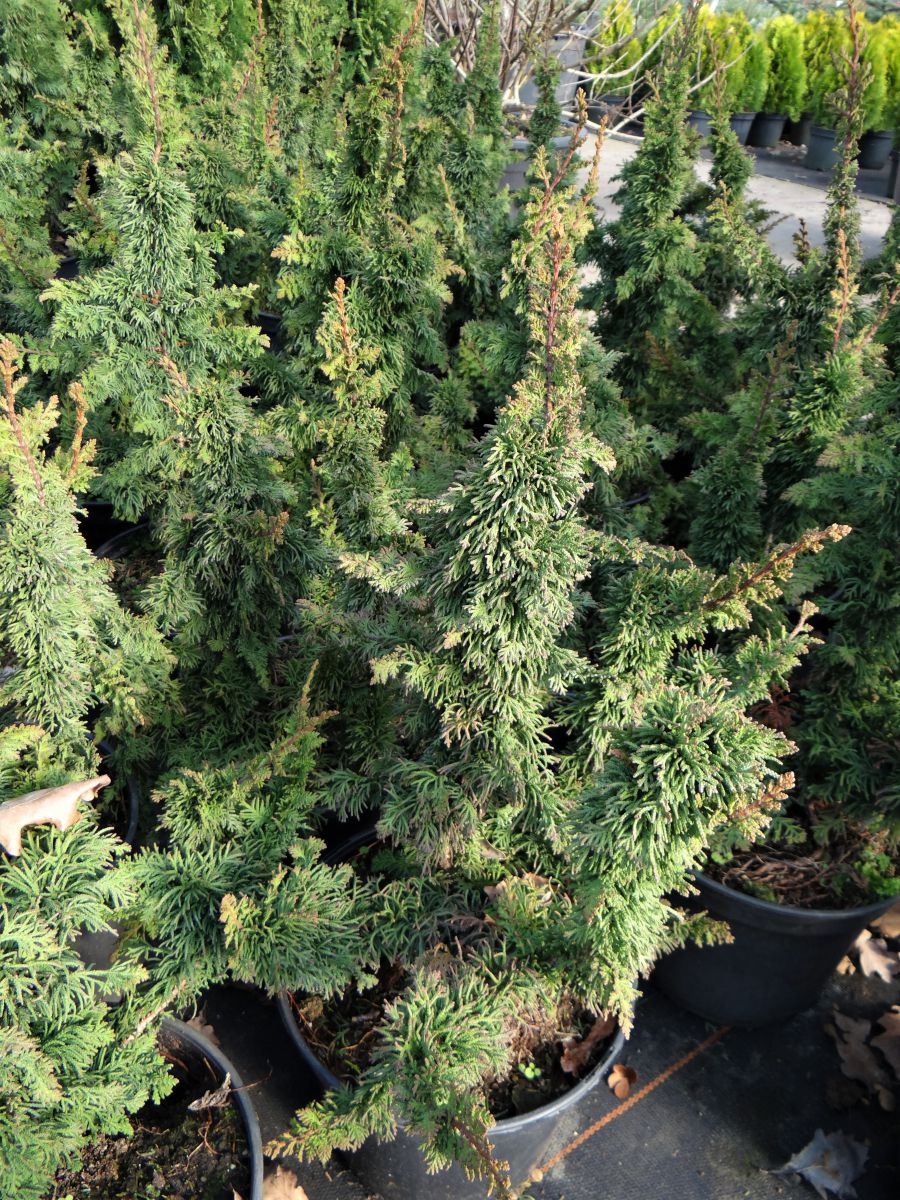 German nurseries never cease to impress us. Here are some pretty colors of winter foliage and flower buds, for these Rhododendron selections.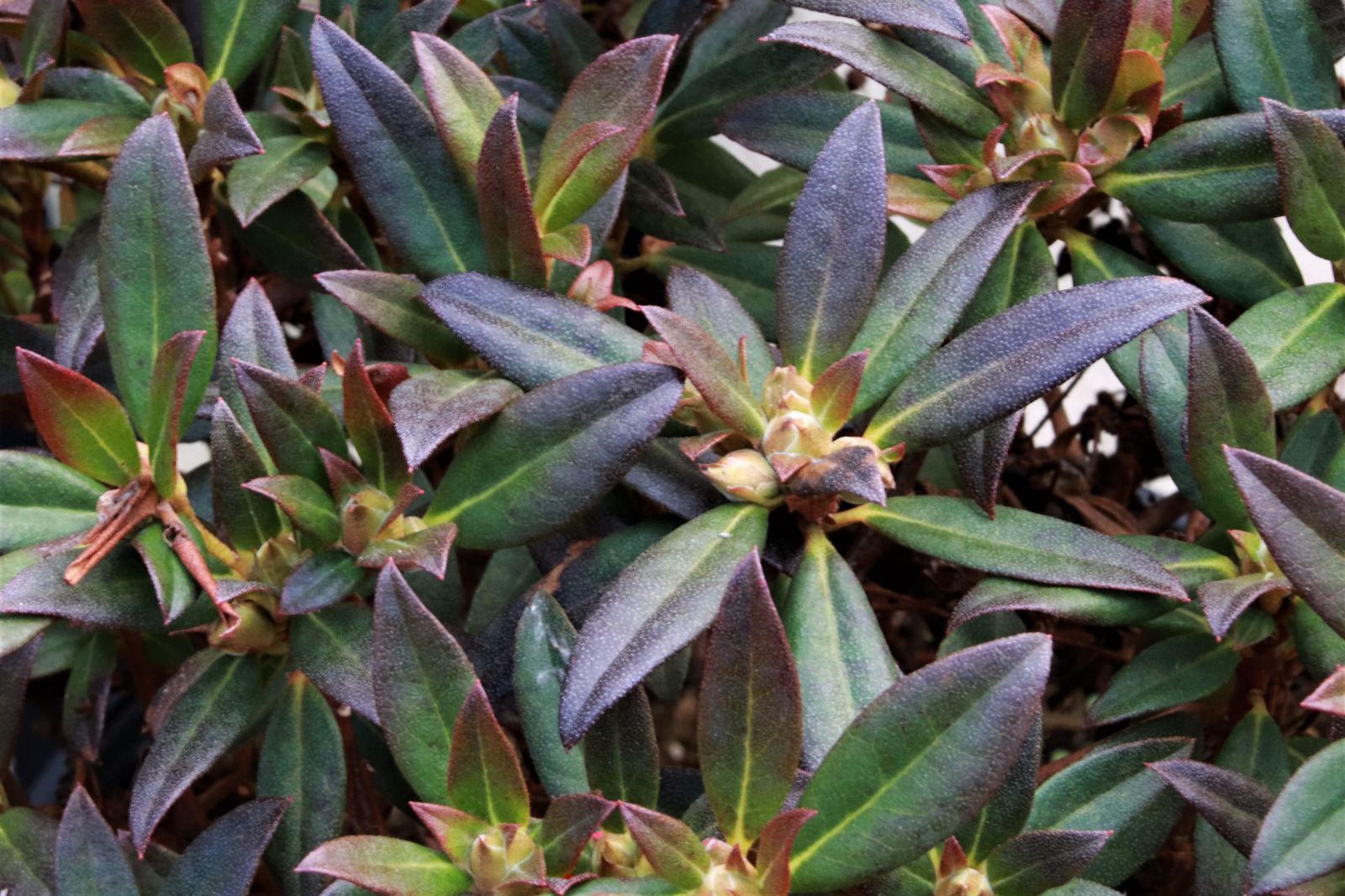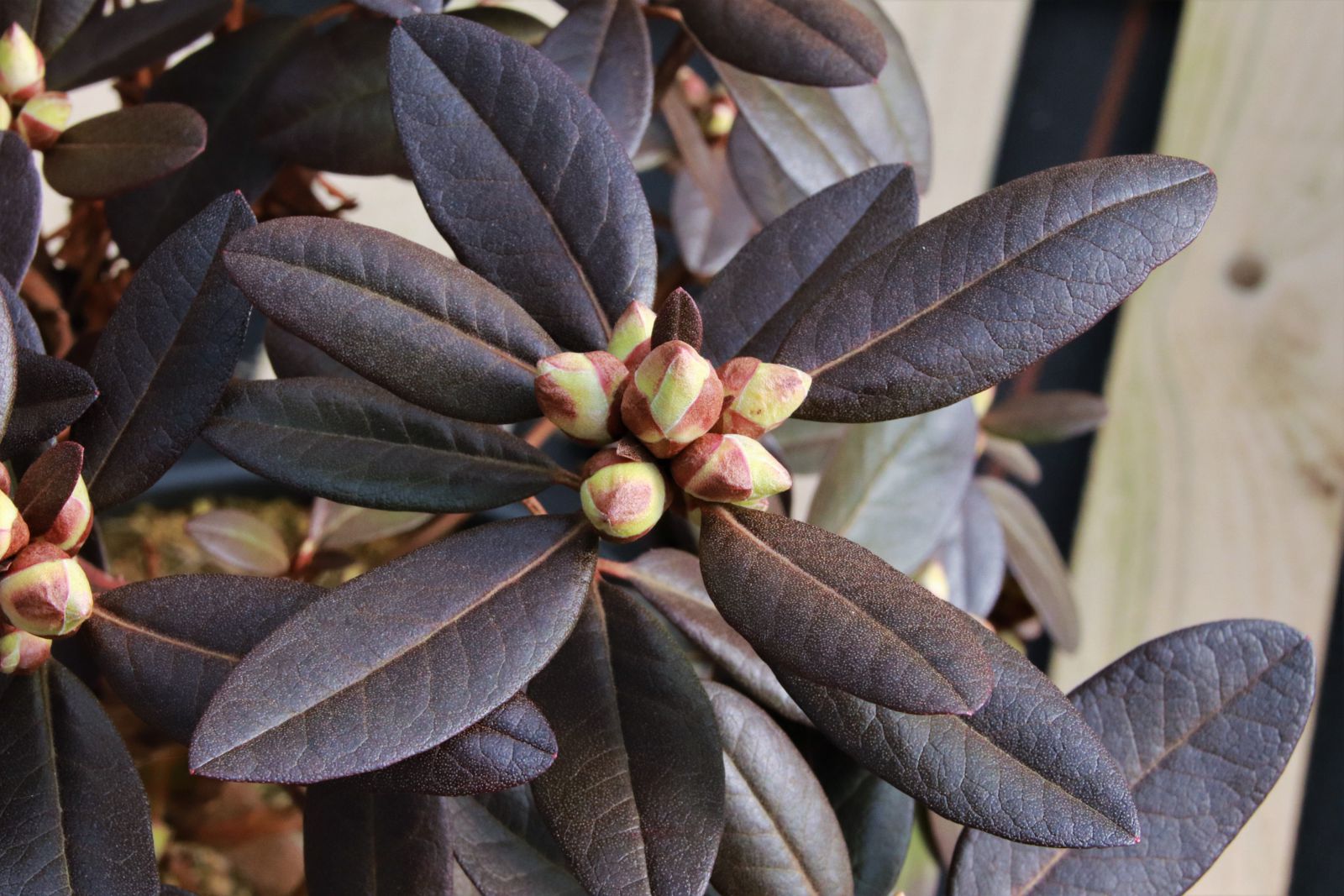 Rhododendron hirsutum                                                       Rhododendron 'Carolina J.P. Regal'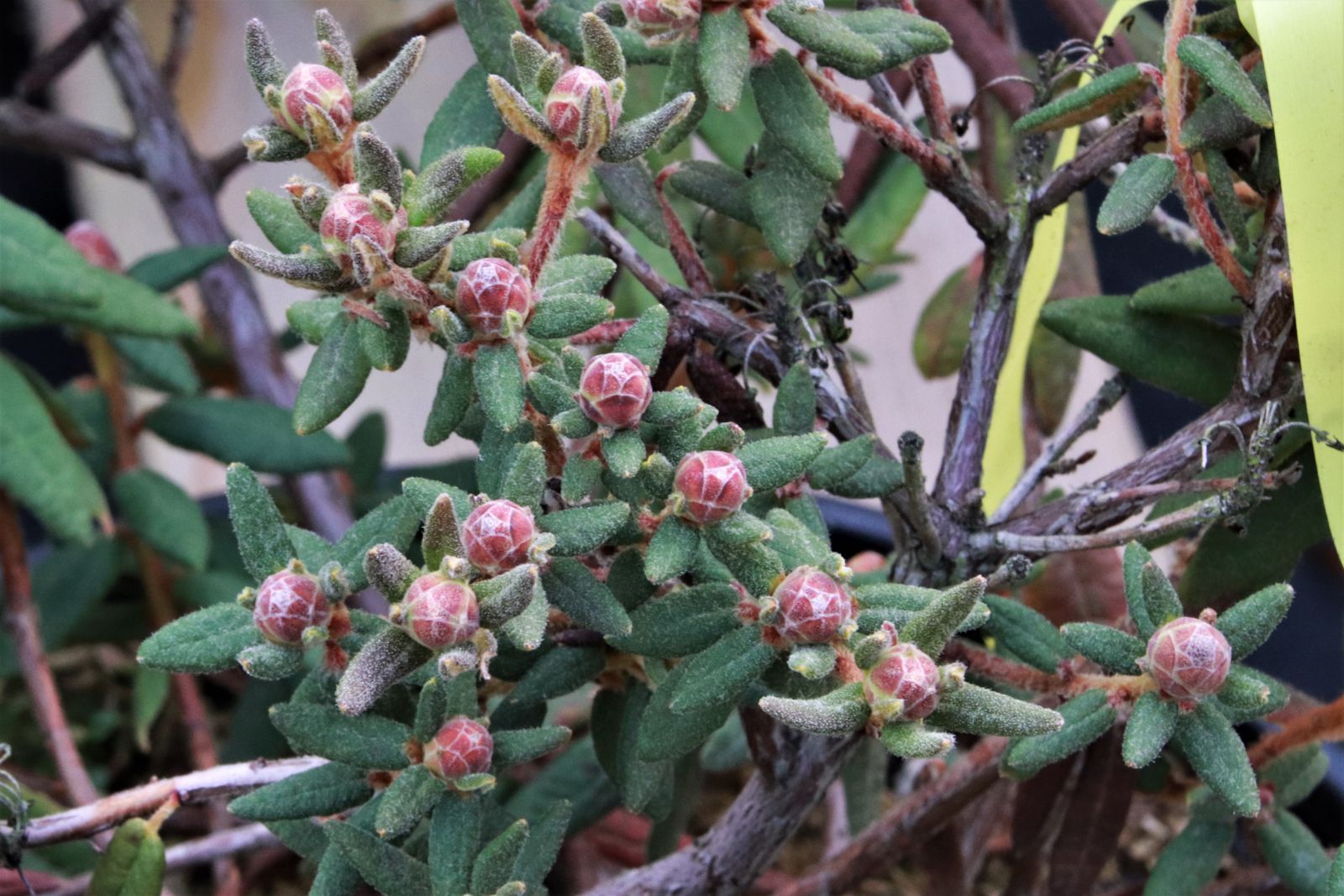 Rhododendron hanceanum 'Princess'                                Rhododendron radistrotum
                                                                                            ***
ZU JEDDELOH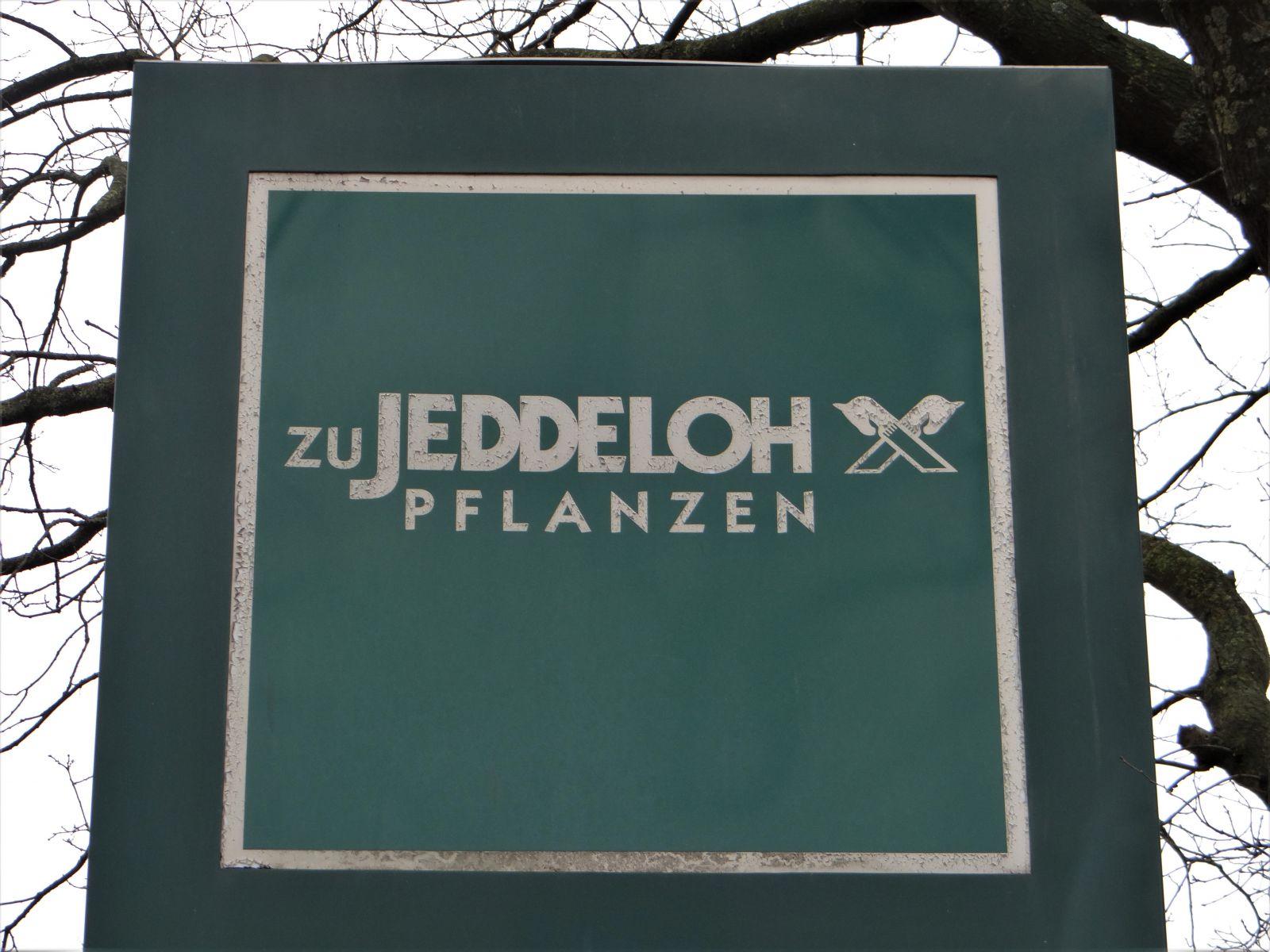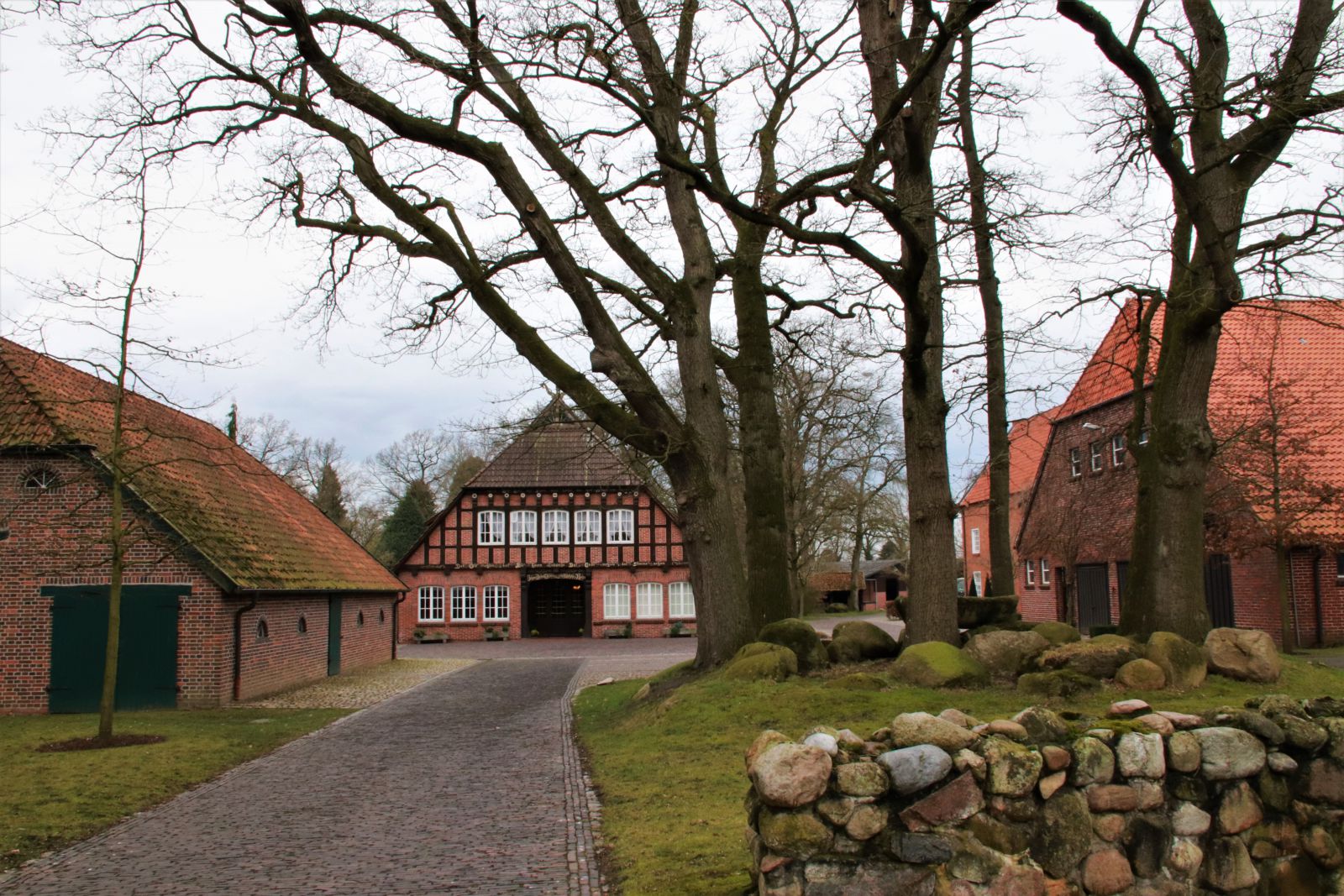 Another mastodon nursery in the region.
Johann-Dietrich zu Jeddeloh Senior founded the company over 80 years ago. This conifer lover selects and brings to the market more than 1000 varieties, including the Tsuga canadensis 'Jeddeloh'.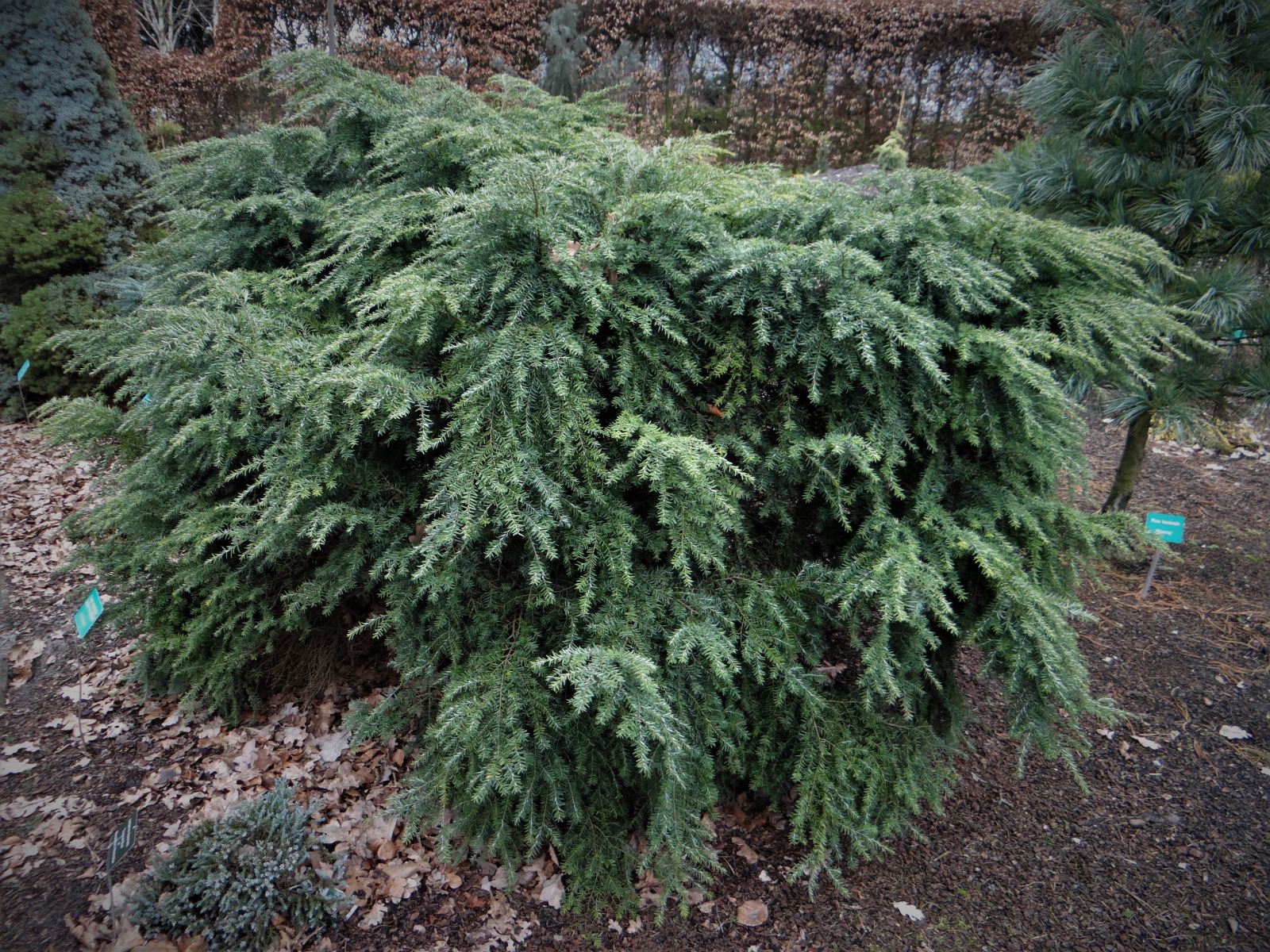 This nursery, first specialized in conifers, has diversified. Over time, they have forged a reputation in concrete for the quality of their plants. They produce 80% of the plants they sell, it's impressive. Most plants are raised outdoors, which gives them flawless robustness. One of the production secrets is growing in pots in pots. No, no, we don't stutter! These are plants grown in a pot, in another pot.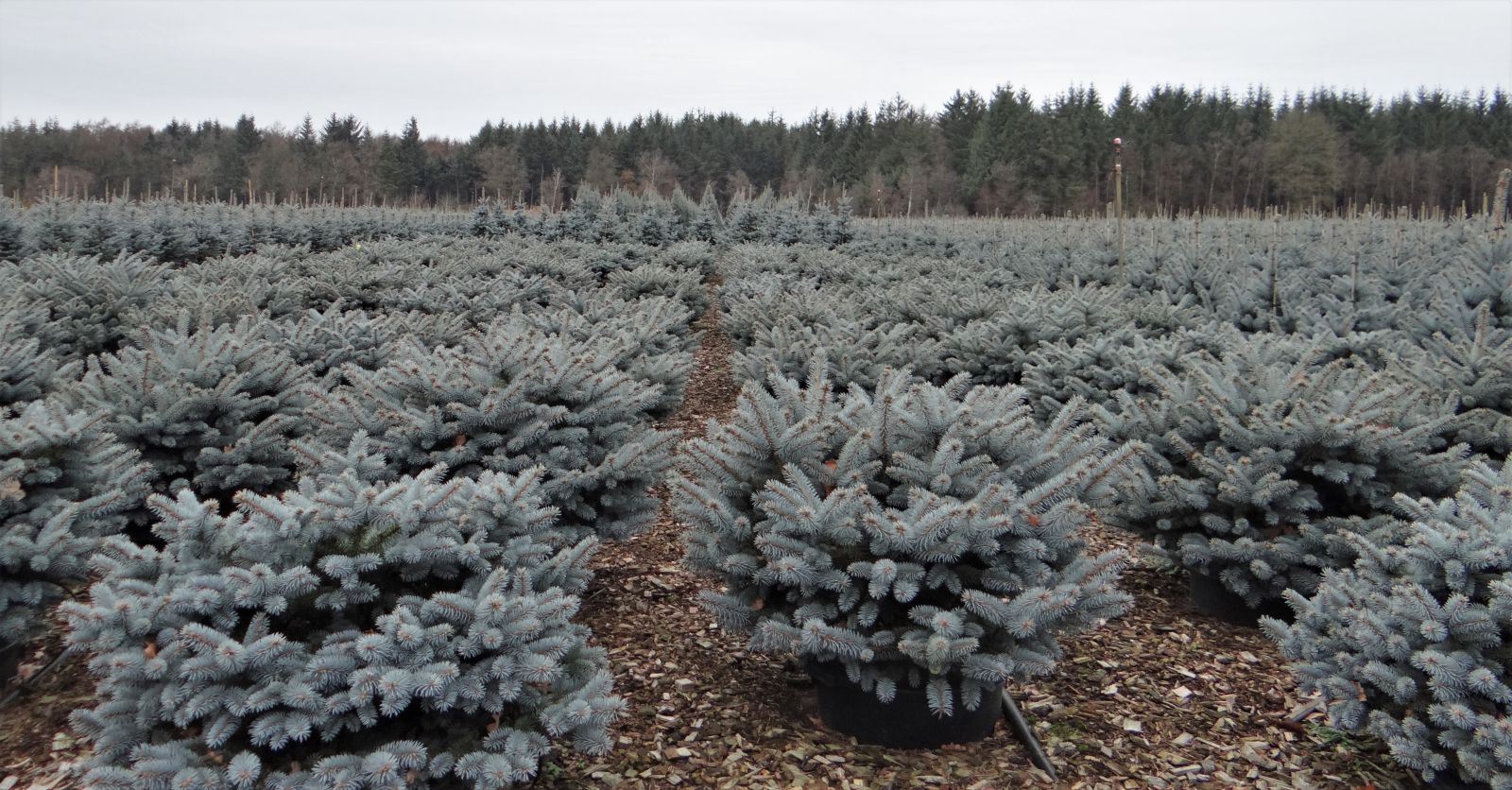 Picea pungens 'Globosa'
The first pot remains constantly in the ground, ensuring winter protection, sheltered from frost, allowing to regulate the water capacity. The second pot is attached to the plant itself. It is then regularly repotted, at the rate of its growth. The result? Robust and perfectly calibrated, proportioned, balanced plants.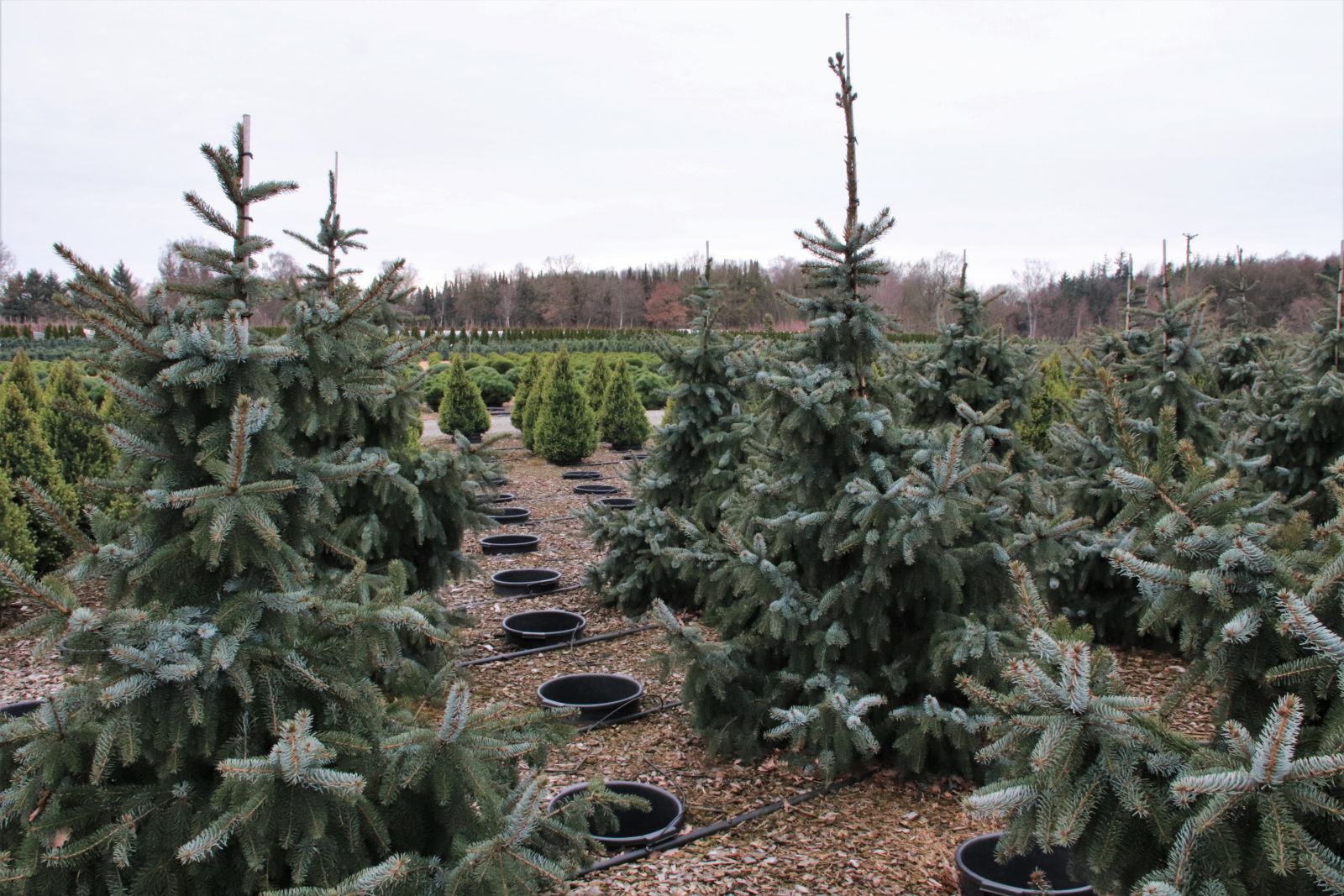 Picea omorika 'Bruns'
                                                                                            ***
In reality, we were looking for the breeder of Sciadopitys verticillata 'Jeddeloh Compact', but his grandson, Eilert zu Jeddeloh, responsible for international sales, certified us that he was not. So we will still have to search.
This does not prevent, in Zu Jeddeloh, there is a pinetum, initiated by J.D. zu Jeddeloh and redrawn, in its circular parts and walled, in 1985, by Adrian Bloom (Bressingham Garden - England).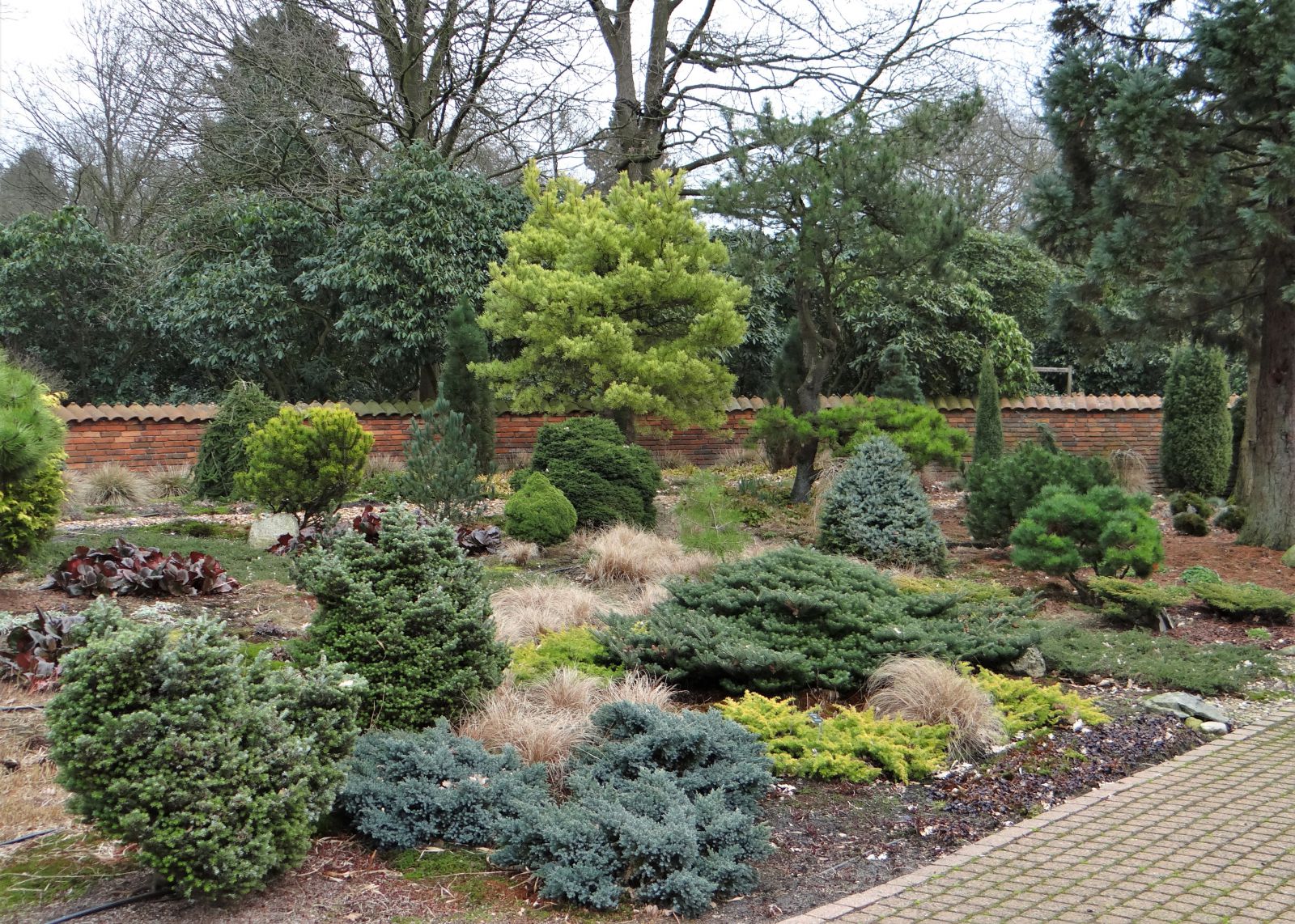 It is therefore to Adrian that we owe this magnificent association of Juniperus communis 'Horstmann', here directed on a single trunk and Stipa tenuissima. The soft elegance of the two leaves, their color, responds gracefully.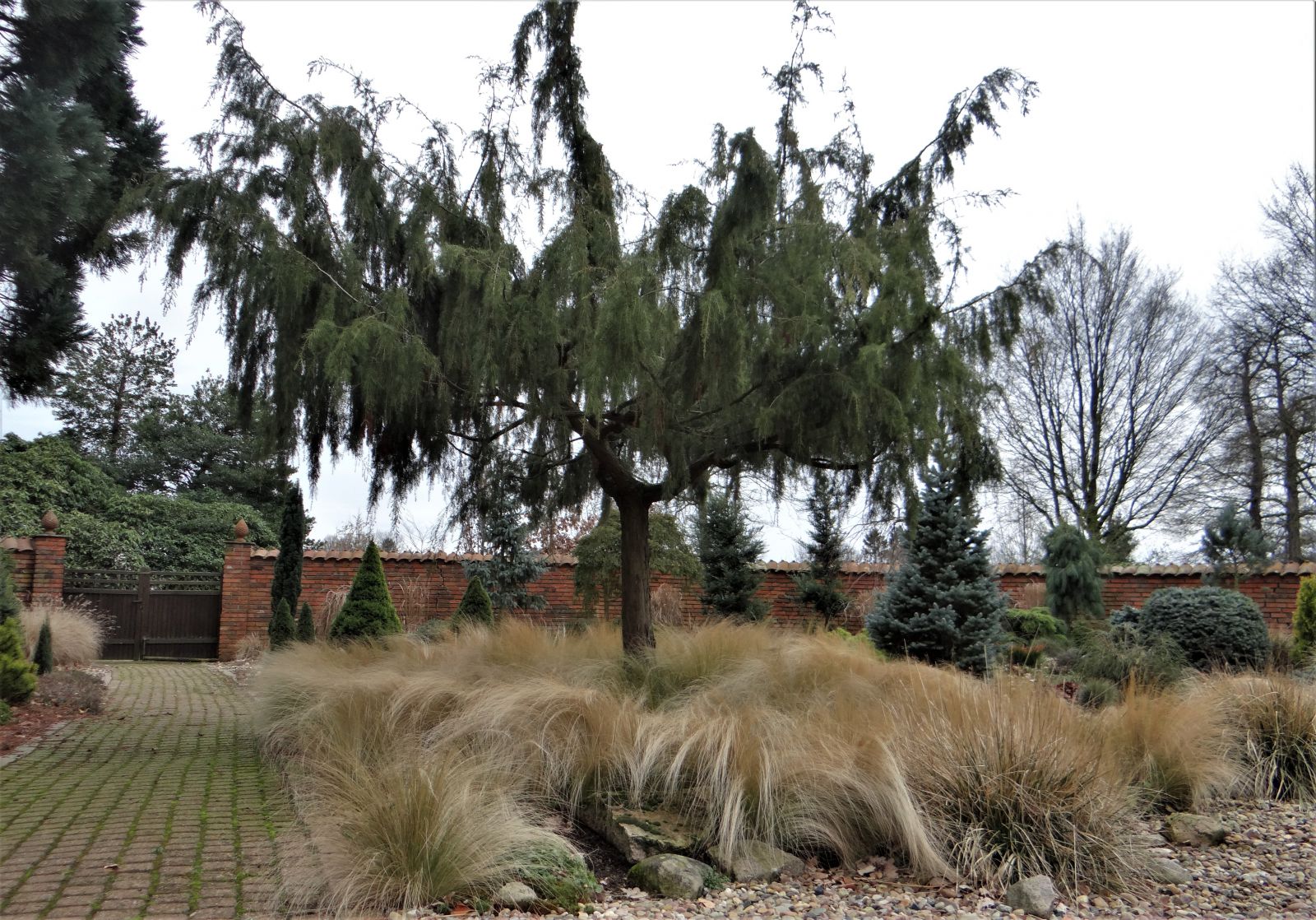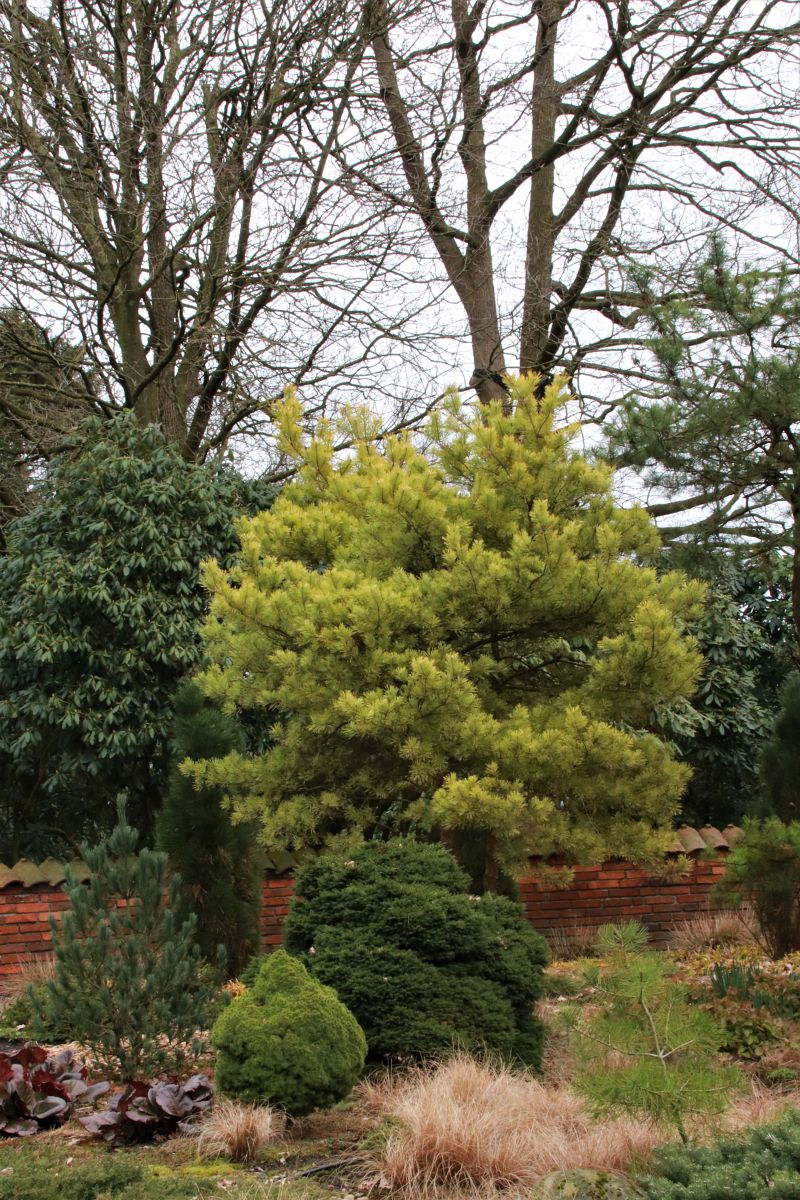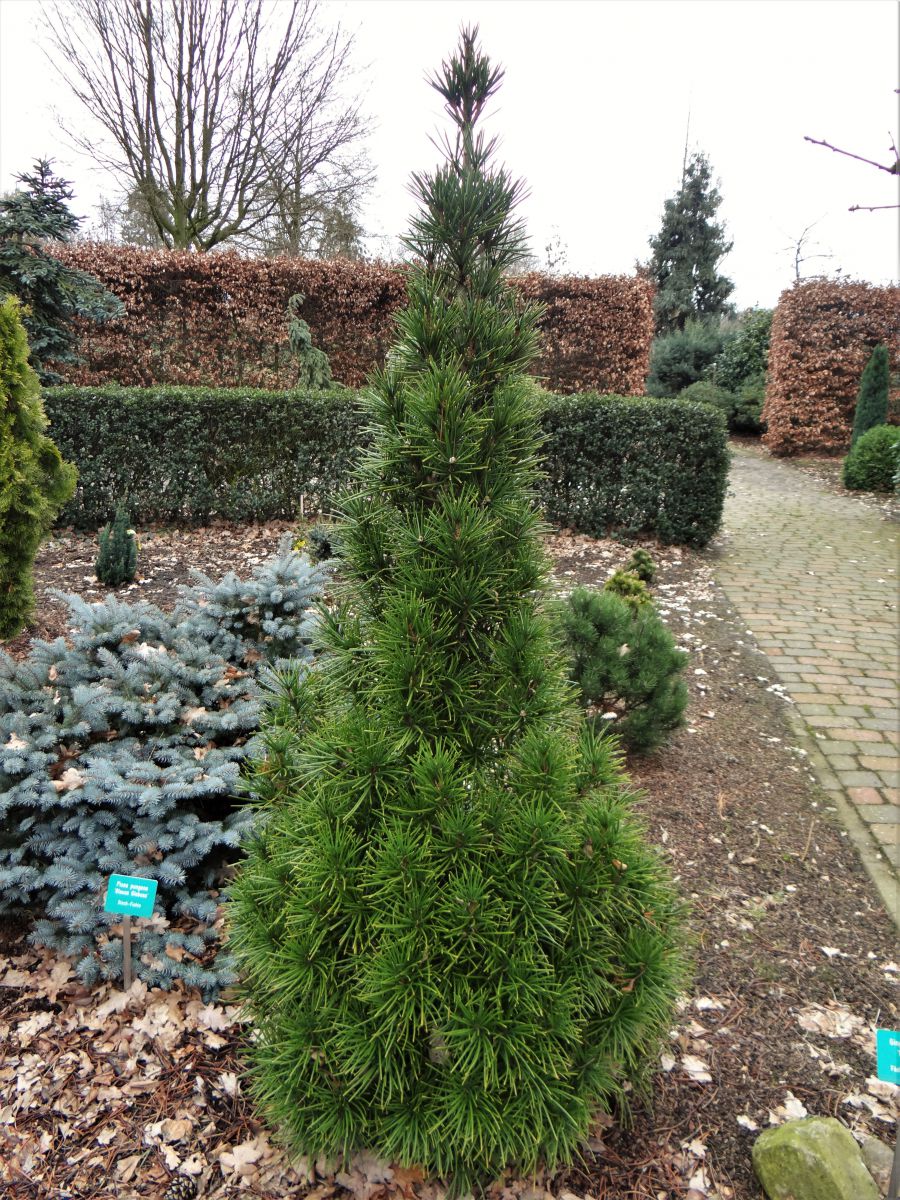 Pinus sylvestris 'Aurea Nisbeth'                                     Sciadopitys verticillata 'Koja Maki'
From a circle surrounded by red bricks, we pass to a double concentric, bordered by hedges of cherry laurels, holly and beech trees.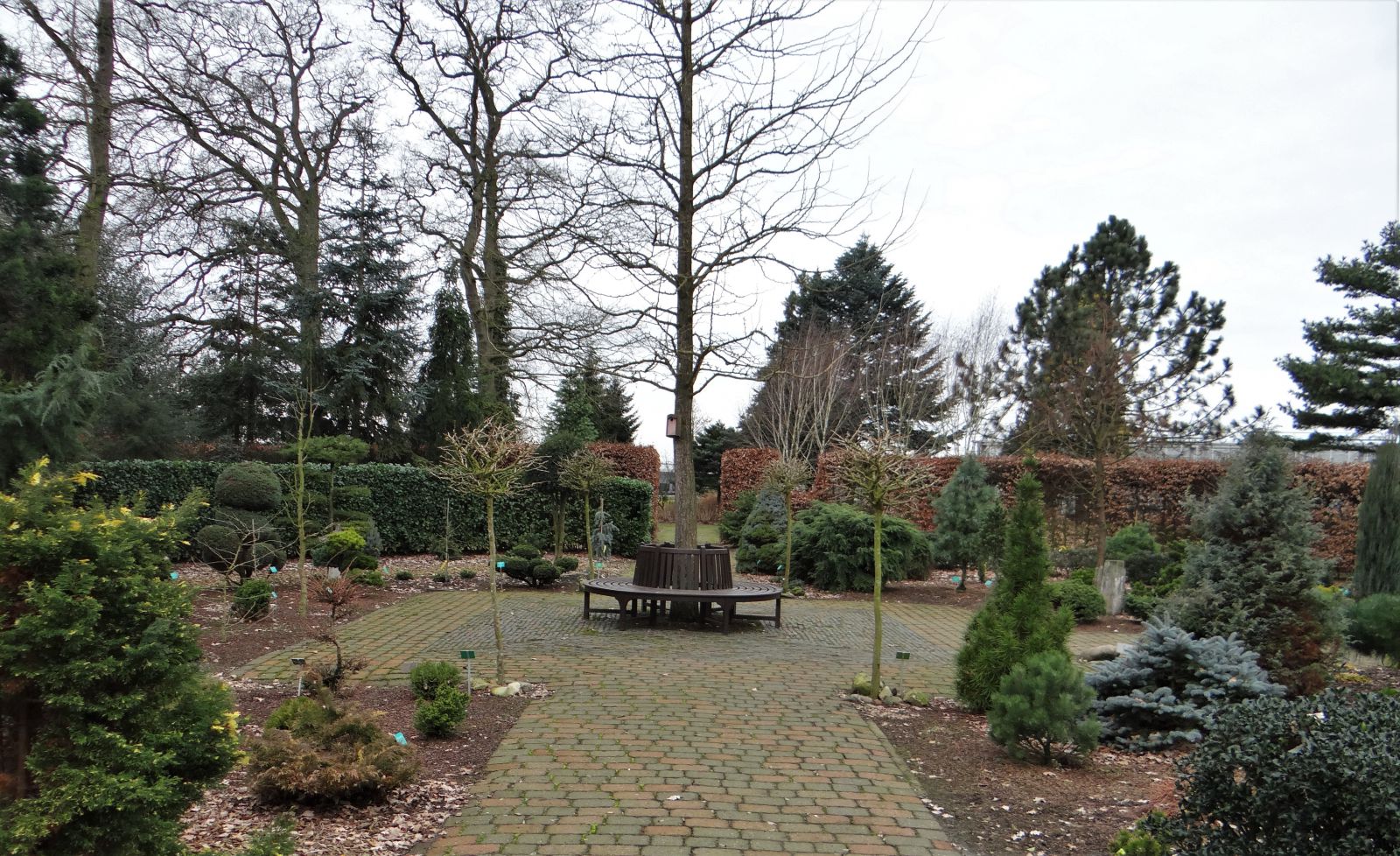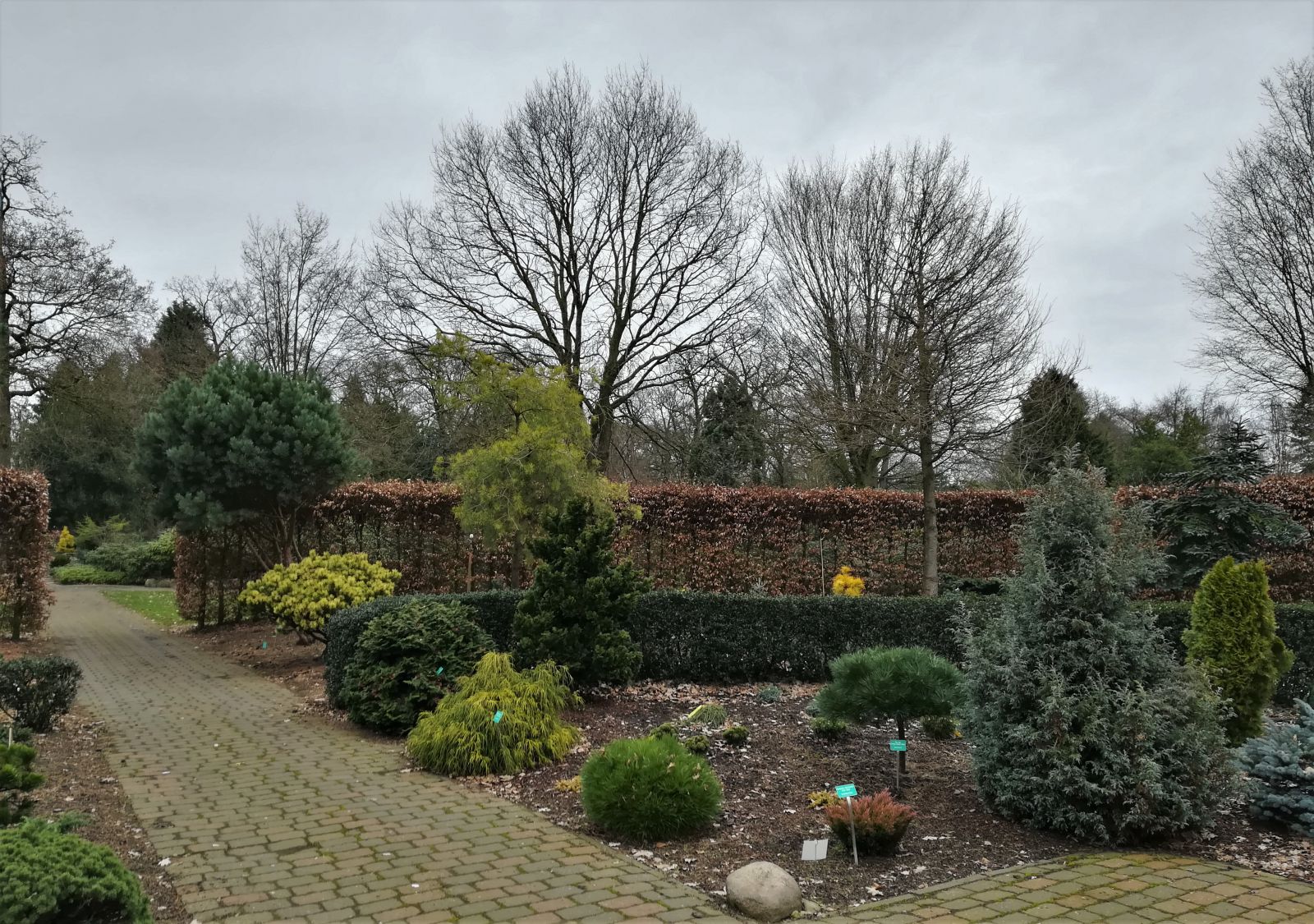 This is where we discover a collection of cryptomeria, the Japanese Cedar, this elegant conifer among all.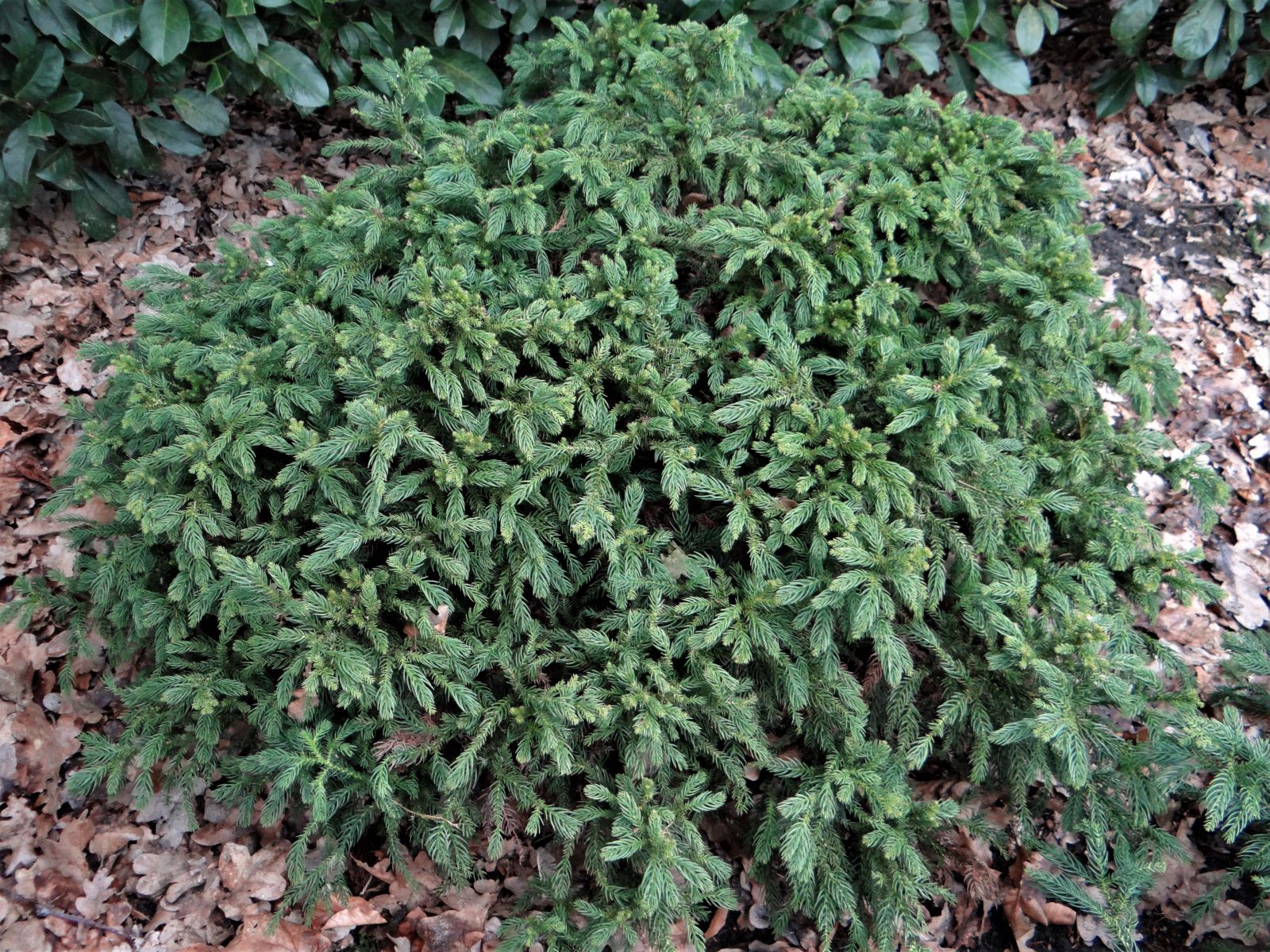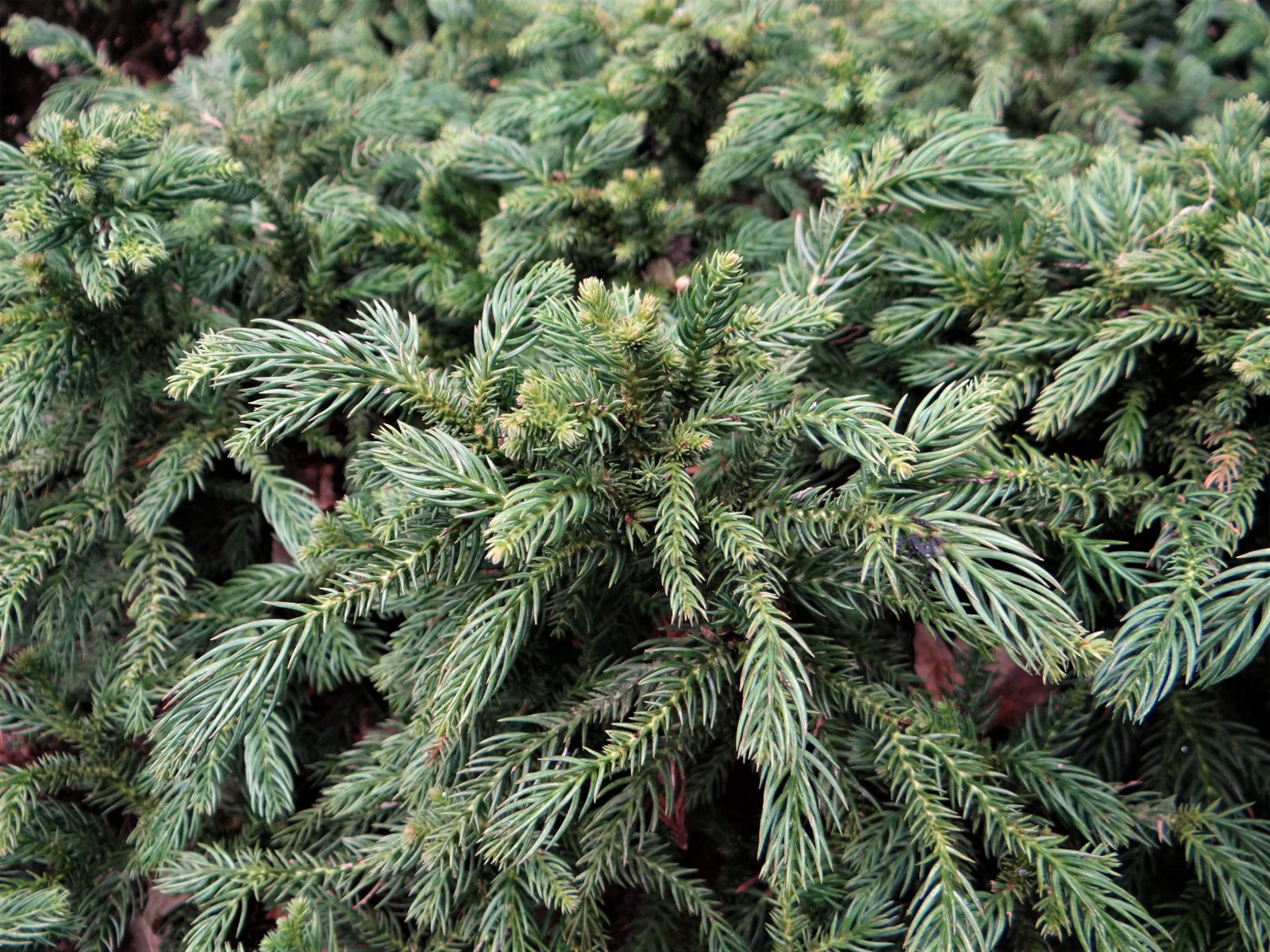 Cryptomeria japonica 'Crispy', with twisted twigs and needles divided into double combs. A miniature conifer, dense and very regular.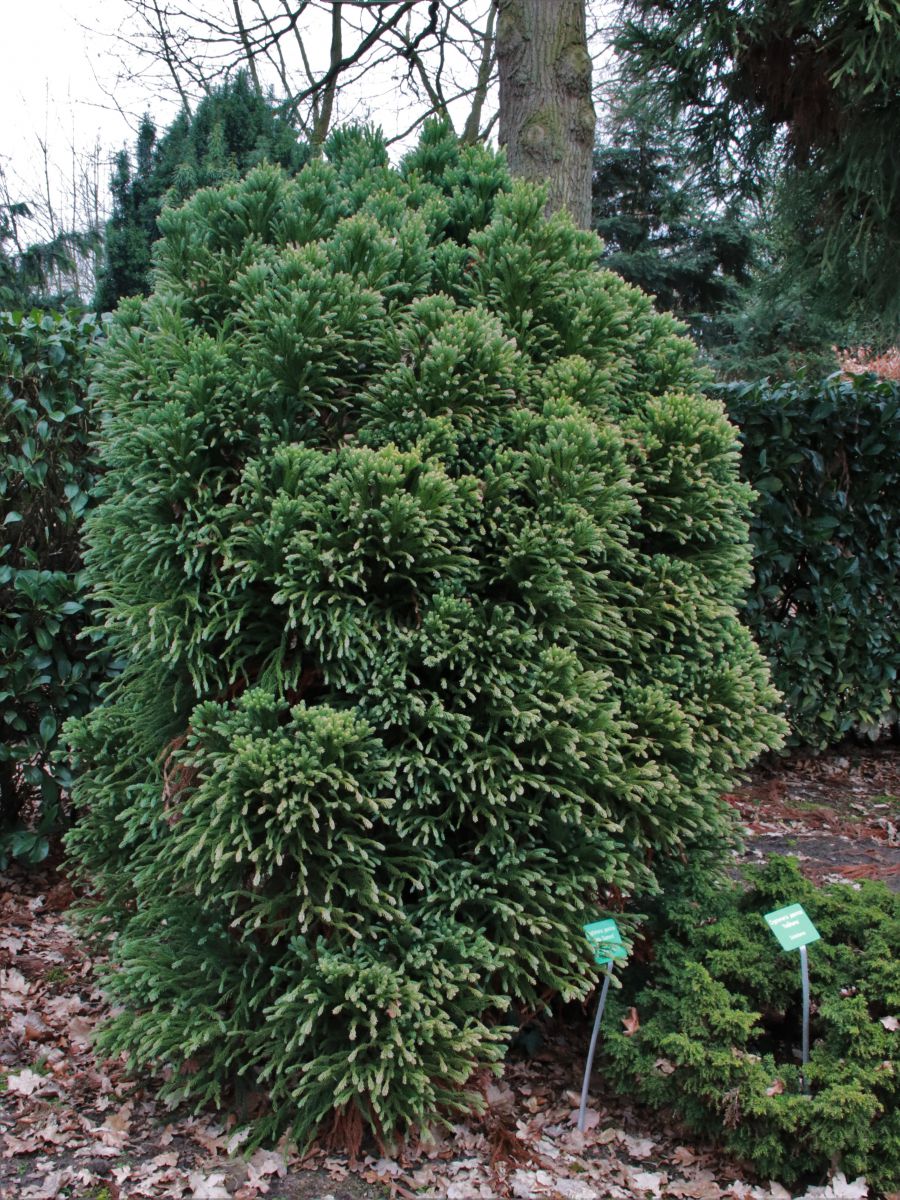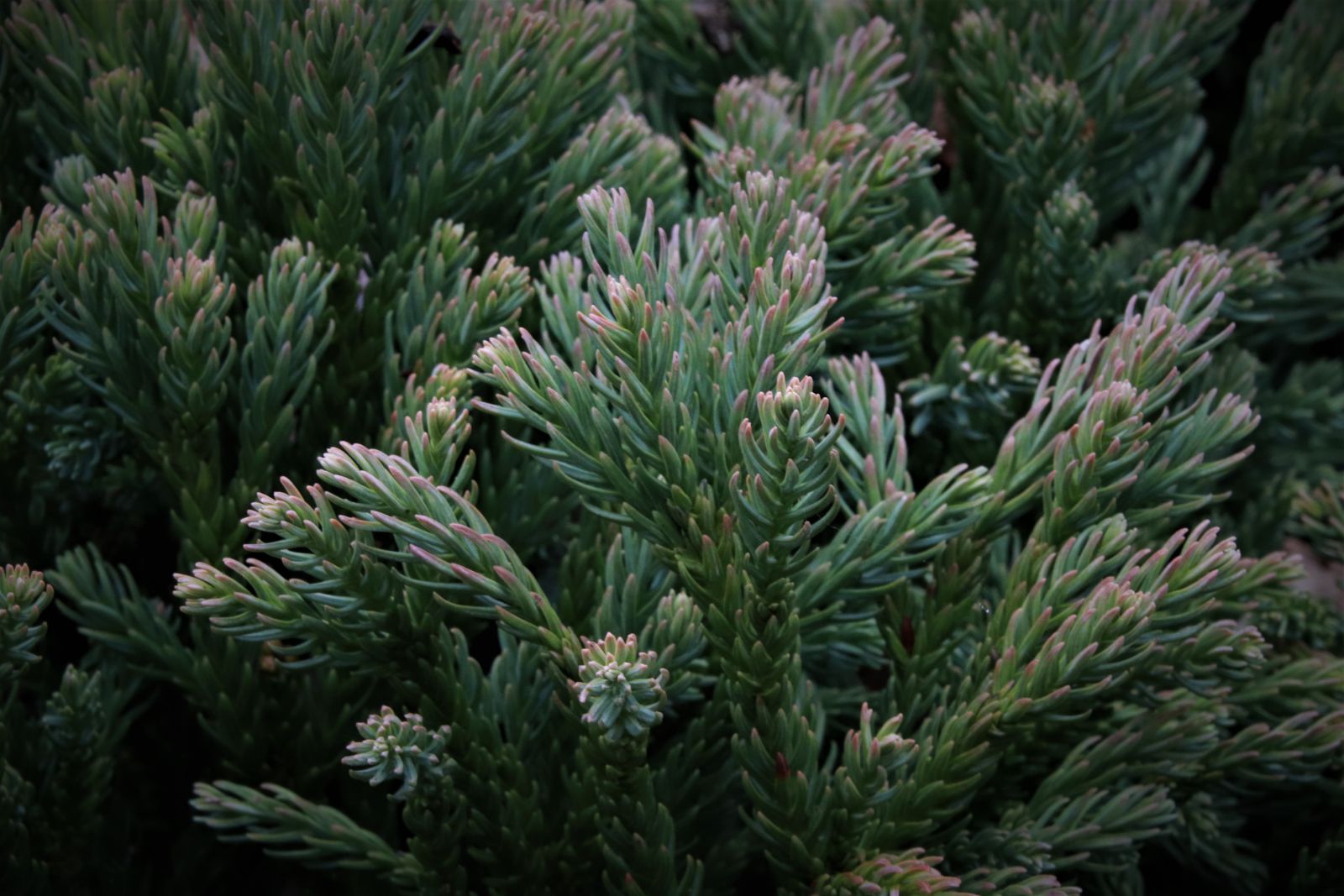 Cryptomeria japonica 'Little Diamond'. In this season, the ends of the needles take on surprising colors: purplish cream, passing through oranges, yellows and roses.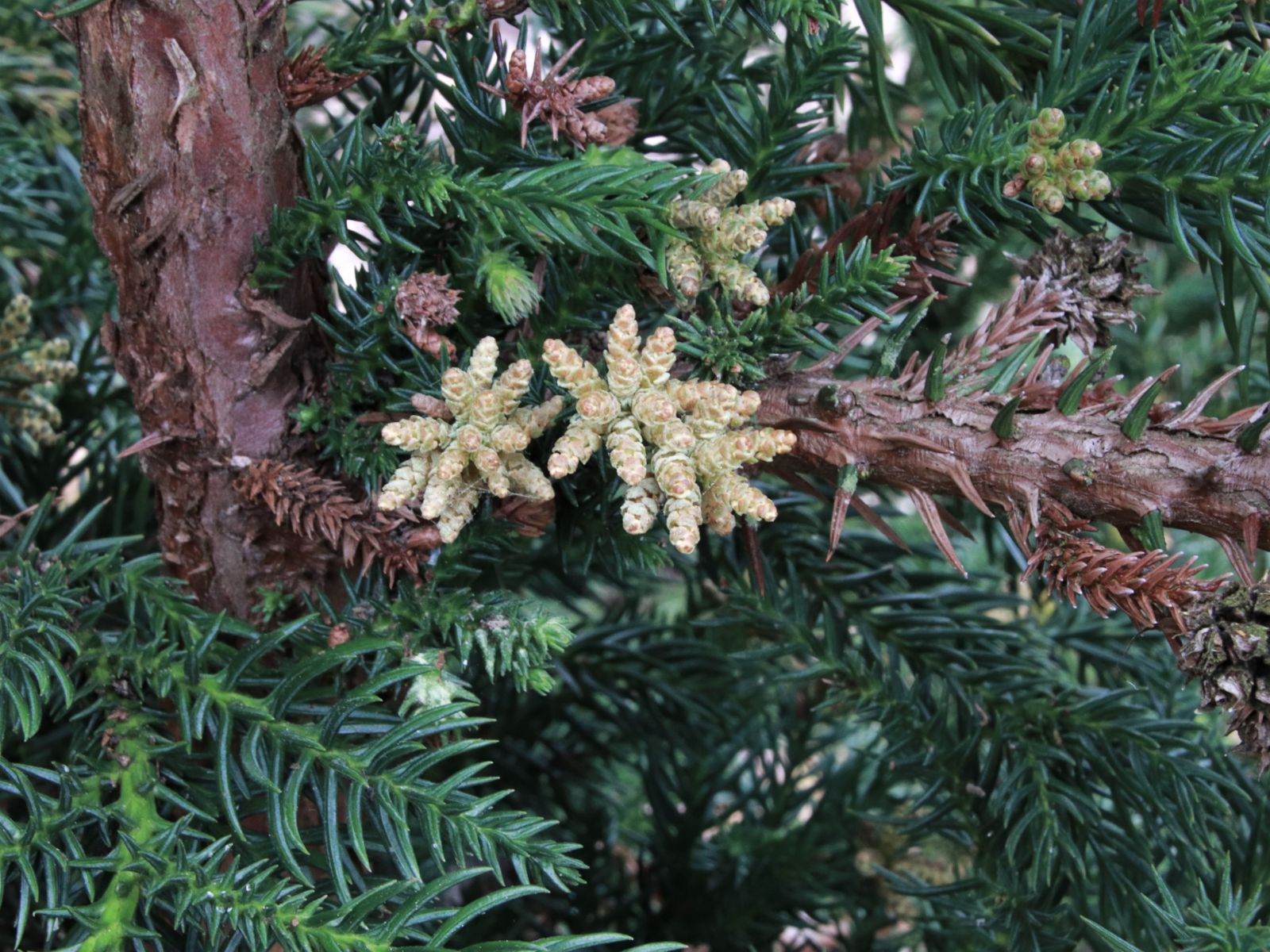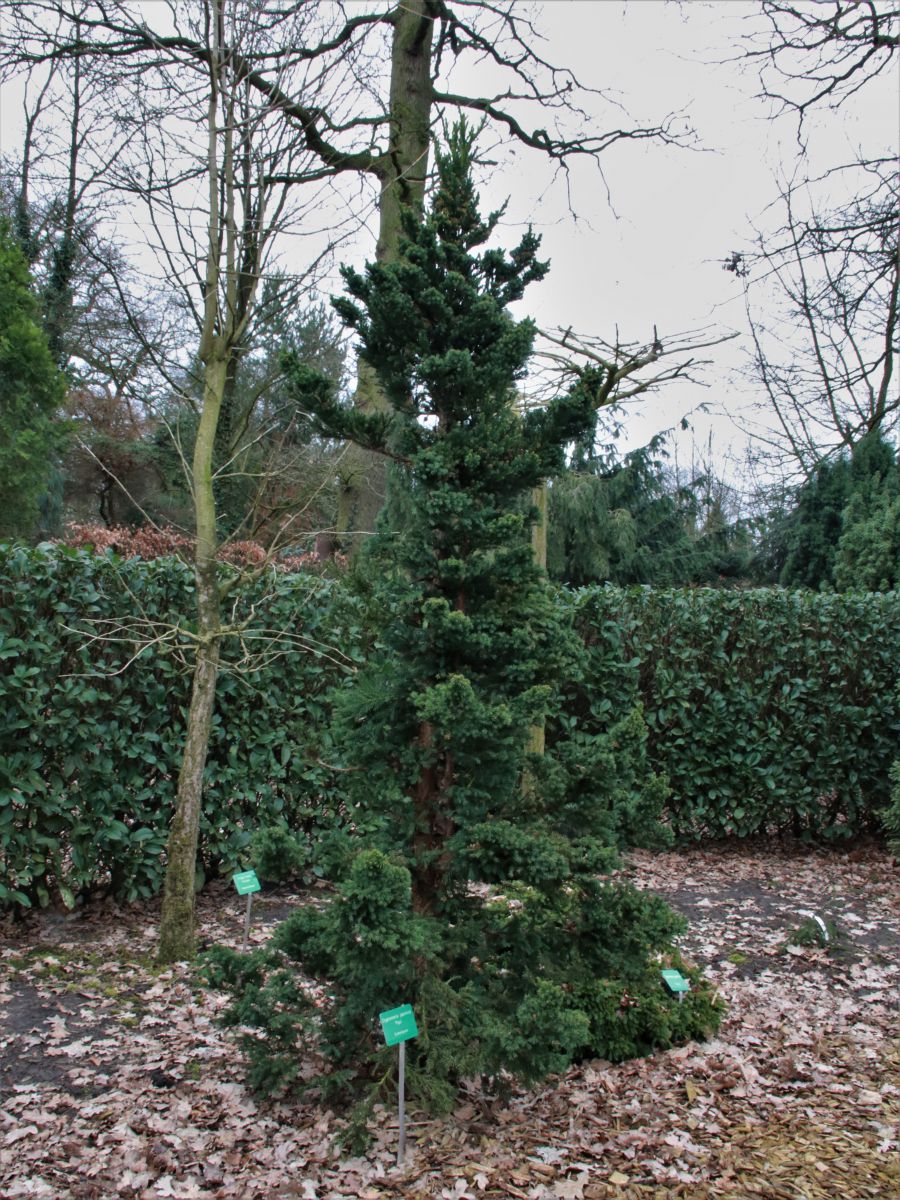 Cryptomeria japonica 'Pipo', dwarf, erect, irregular, trapped, dark and in good shape. Its pollen cones were very numerous and already very ripe. 
Beyond the circles, the garden extends beyond the limits and the collection of conifers continues. We find the Pinus mugo 'Carstens Wintergold', which are really popular in this season.
Further on, the trees gain height, symbol of the great age of this garden, mingling with the more recent patters, inspired by contemporary winter gardens.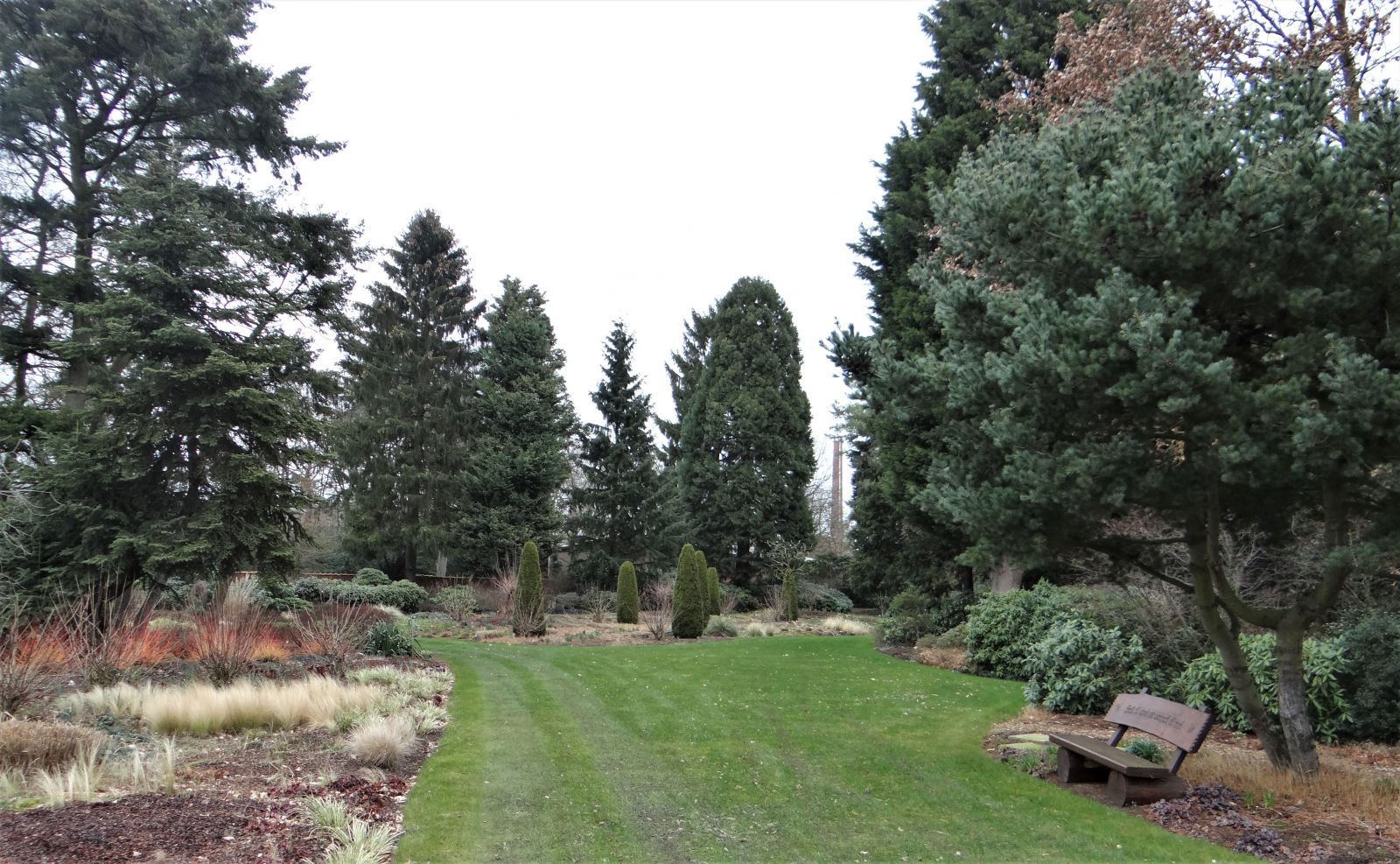 Beyond the conifers, we find the games of grasses, colored woods of dogwood and black foliage of Ophiopogon.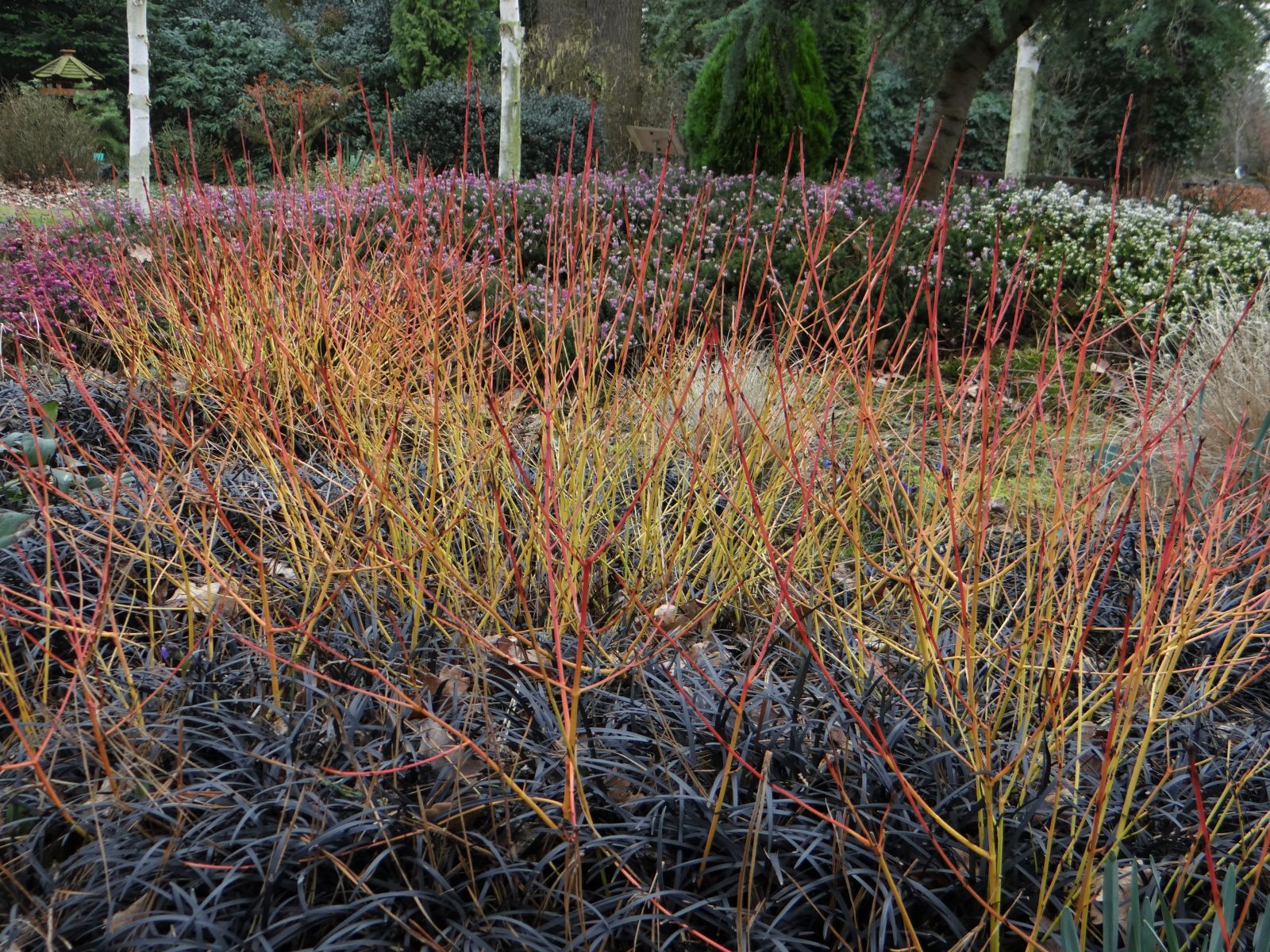 At the bend of a hedge, we find Laurent, very busy, immersed in what winter can provide us with chlorophyle.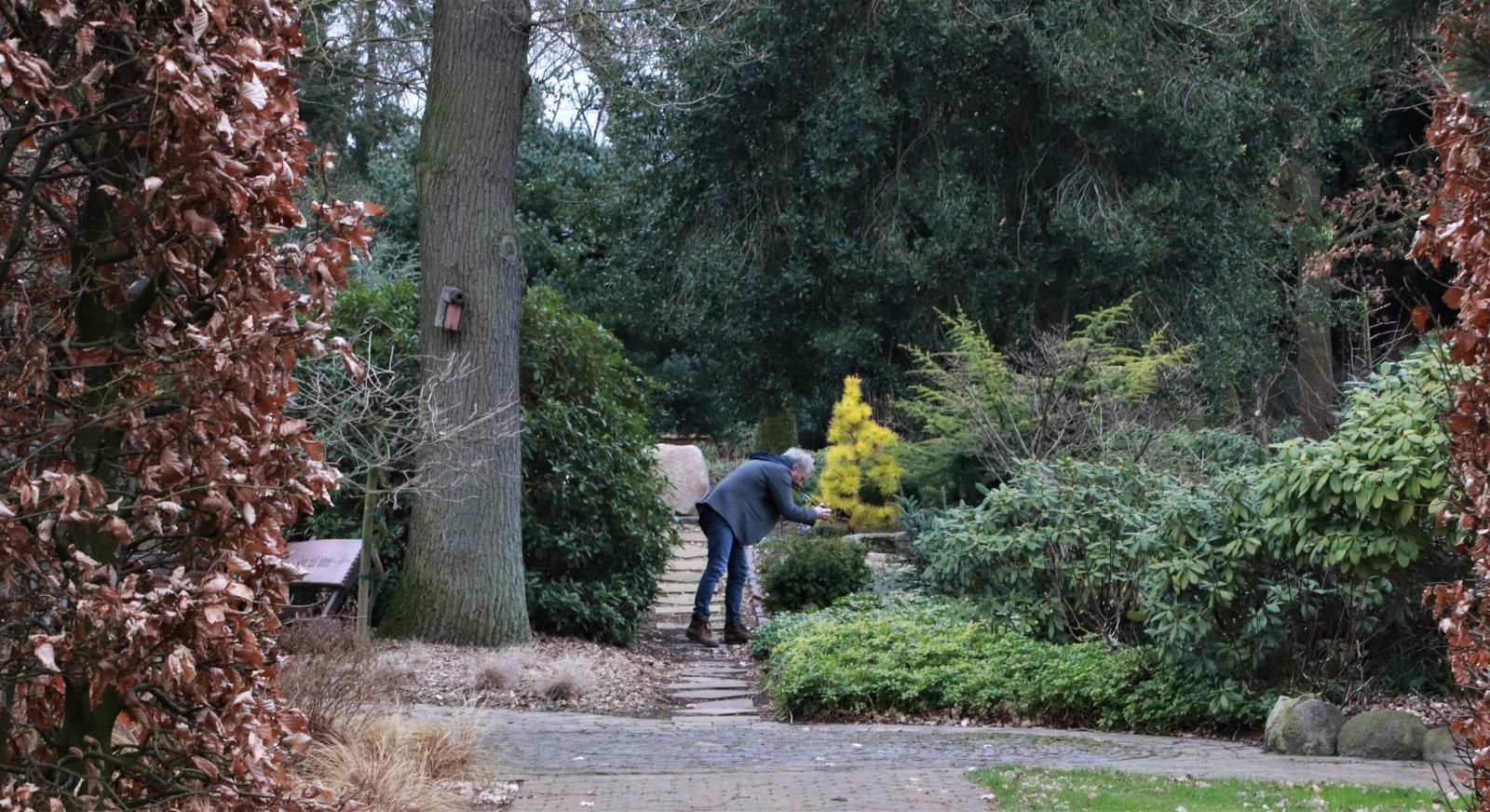 He unearthed the pinus contorta 'Chief Josef', this recent American introduction.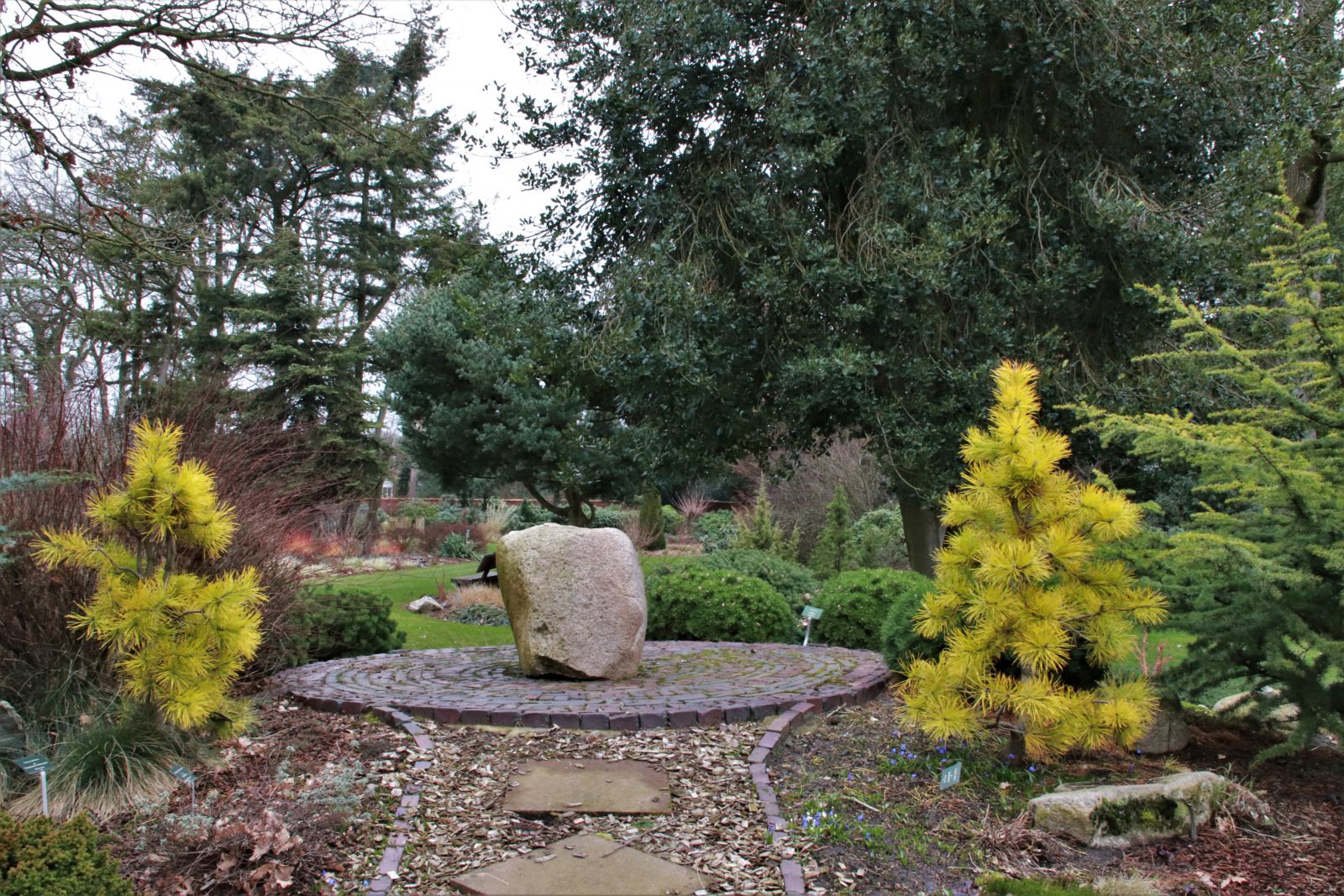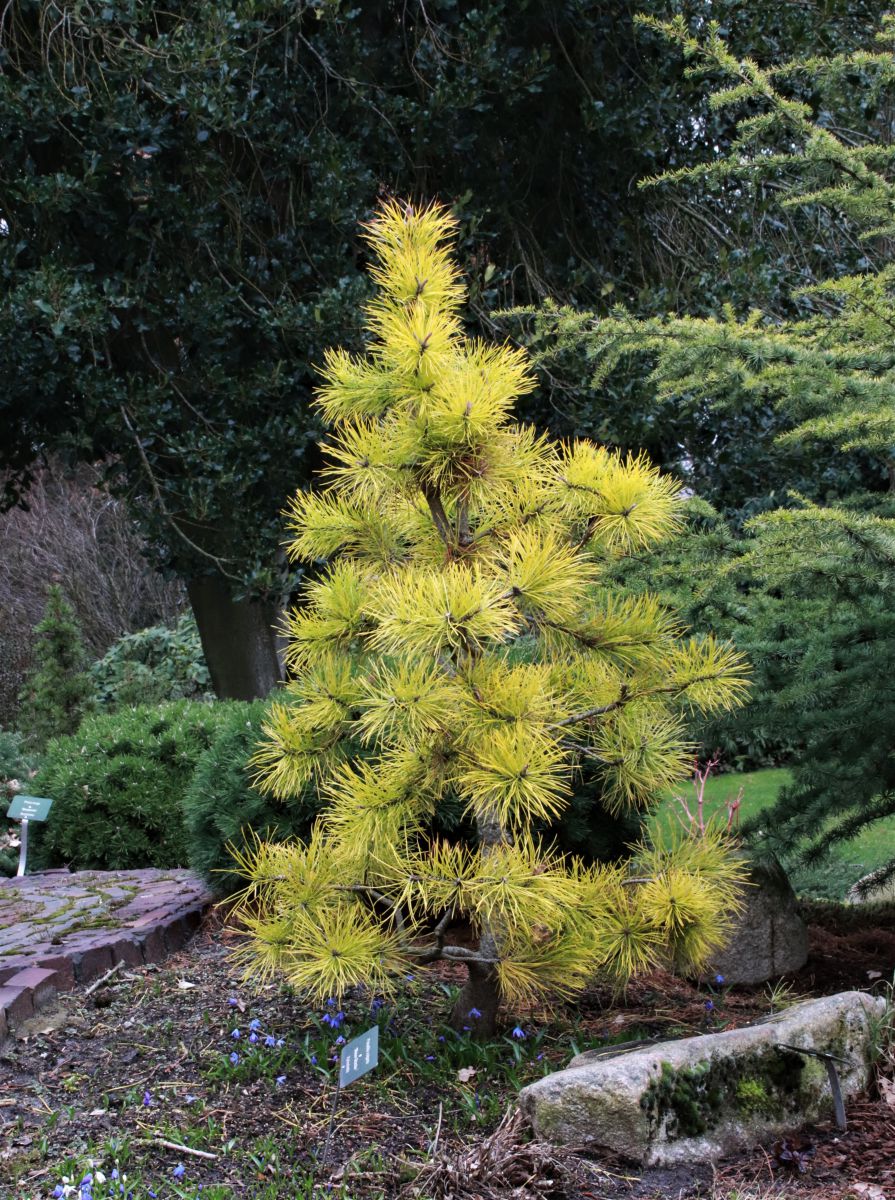 We cannot leave the region without keeping the notorious Picea omorika 'Pendula Bruns' printed in our memories.