TRESCO ABBEY GARDEN
All garden lovers have heard of it, at least once. This garden is fabulous, but almost inaccessible.
Inaccessible? This is not quite the case, but it is true that we do not willingly program it in our journeys, and you will understand why.
For us it was August 18, 2020. It was our second attempt. That of 1999 had failed miserably, to our great regret.
But what a gift! One of those who knows how to wait, certainly, but for what pleasures!
                                                                                              ***
The Archipelago of Scilly seems lost in the middle of the ocean, yet it has thrown its hundreds of stones some 45km from the rugged coast of Cornwall, in the extreme south-west of England. The first challenge is to leave the British island, to reach Saint-Mary, the largest of the islands, or better still Tresco. Only one departure point, Penzance, the port or the heliport; and then you have to pray to Lir or Taranis for good weather. By boat, more than half a day is necessary, reasonably, to connect the almost dry land to Tresco. There is no direct line. Saint-Mary, well known to smugglers in the past, stands out.
In 1999, a pea mash welcomed us to Penzance. The flights were cancelled. Impossible to book another one for the next day or the day after. Everything was sold. The boats were anchored to the port. Unless we stayed there for at least a month to find a new flight, we had to give up.
                                                                                              ***
On a flight
August 18, 2020 was blue, almost cloud-free. Our flight, more or less €250.00 return per person, had been booked for months. But the entrance to the garden is free!
Yesterday it had rained and tomorrow they announced a rather gray day. Only one day would be nice this week and that was today.
What luck ! This time Lir was on our side, ready to accompany us above its calm and peaceful waves.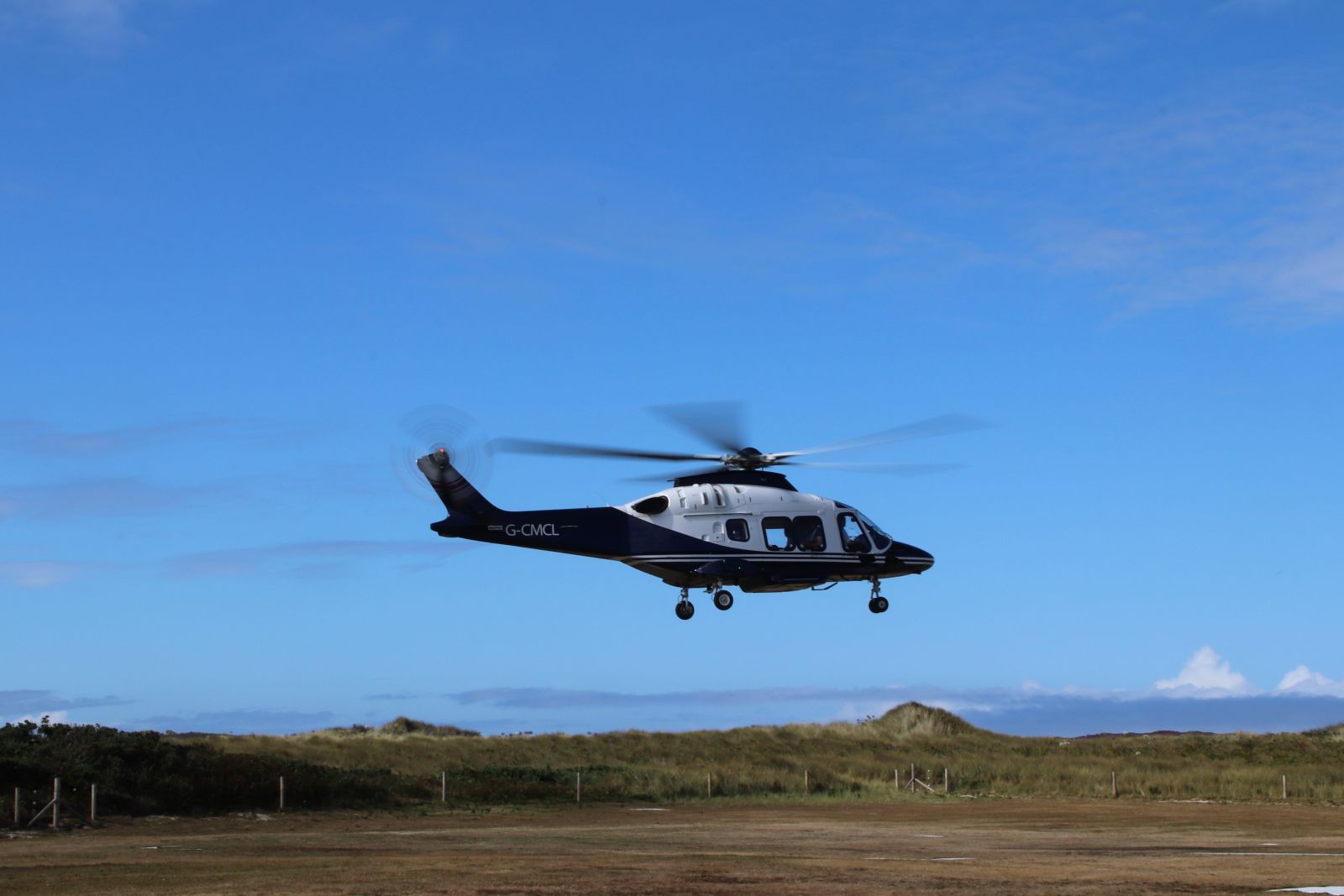 We were 8 to board, all masked (thanks to the covid), even Ness with her 8 years.
An opportunity to fly is always an opportunity to free yourself from the world, to dominate it, to discover it differently. The coasts of Cornwall cut out with elegance and release in an instant the Mont Saint-Michel. Not the Norman one. Less popular, it nevertheless gives a nice answer to its neighbor opposite.
The journey goes by and the land hardly abandons us. Very quickly we reach the first fragments of the archipelago.
The ocean comes in as many shades of blue as there are depths that it varies according to its mood. We imagine ourselves far from England, with these fine sandy beaches, these turquoise waters. It is 23°C on the ground, a heat wave for the locals, they have rarely experienced this. We shiver. It might not be so hot after all.
Approaching, we fly over what seems to be a castle, a beautiful residence, in any case. This is the family home of the Dorrien-Smiths, who have been on the island since 1834. We learned about it later.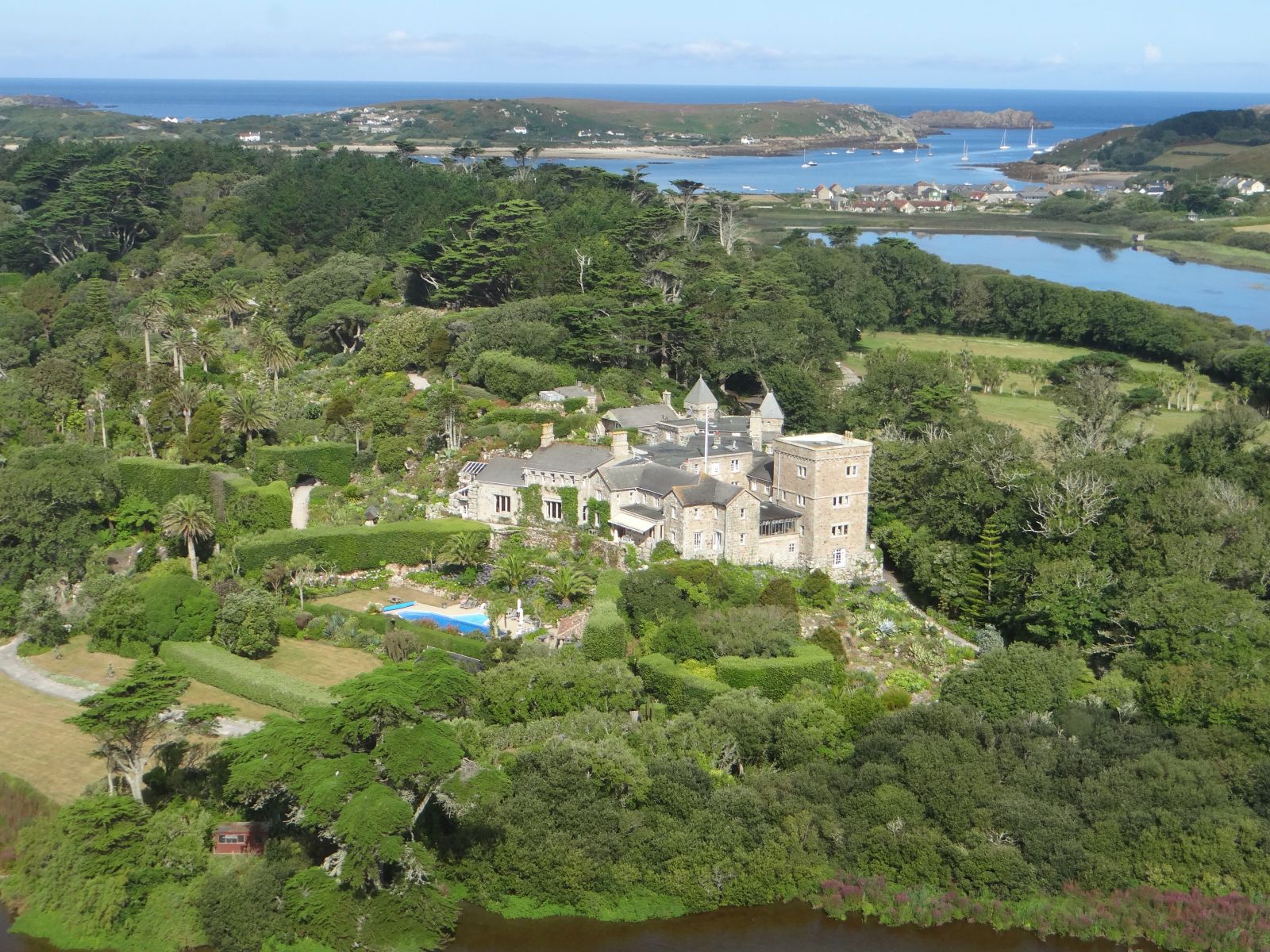 An almost deserted island
When he arrived on the island in 1834, Augustus Smith was surprised to find almost nothing left of the former Benedictine abbey. The monks had spent a peaceful retreat between 1042 and 1066 in a priory dedicated to Saint-Nicholas. The discovery of the ruins gives the start to the first landscaping gestures and inspires the new owner. These open-air spaces, of stones and greens, become the emblem of the place.
The particularly mild climate allows the wildest dreams to come true. More than anywhere else in Cornwall, exotic plants thrive and spread in multiple variations. Palm trees are imported in mass, as well as many exotic plants, such as cordylines, which take on impressive sizes. Our houseplants? They are trees!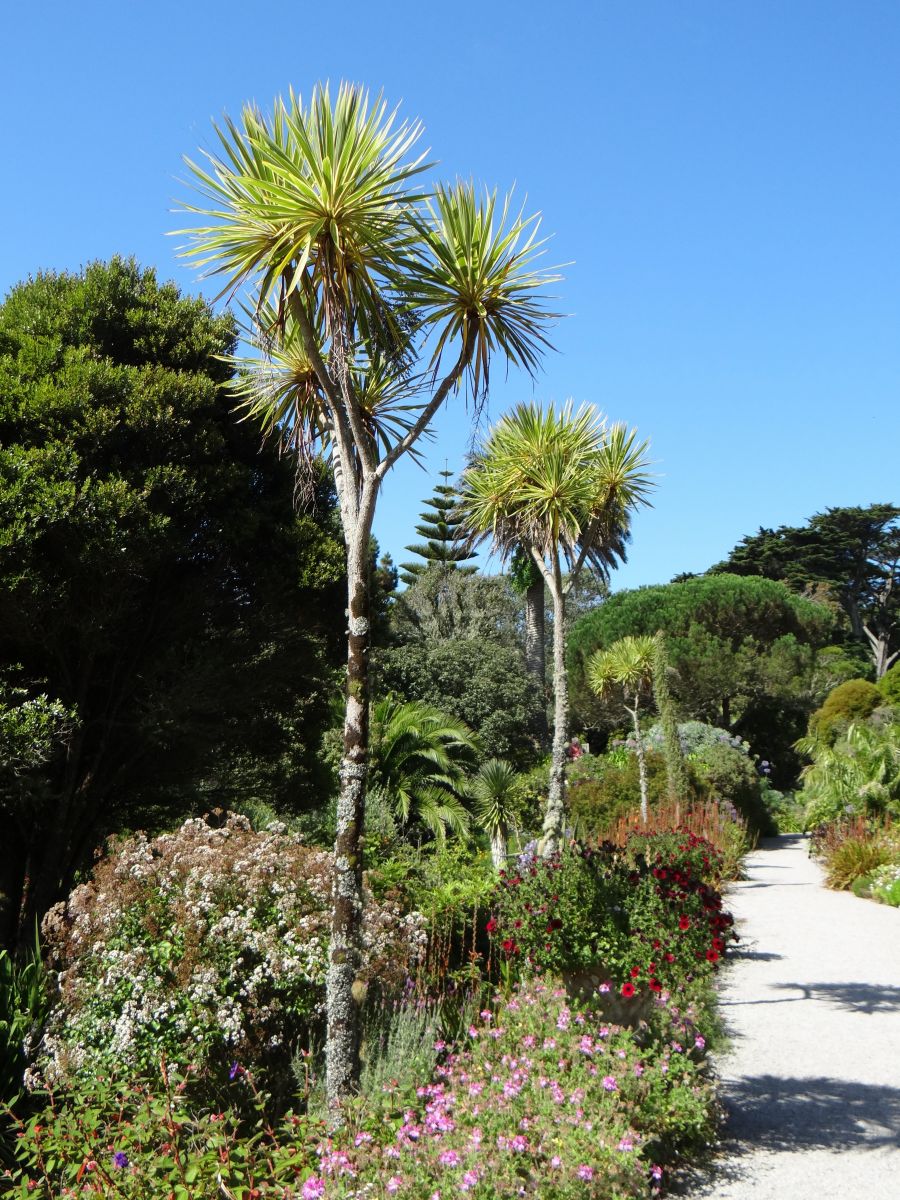 Time for a visit
Barely on the ground, the garden invites us to exit the heliport.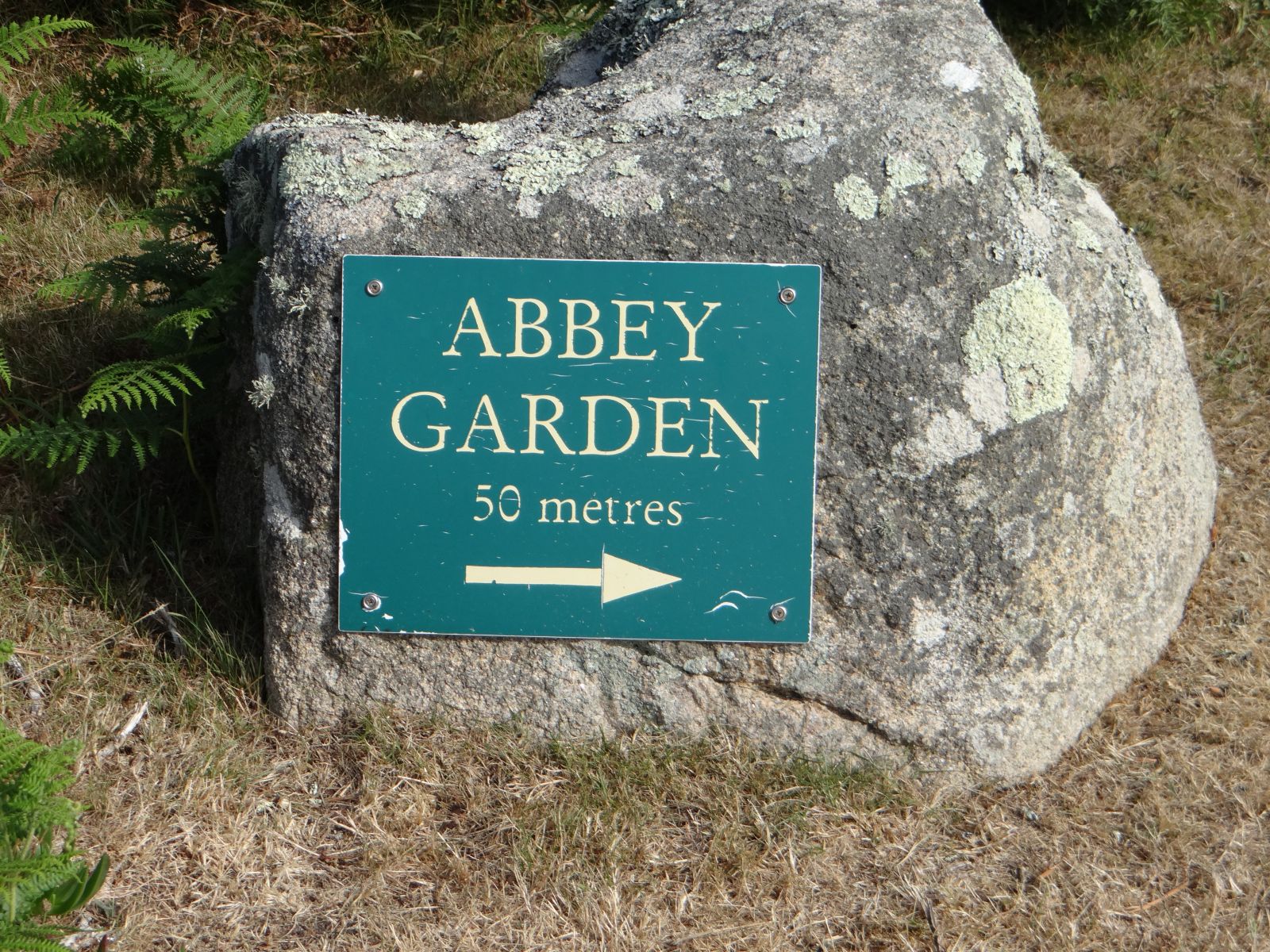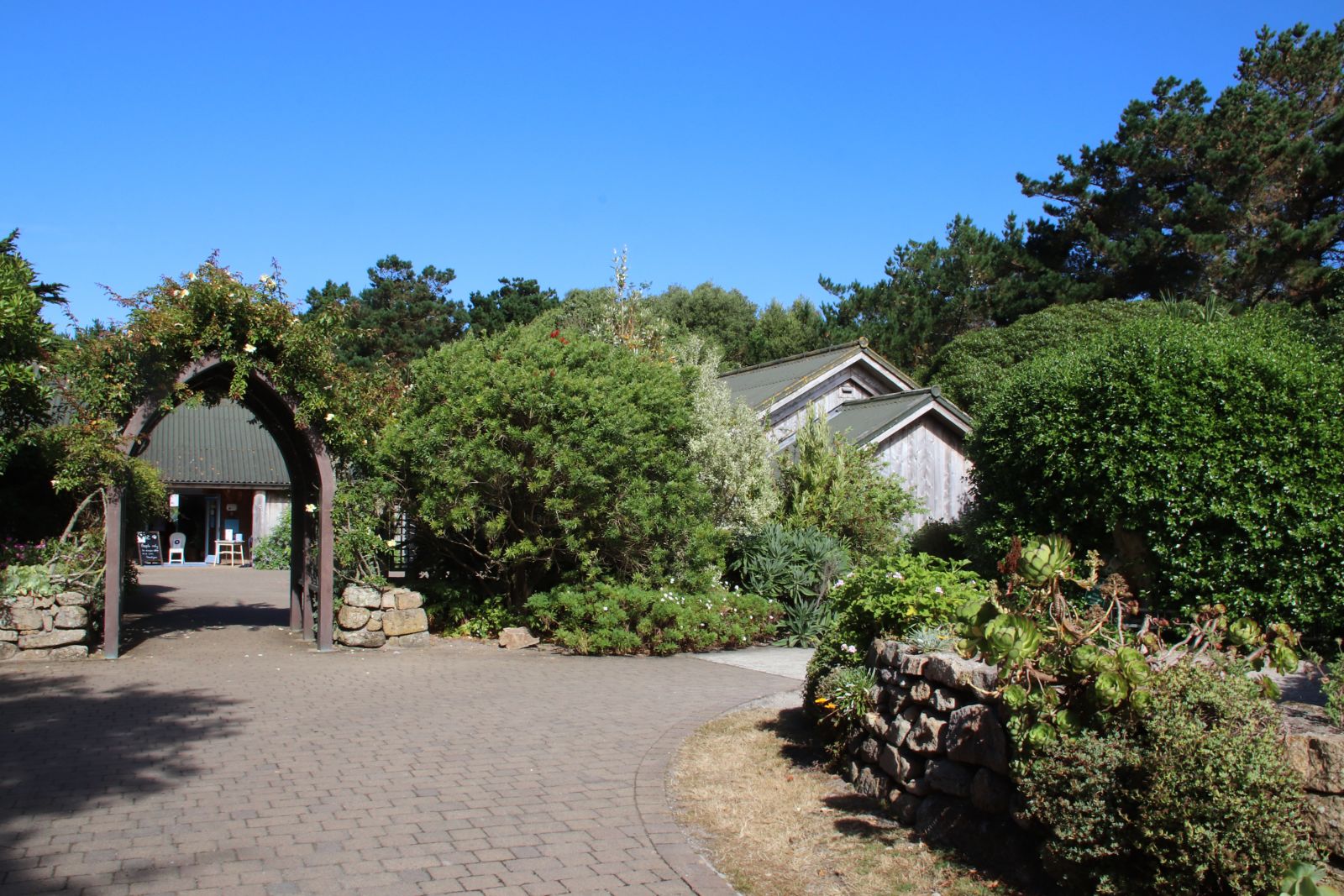 One day won't be too much. We could stay there longer, stroll, dream, soak up the richness of the world.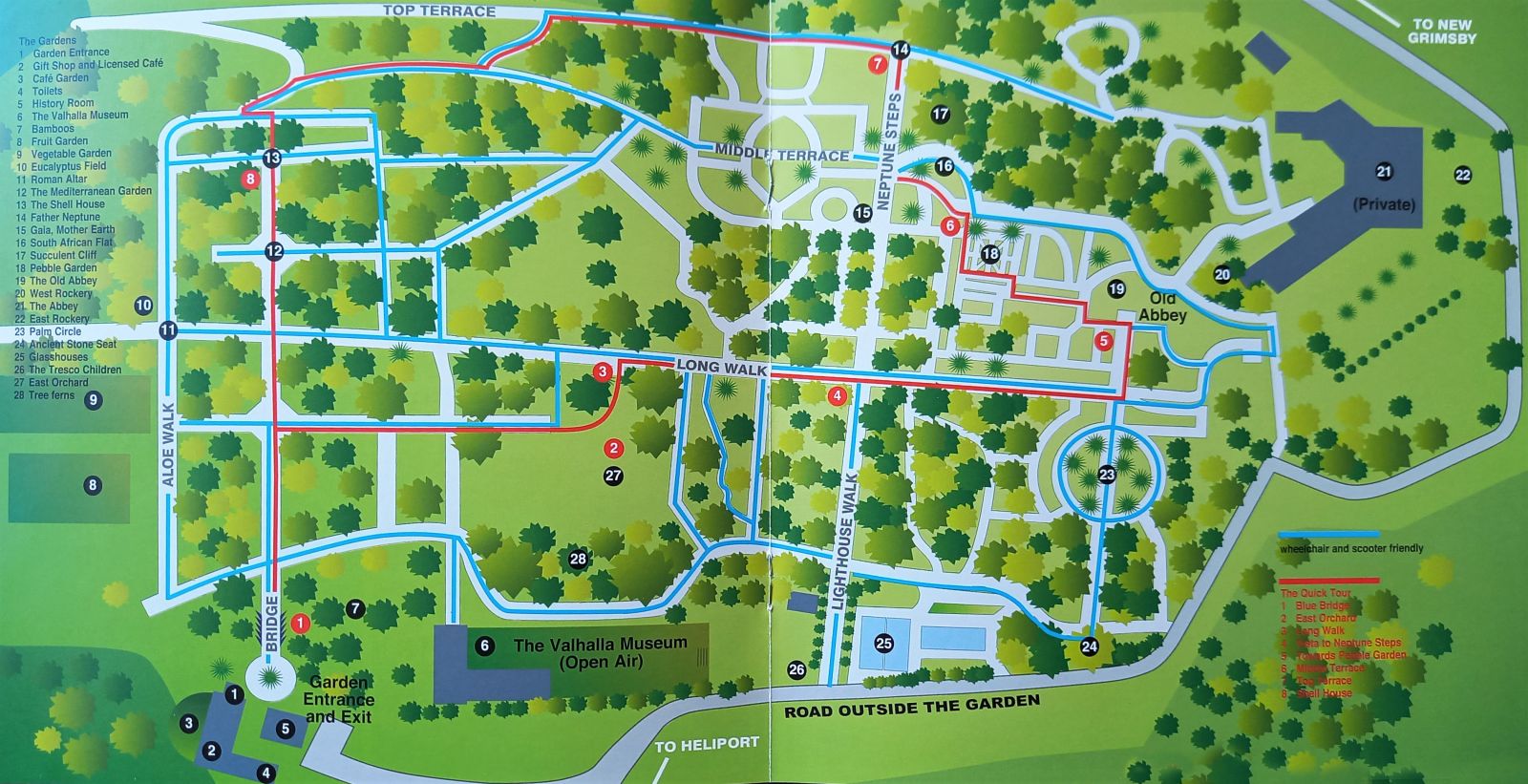 The 'Bridge' sets the tone, in the shade of the pines. Designed by Robert Dorrien-Smith in 2004, it is implanted from its royal blue posts and announces paths that are often straight, but full of surprises at every step. The garden continues its development under the hands of the family established for almost 200 years, but also thanks to a team of renowned gardeners.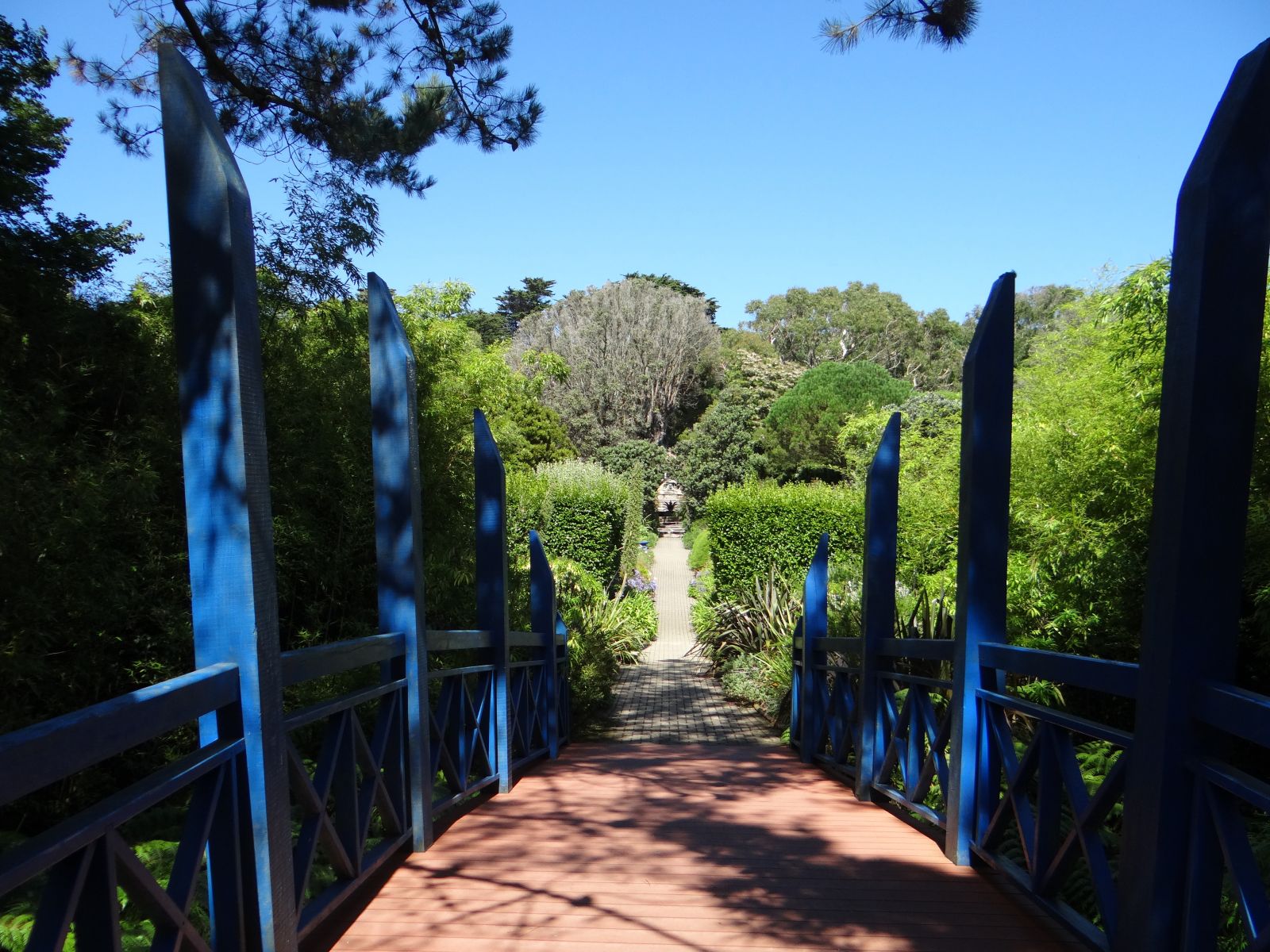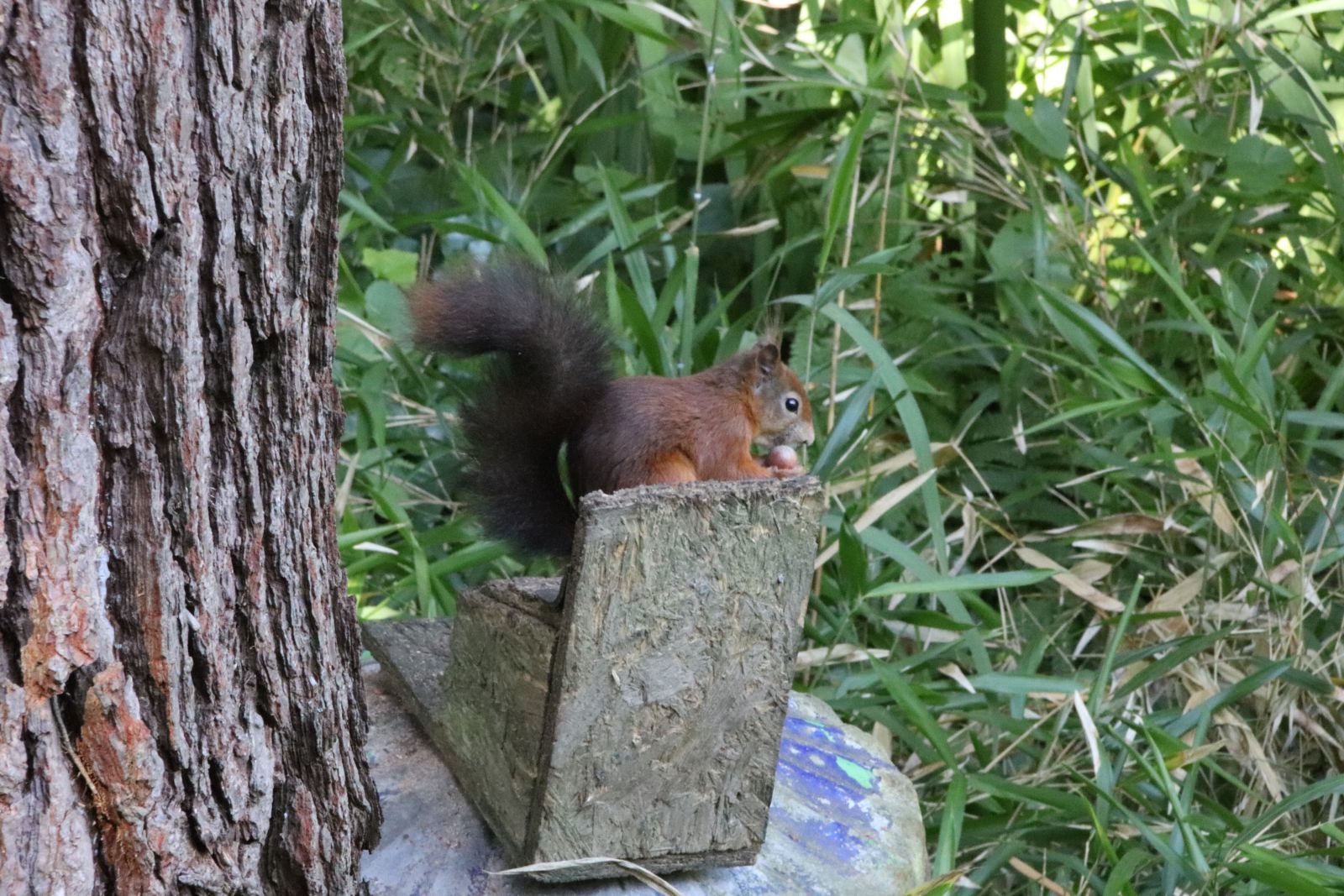 At the end of the path, the Mediterranean garden takes place with its shell house created by Lucy Dorrien-Smith. She settled under a protective titan: a giant-sized cupressus macrocarpa.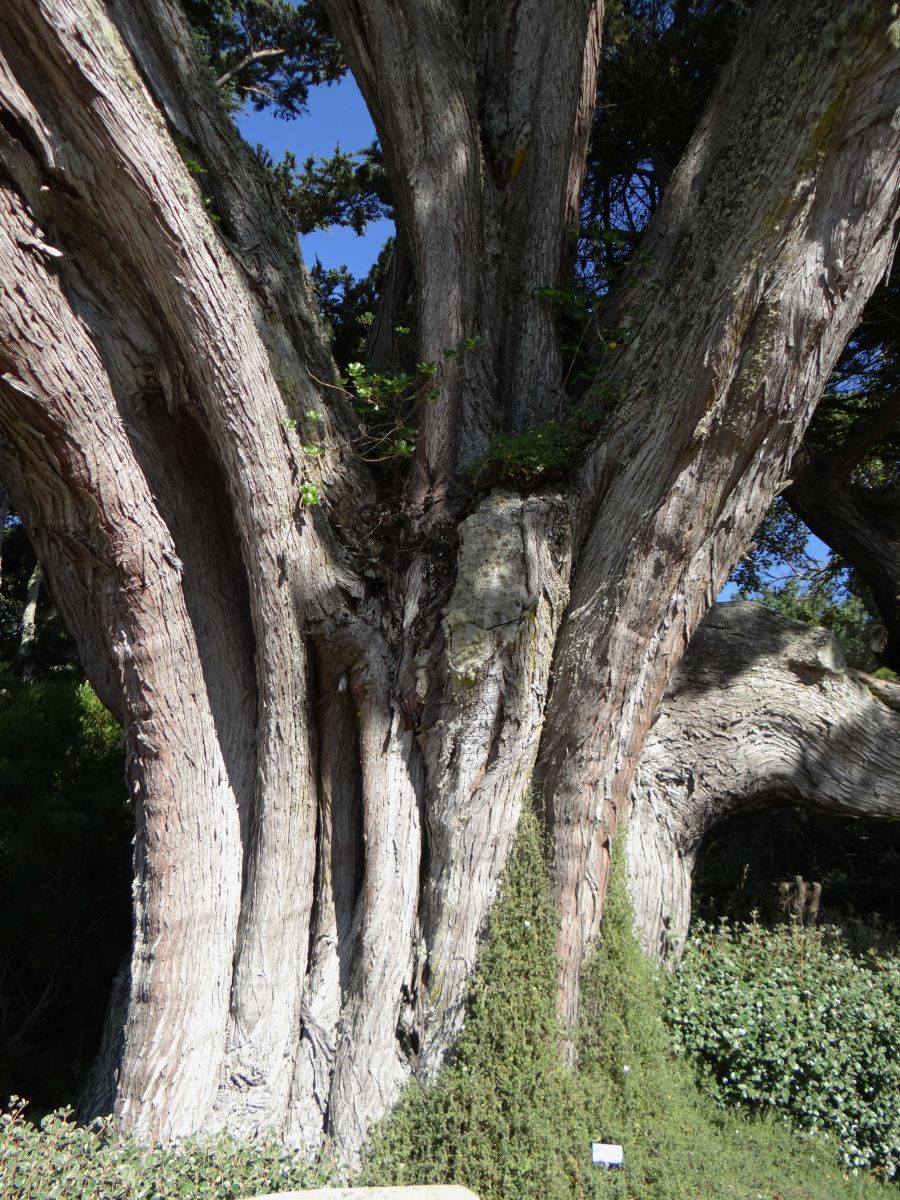 Rich paintings orchestrated with a master's hand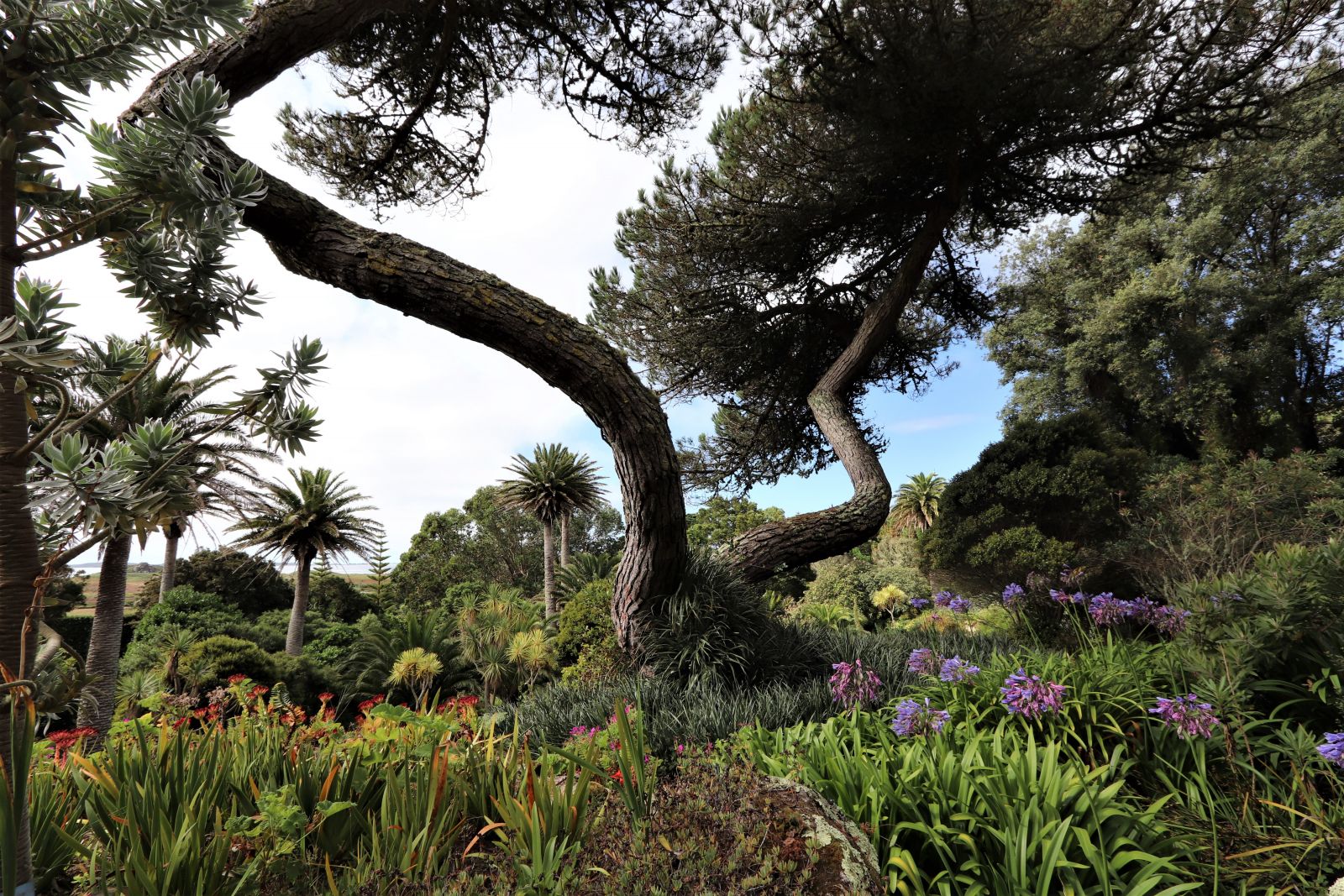 Tortured pines, agapanthus and other Leucadendron argenteum lull us into a captivating romance from elsewhere. We are no longer in England, that's for sure.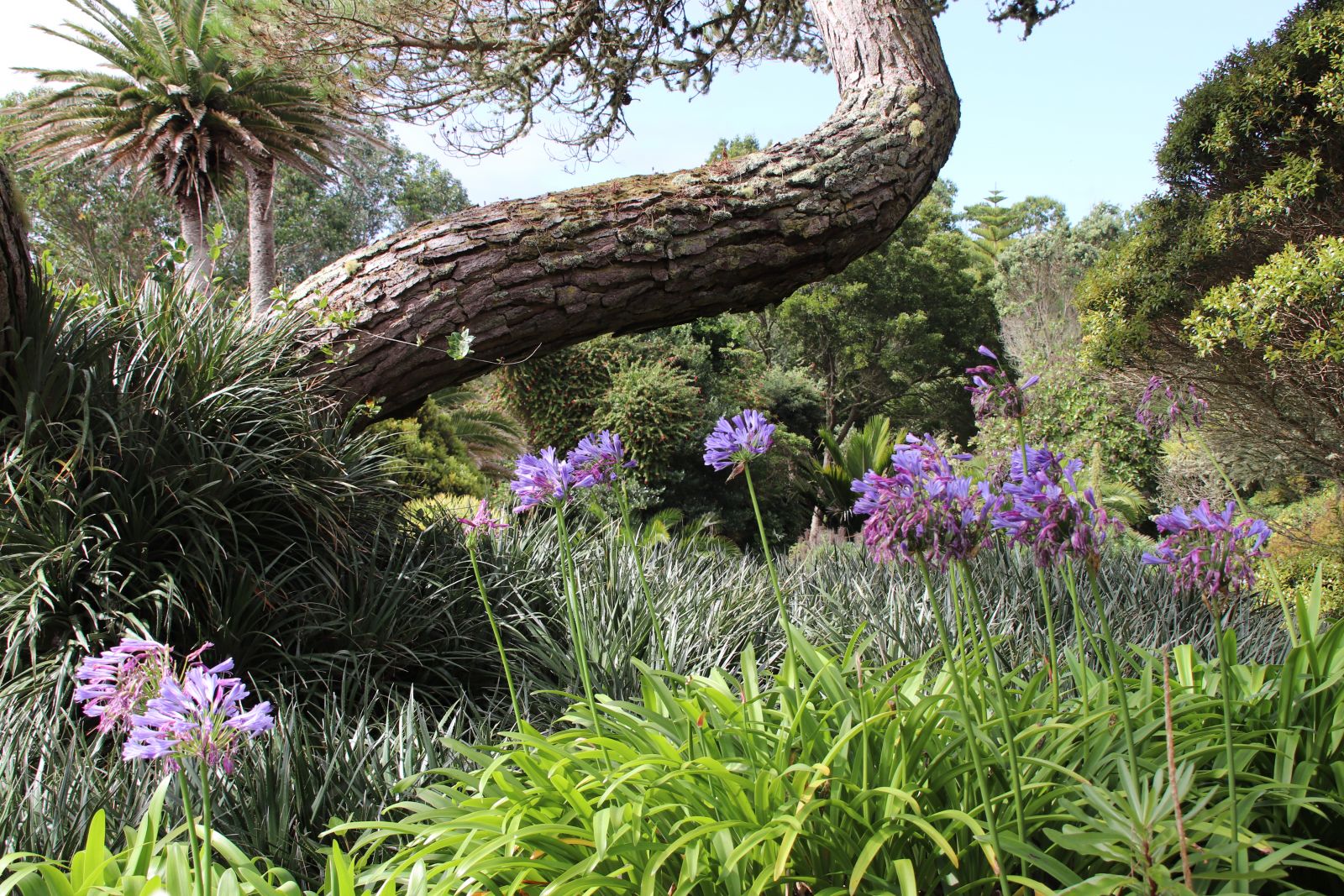 The walk is part of a relative slope, stairs, ramps; and from time to time the view opens out to the sea.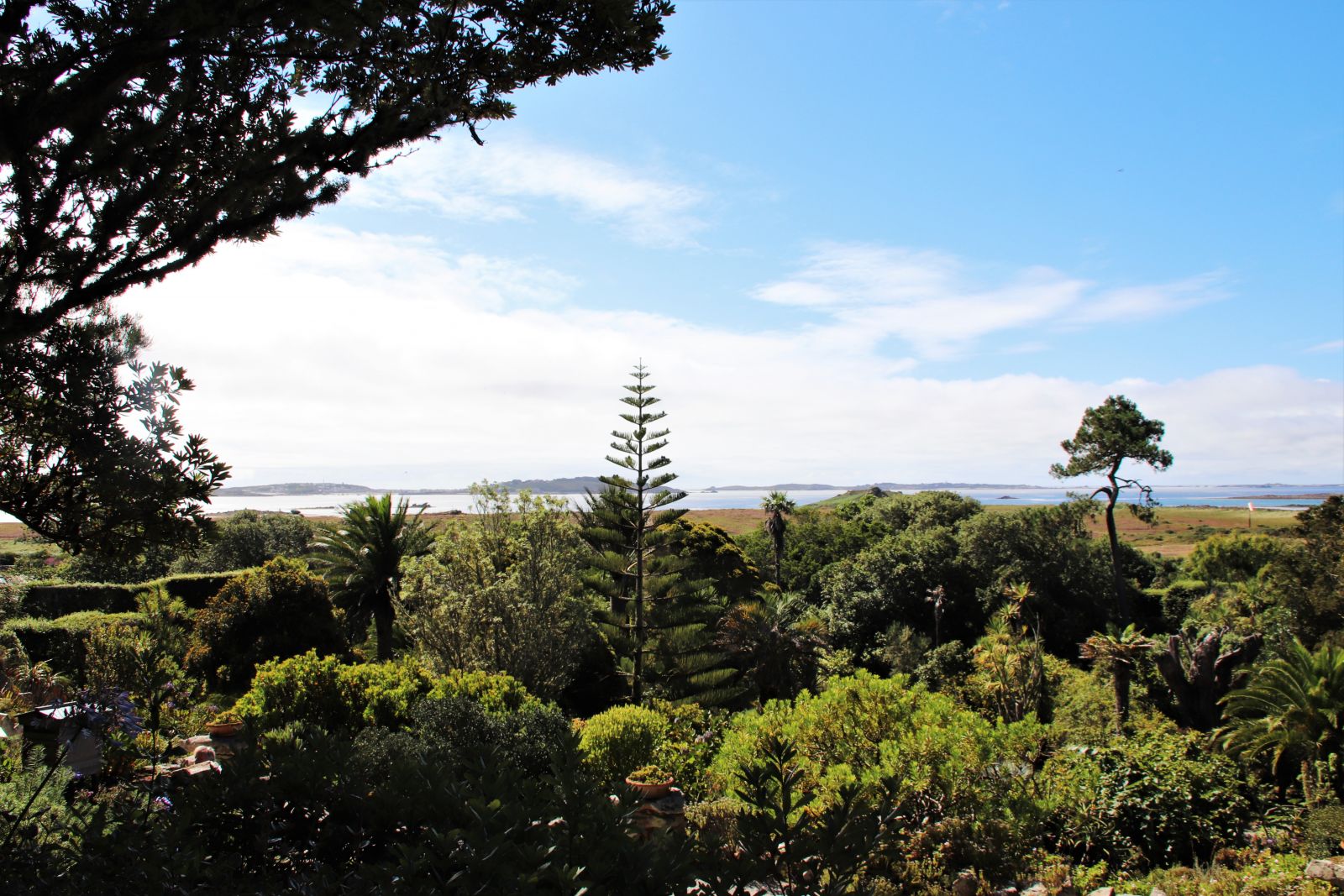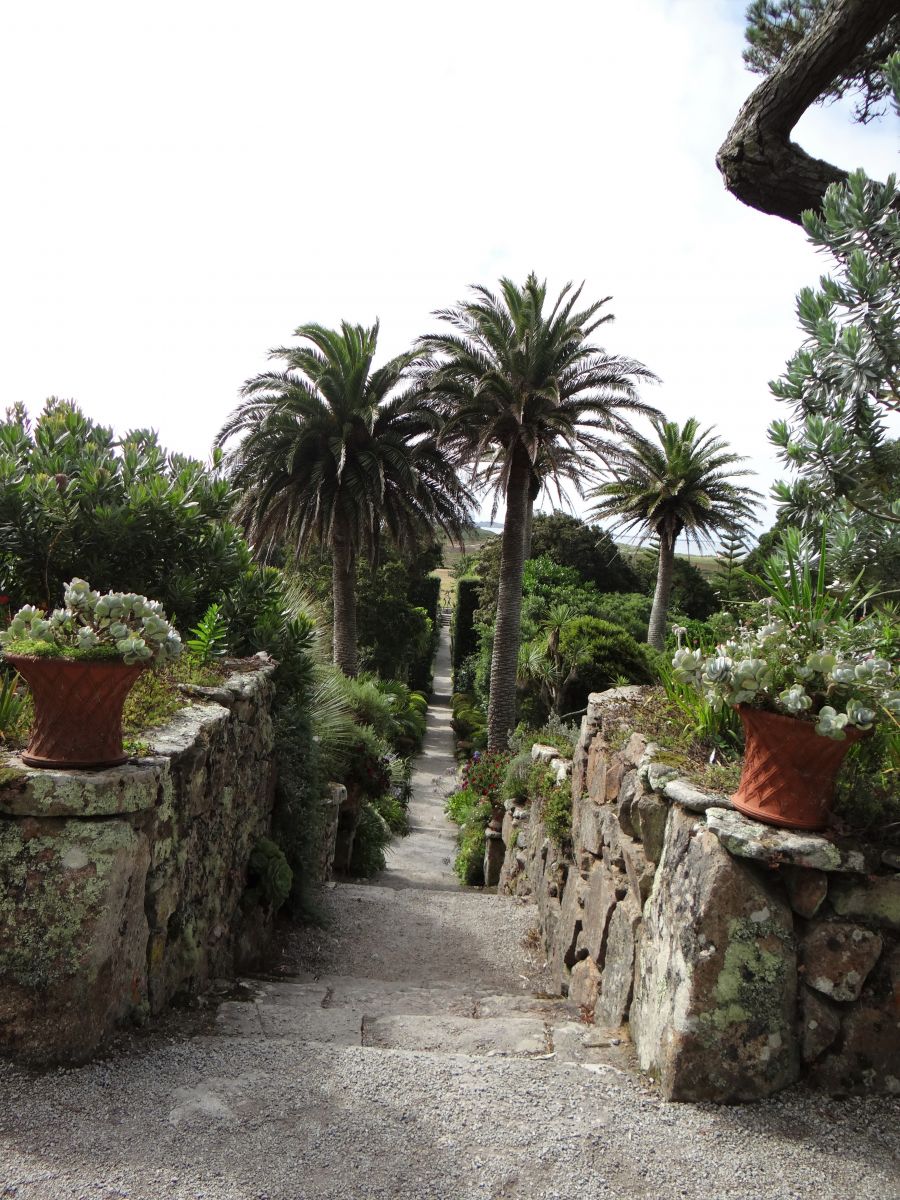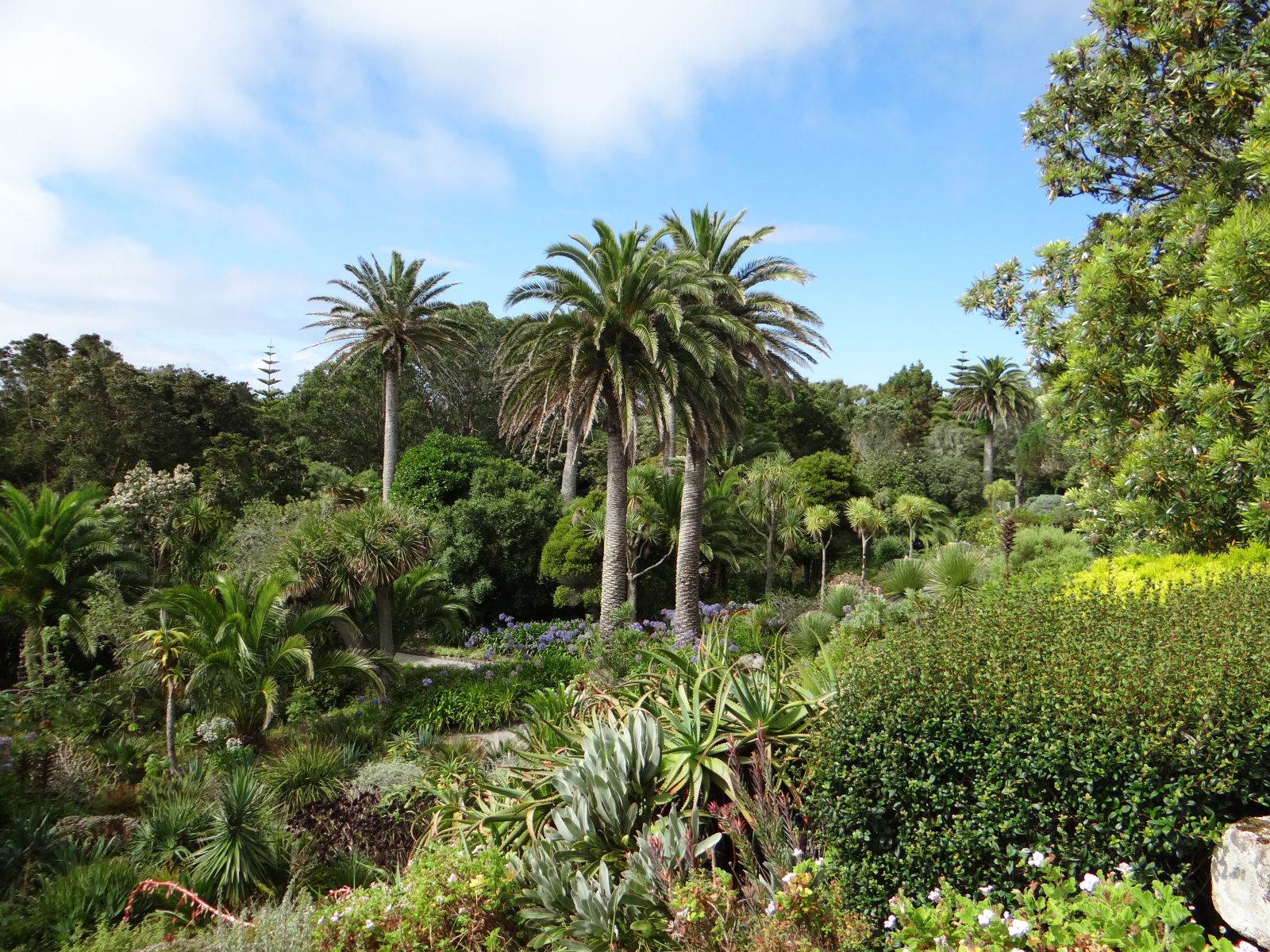 The old orchard to the east has been transformed into an atypical garden where Erica arborea 'Albert's Gold', Wollemia and Araucaria heterophylla mingle.
Wide, finely gritted paths thread their way between the exuberant flowerbeds where breaks are a frequent invitation. Wooden benches, stone walls, pottery of succulents, floral bouquets in the open ground and sculptures are all attractions that hold us back for a moment.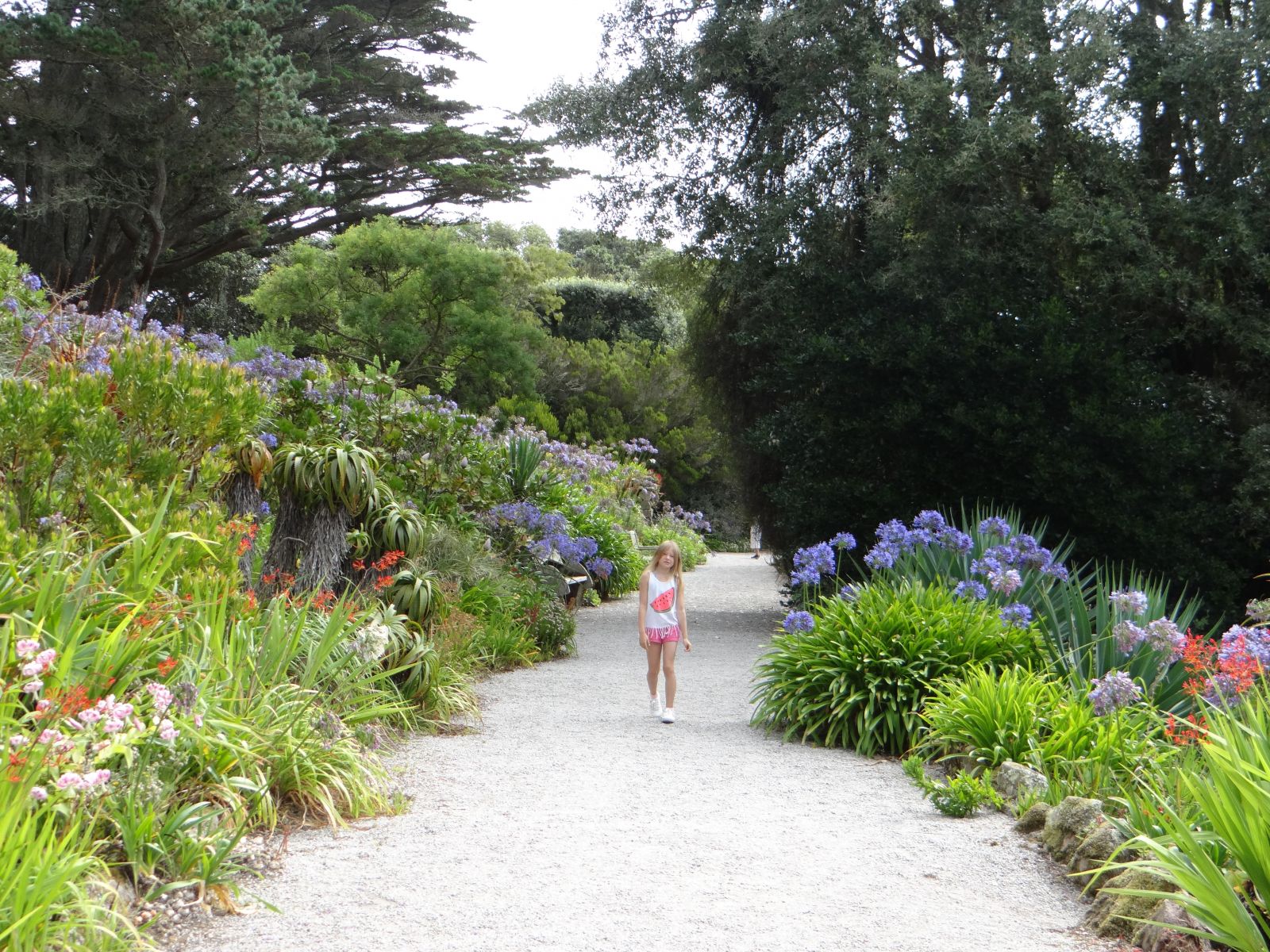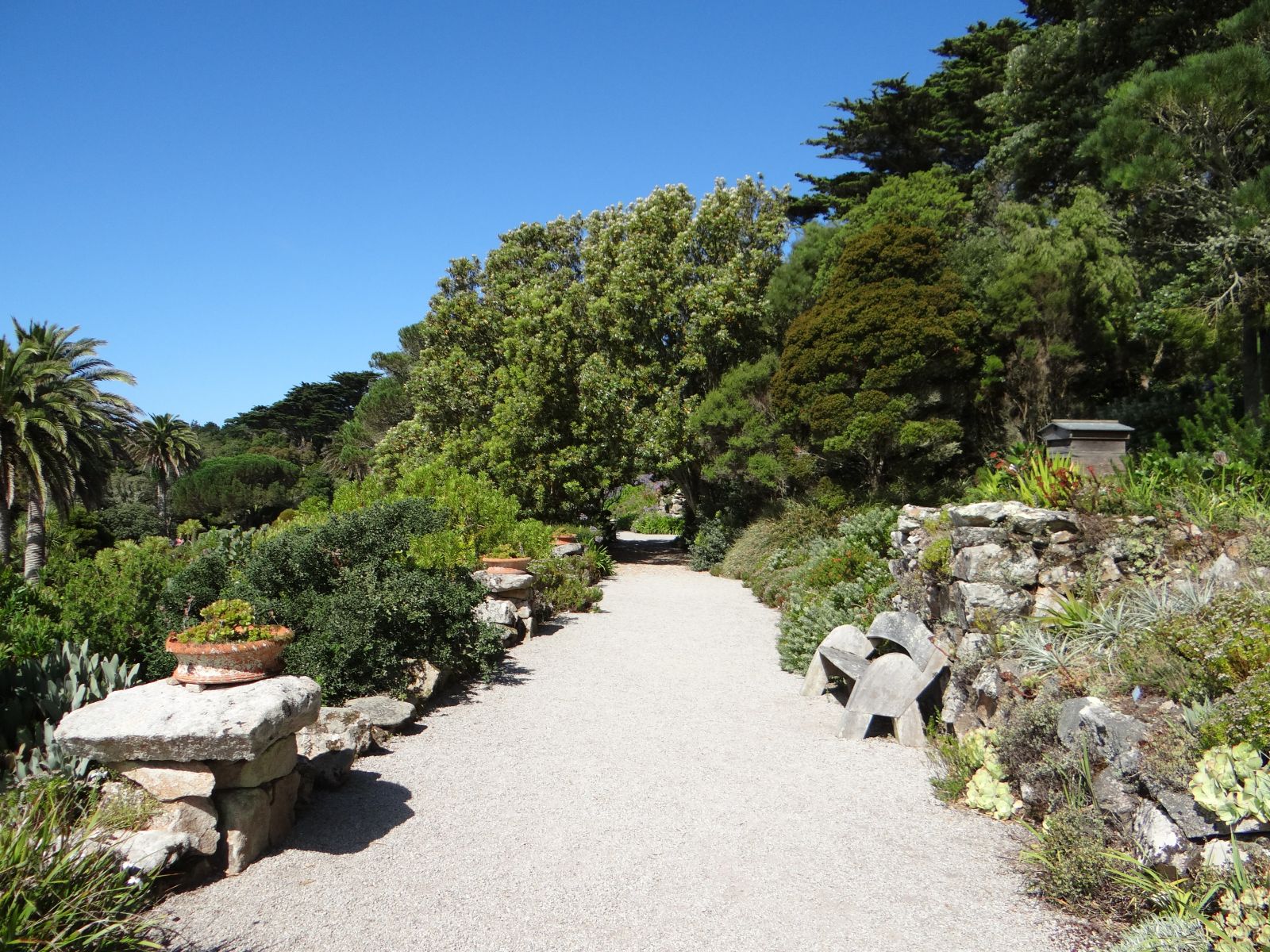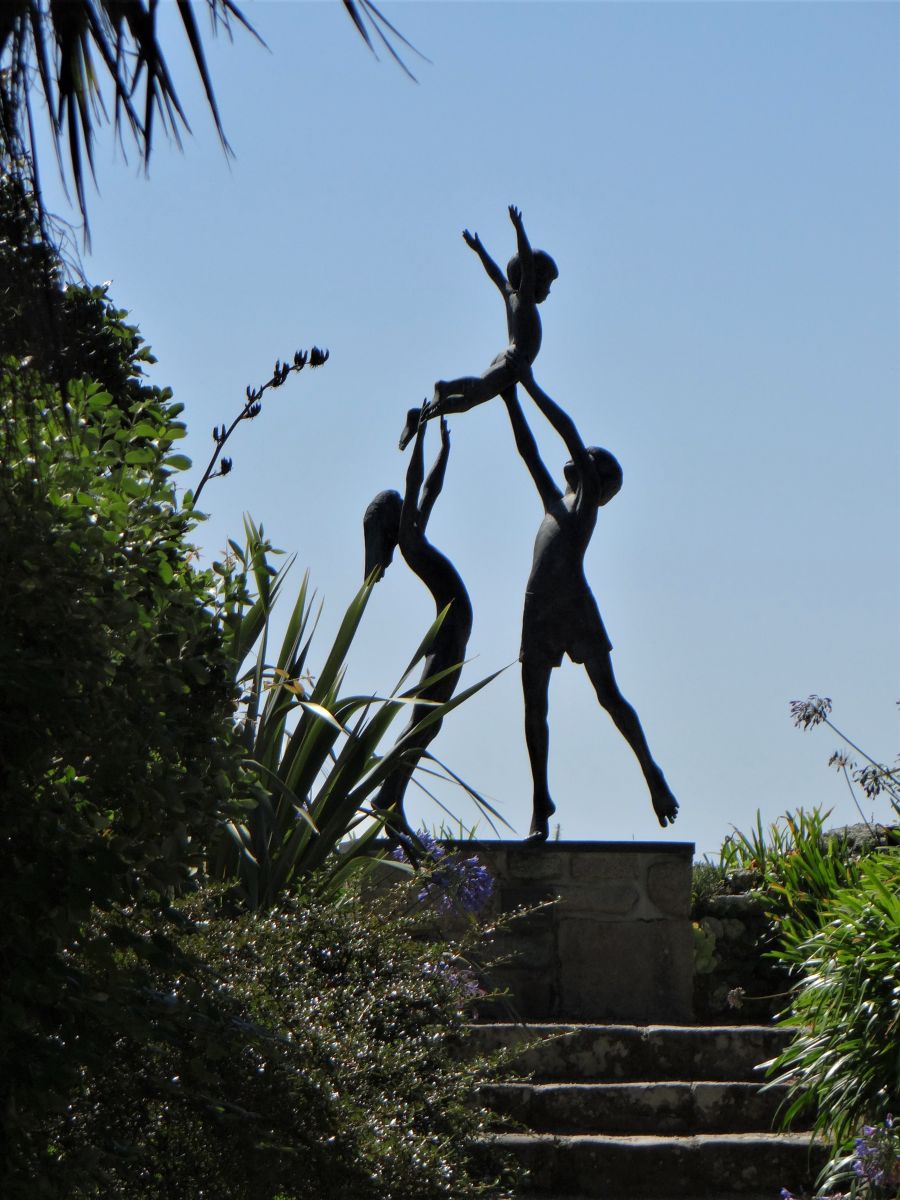 'Tresco Children' by David Wynne - Swapping a Breath of Water
Plants

                                                                        Amomyrtus luma - except category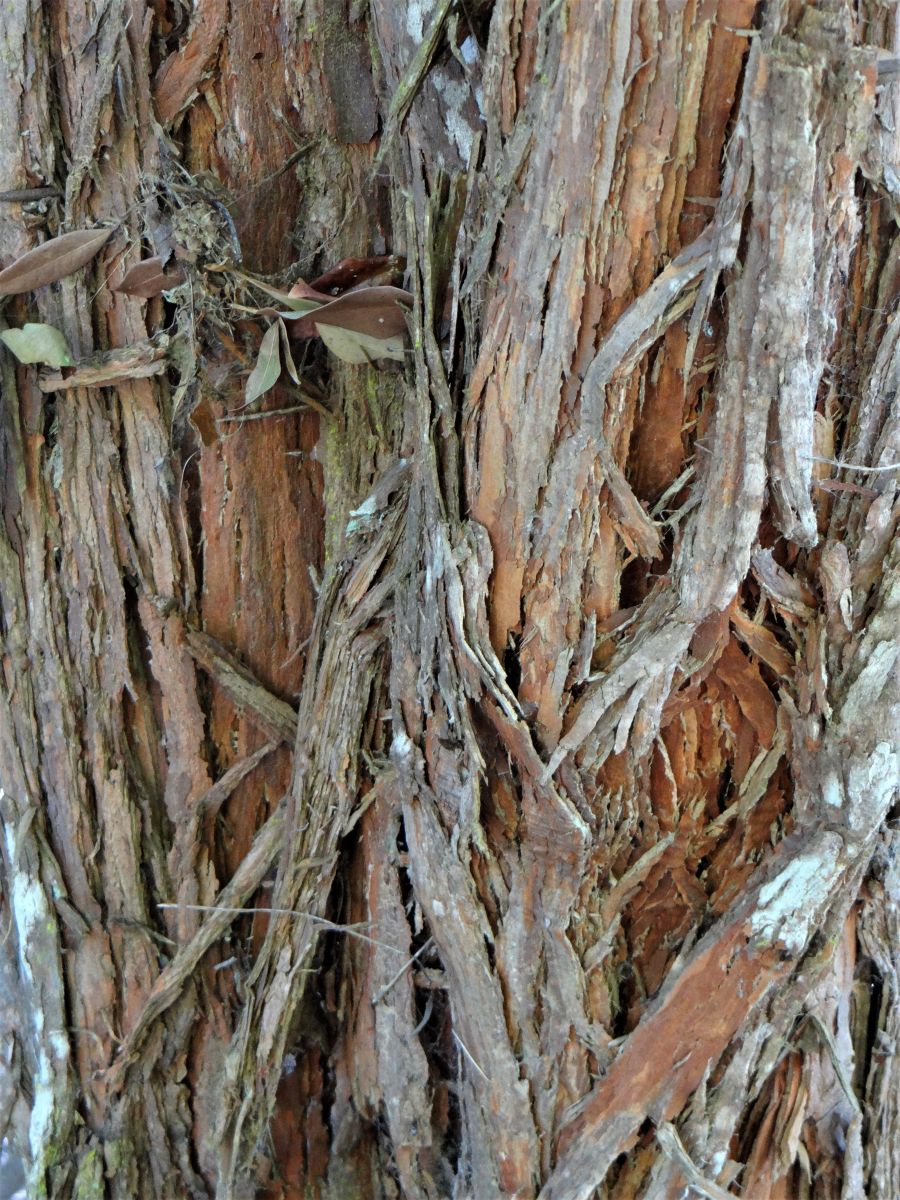 Angophora costata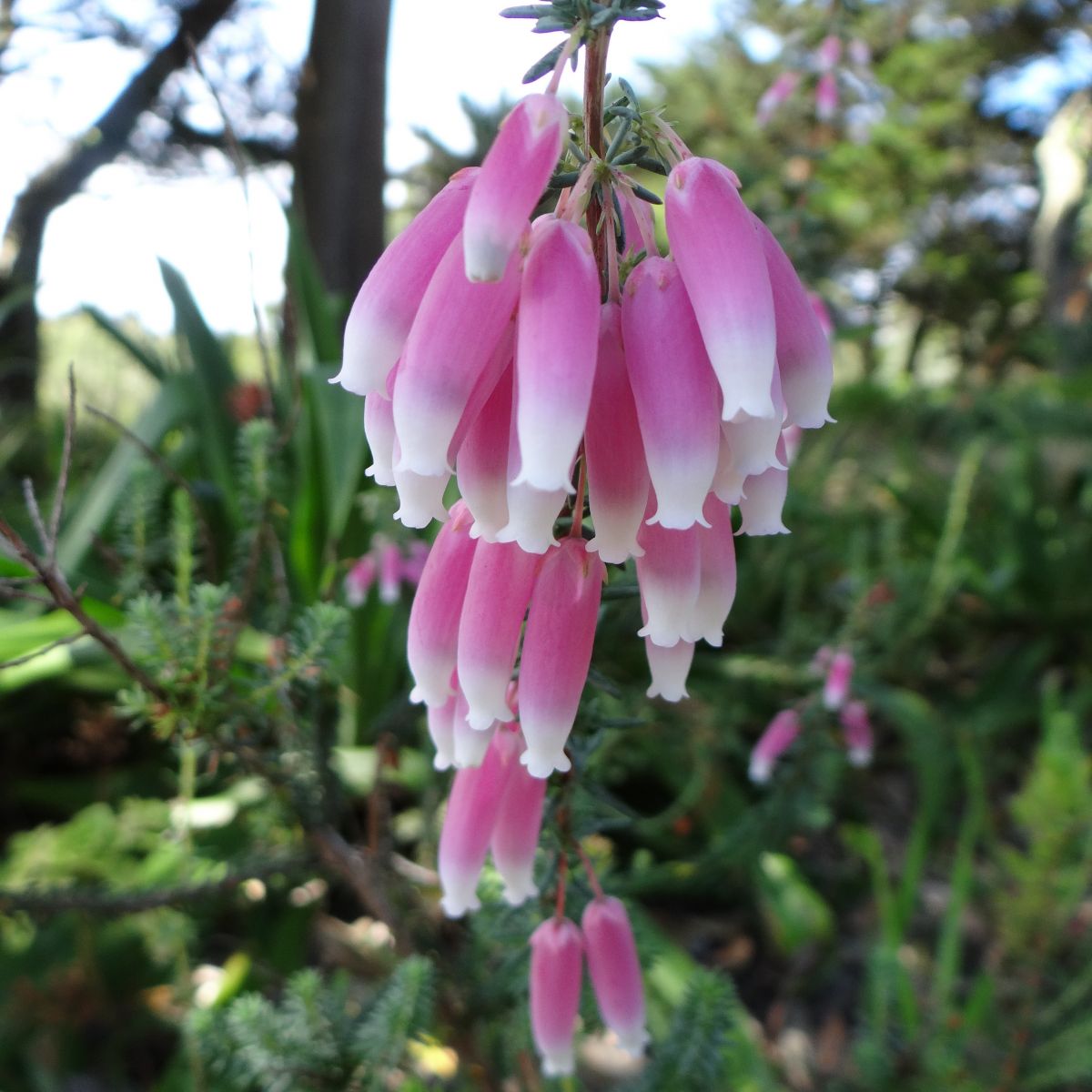 Erica baueri subsp. baueri                                                                                                                   Erica cerinthoides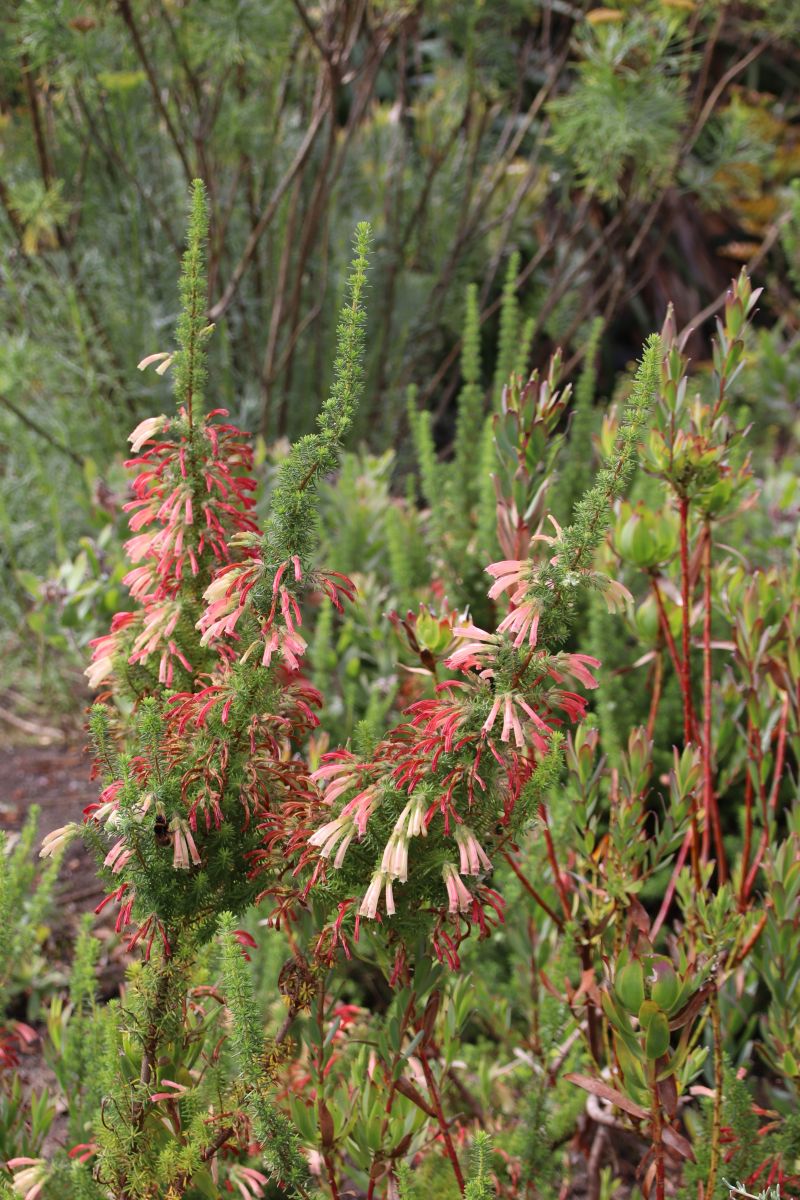 Erica glandulosa                                                                                                                                           Erica diaphana
Shoveling eucalyptus, we have changed continents, downright. Leaves, barks and flowers!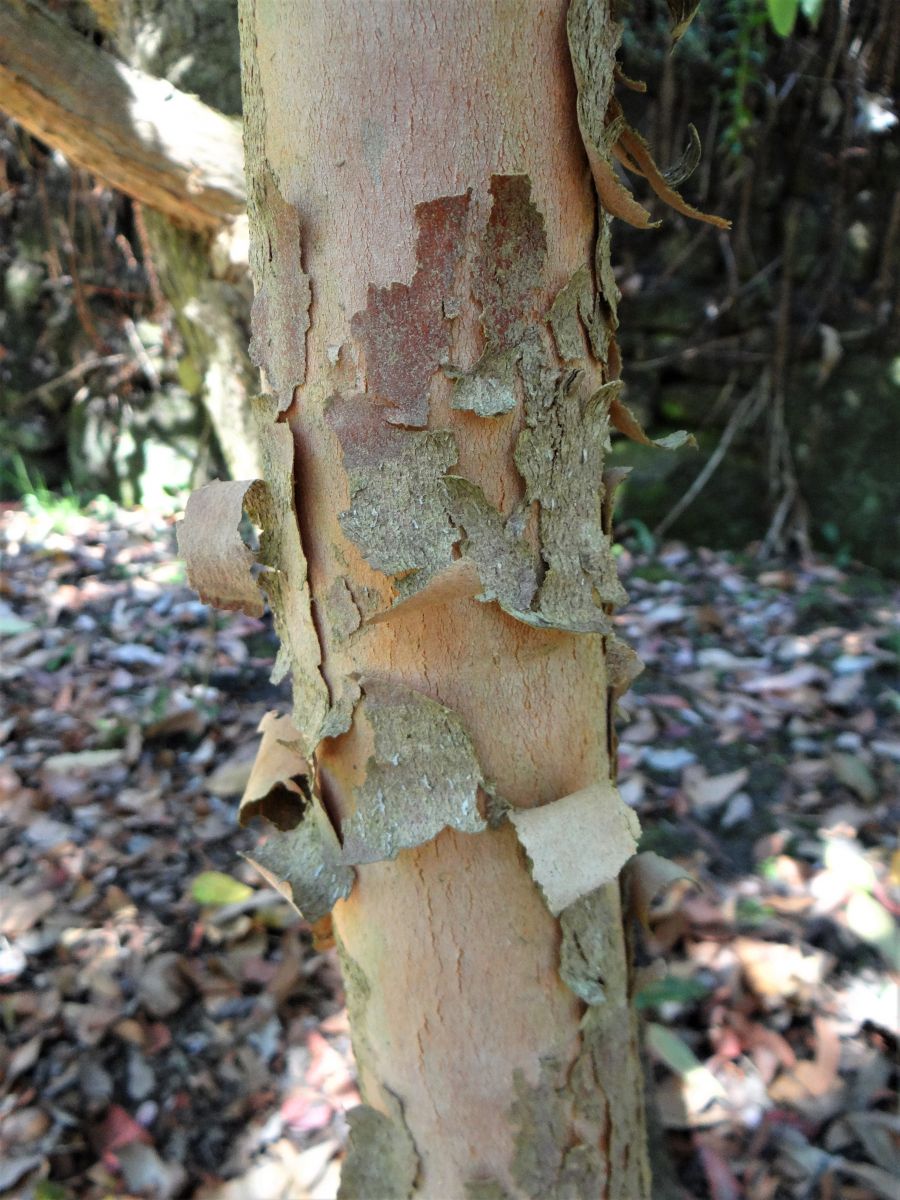 Eucalyptus ficifolia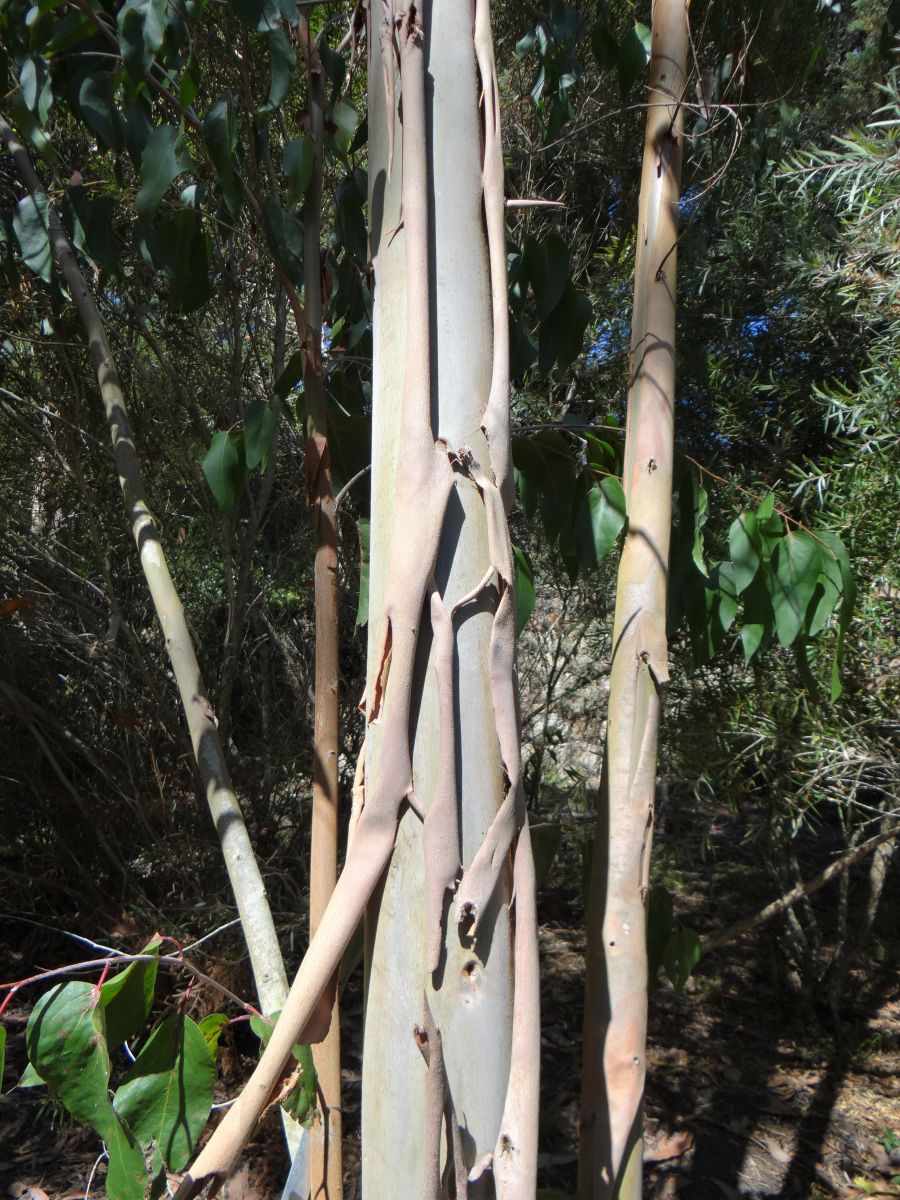 Eucalyptus grandis                                                                                                                               Eucalyptus regnans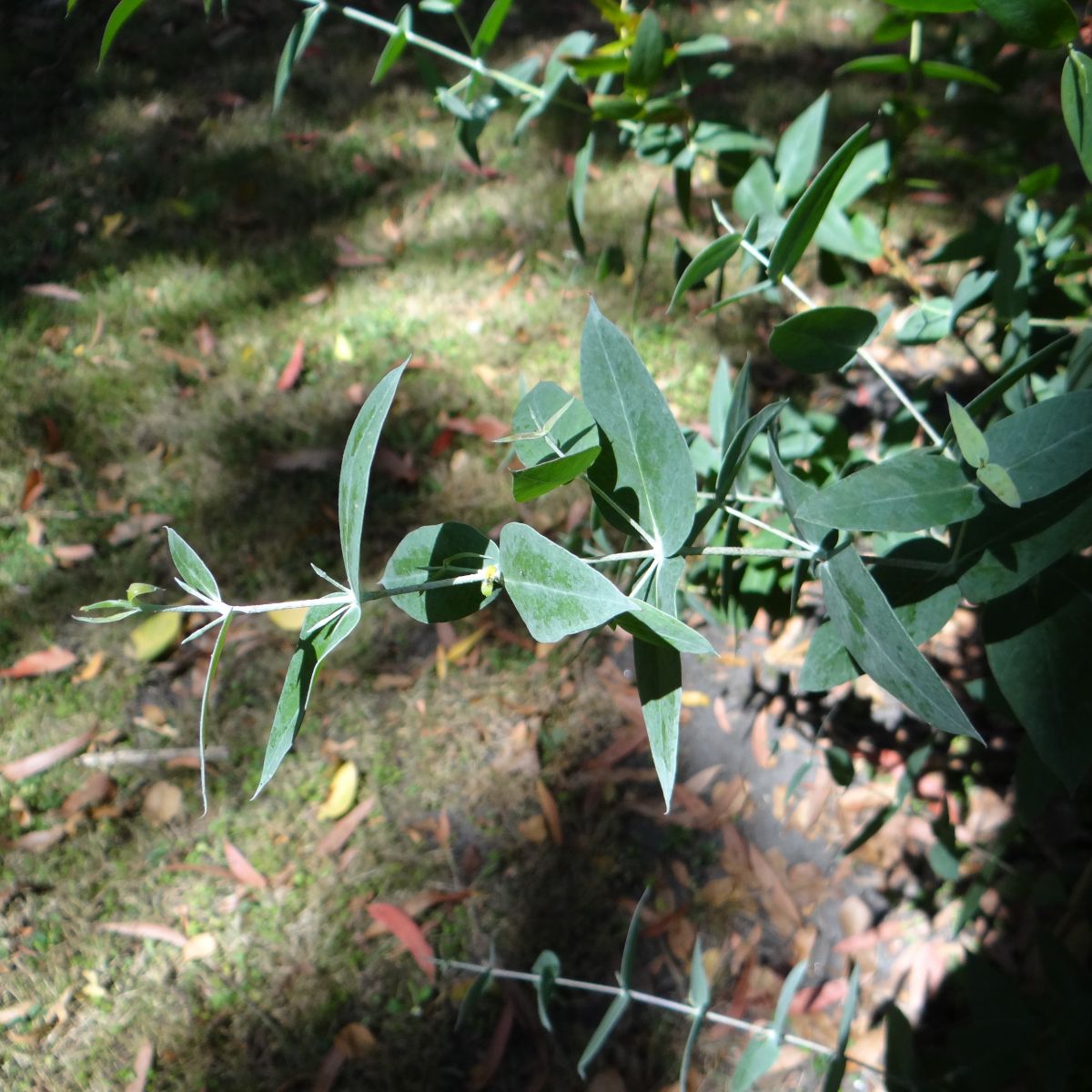 Eucalyptus cypellocarpa                                                                                                                 Eucalyptus tenuiramis

Eucalyptus delagatensis                                                                                                                 Eucalyptus bosistoana
And more ...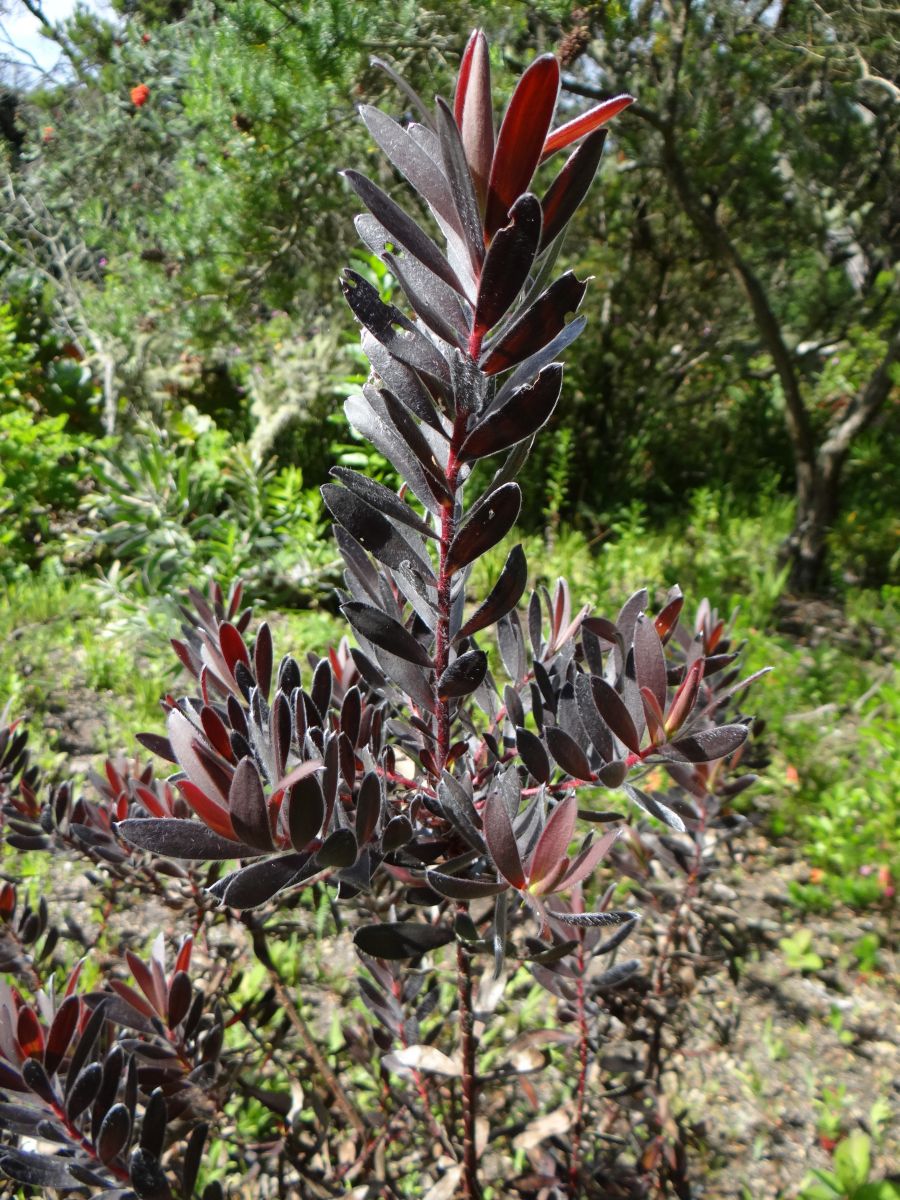 Leucadendron argenteum                                                                       Leucadendron laureolum Burgundy Sunset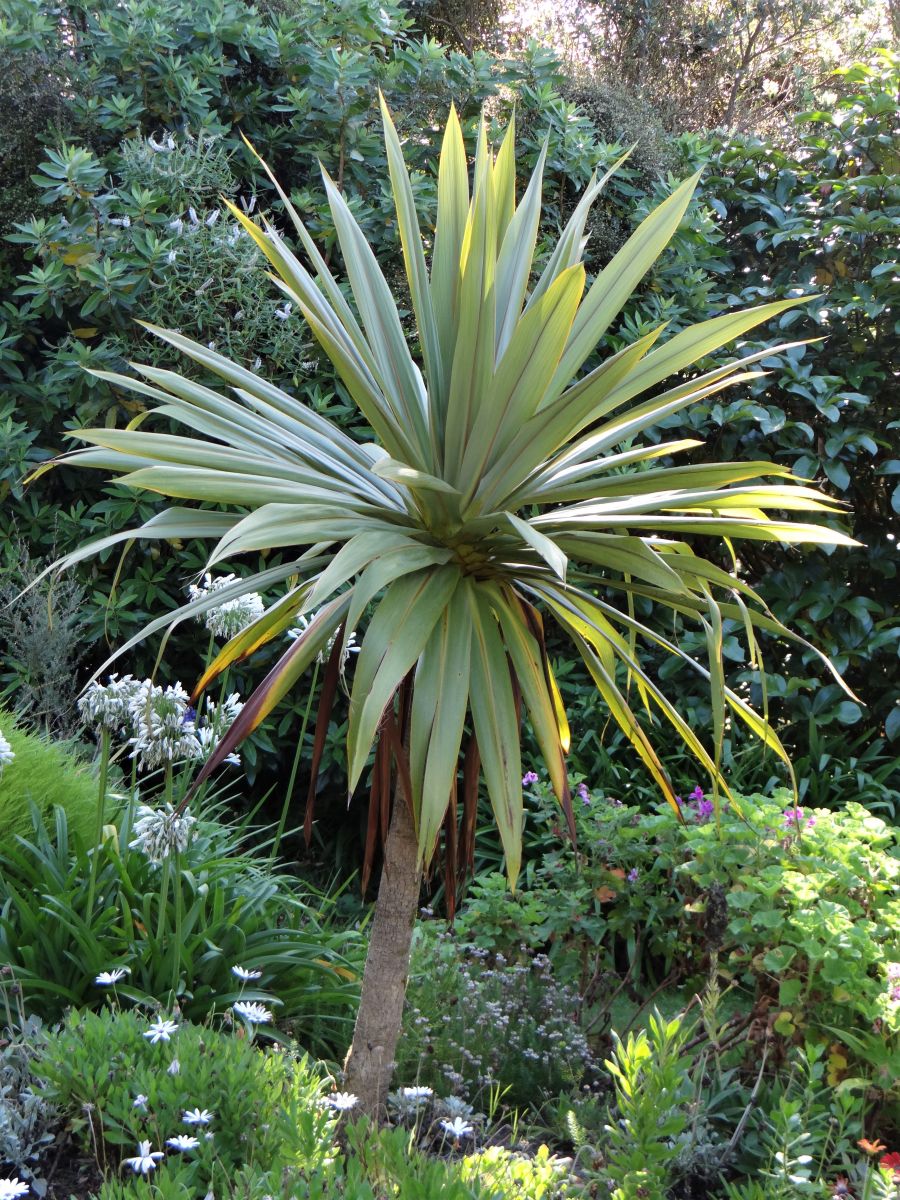 Clethra arboreum                                                                                                                                   Cordyline indivisa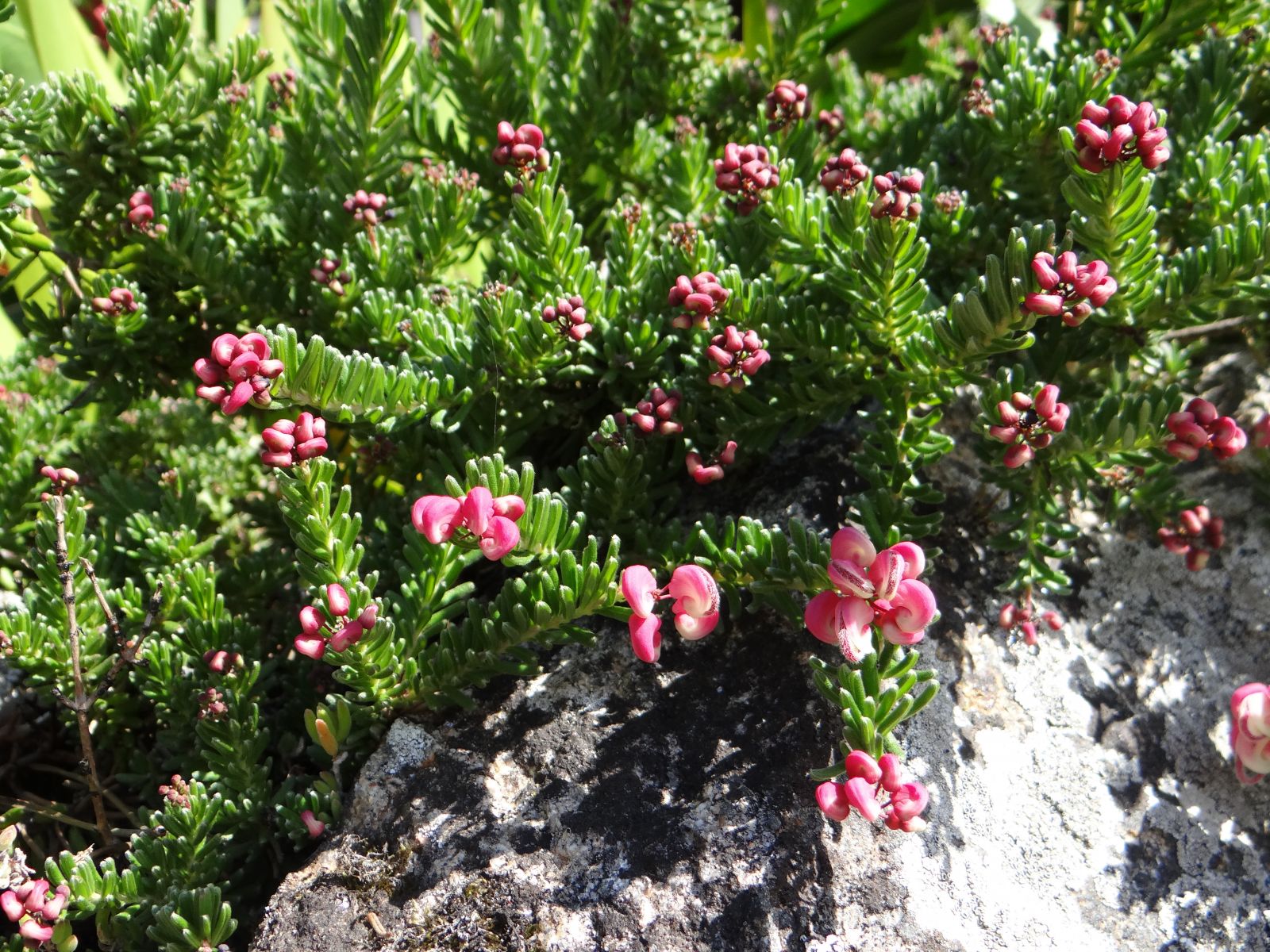 Dendroseris littoralis                                                                                           Grevillea lanigera Mount Tamboritha

Lophostemon confertus                                                                                                                 Rhopalostylis sapida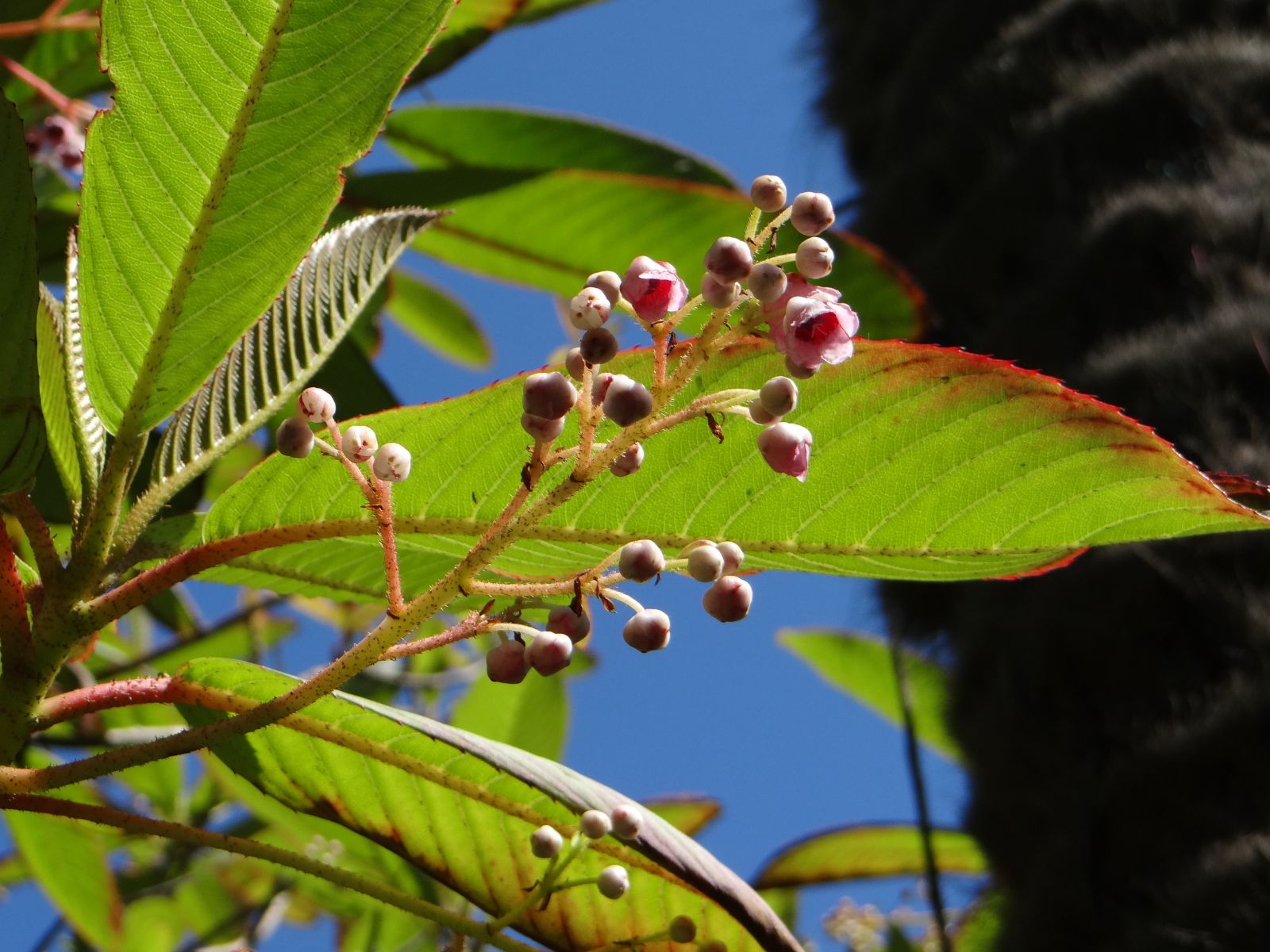 Saurauia napaulensis                                                                                                  Phymatosorus aff. scolopendria

Hedychium gardnerianum                                                                                                                      Protea neriifolia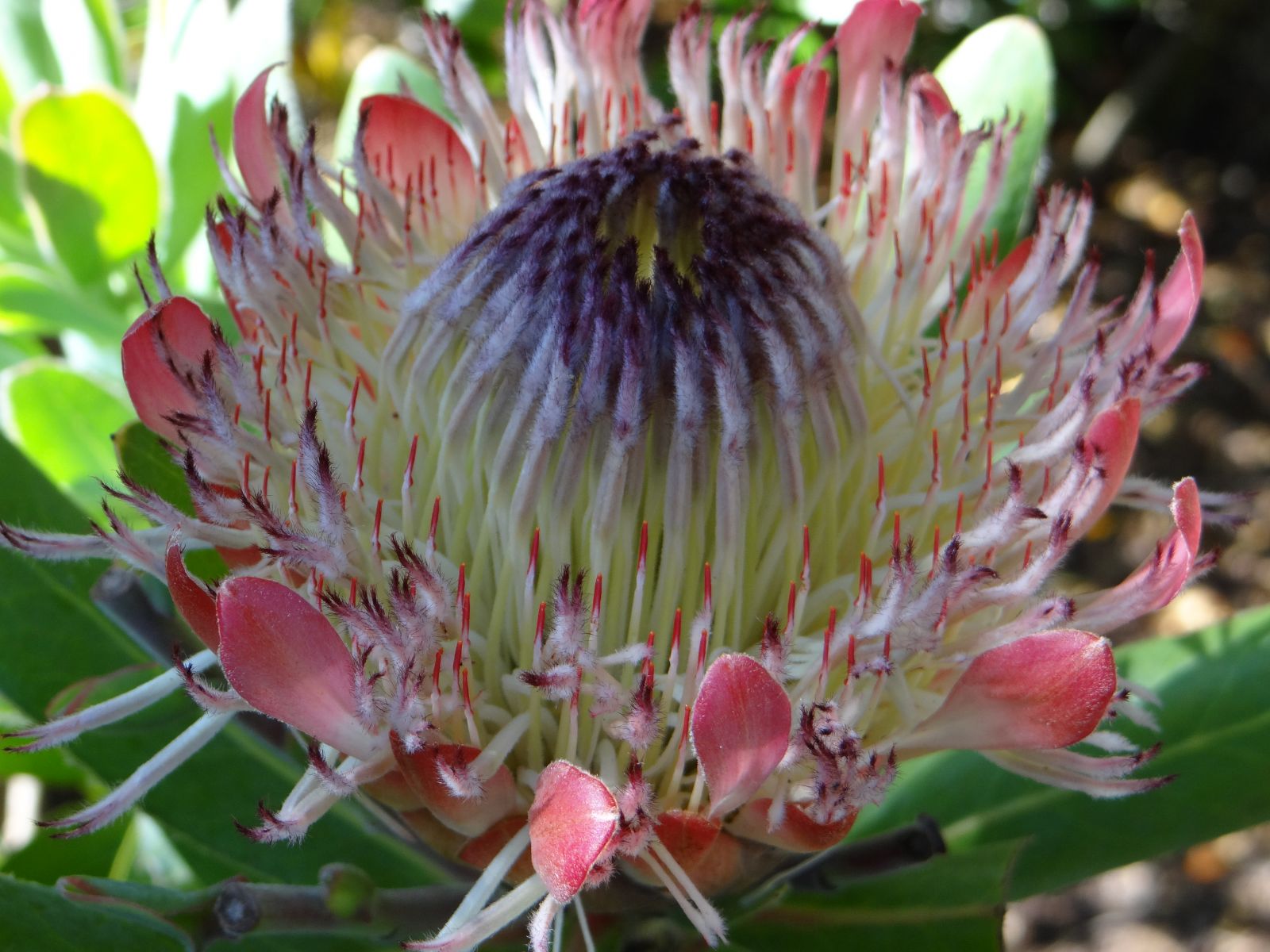 Protea cynaroides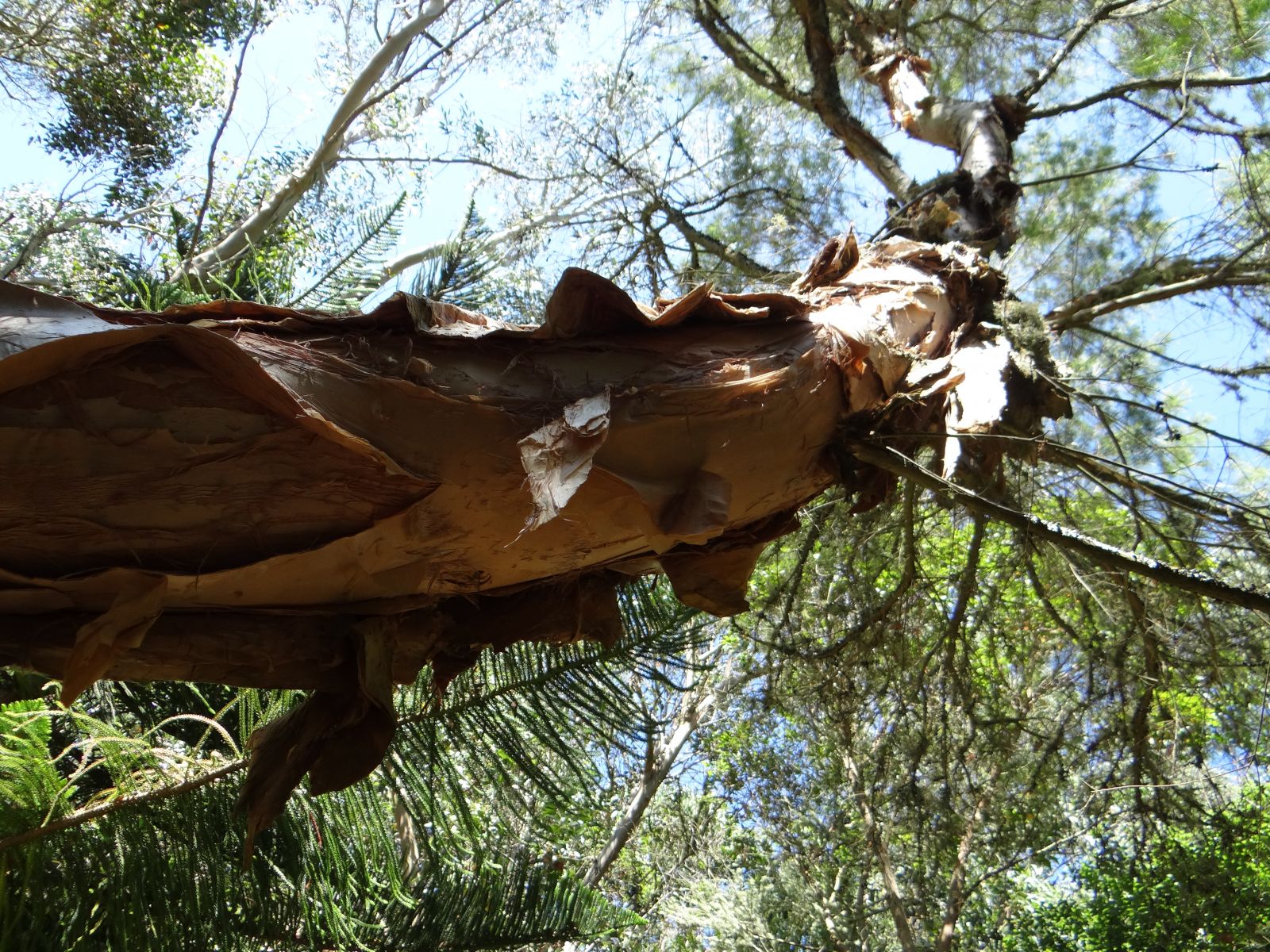 Melaleuca alternifolia
golden pheasant birds
They are unquestionably the kings of the domain. They abound there and delight Ness.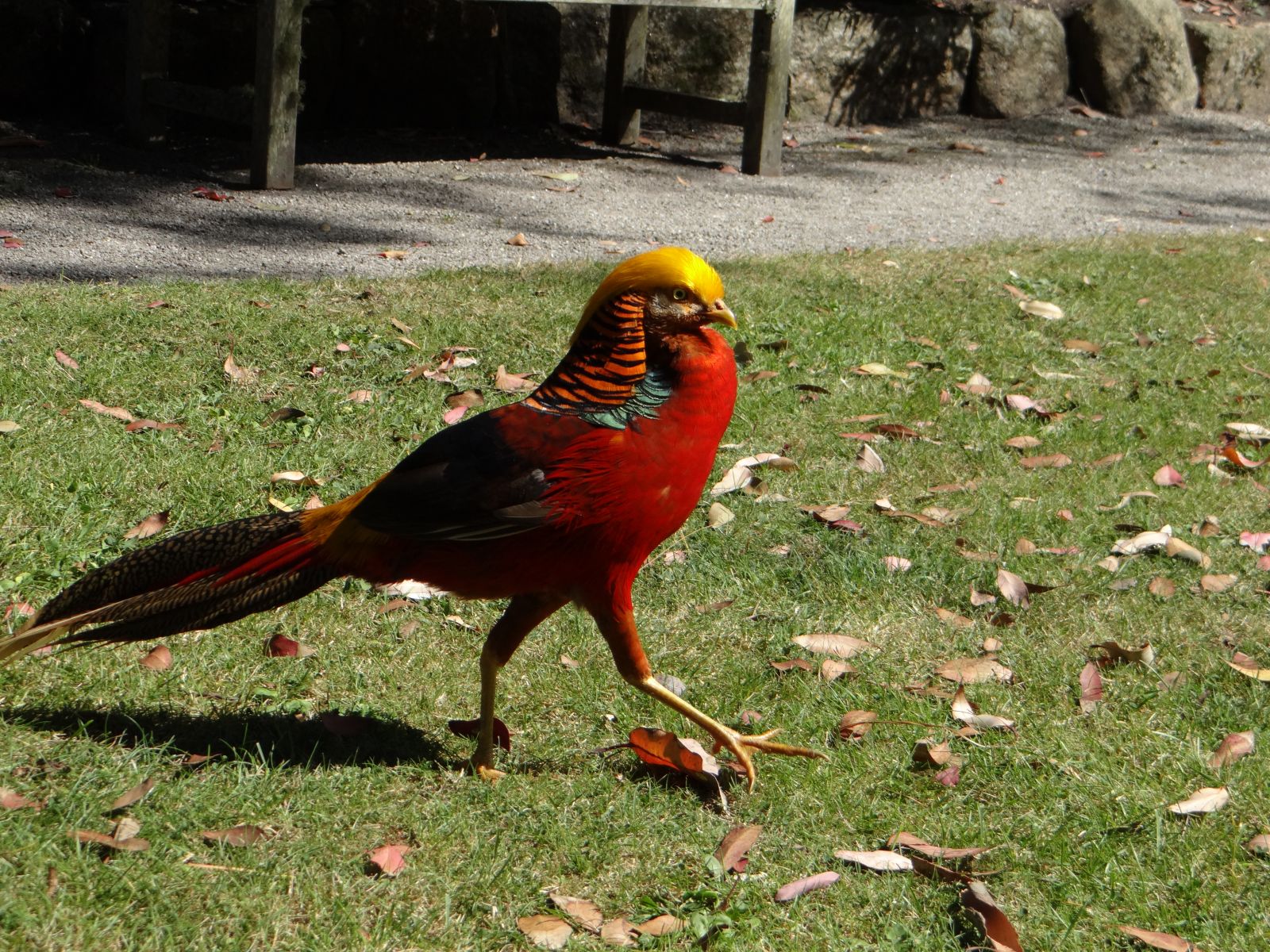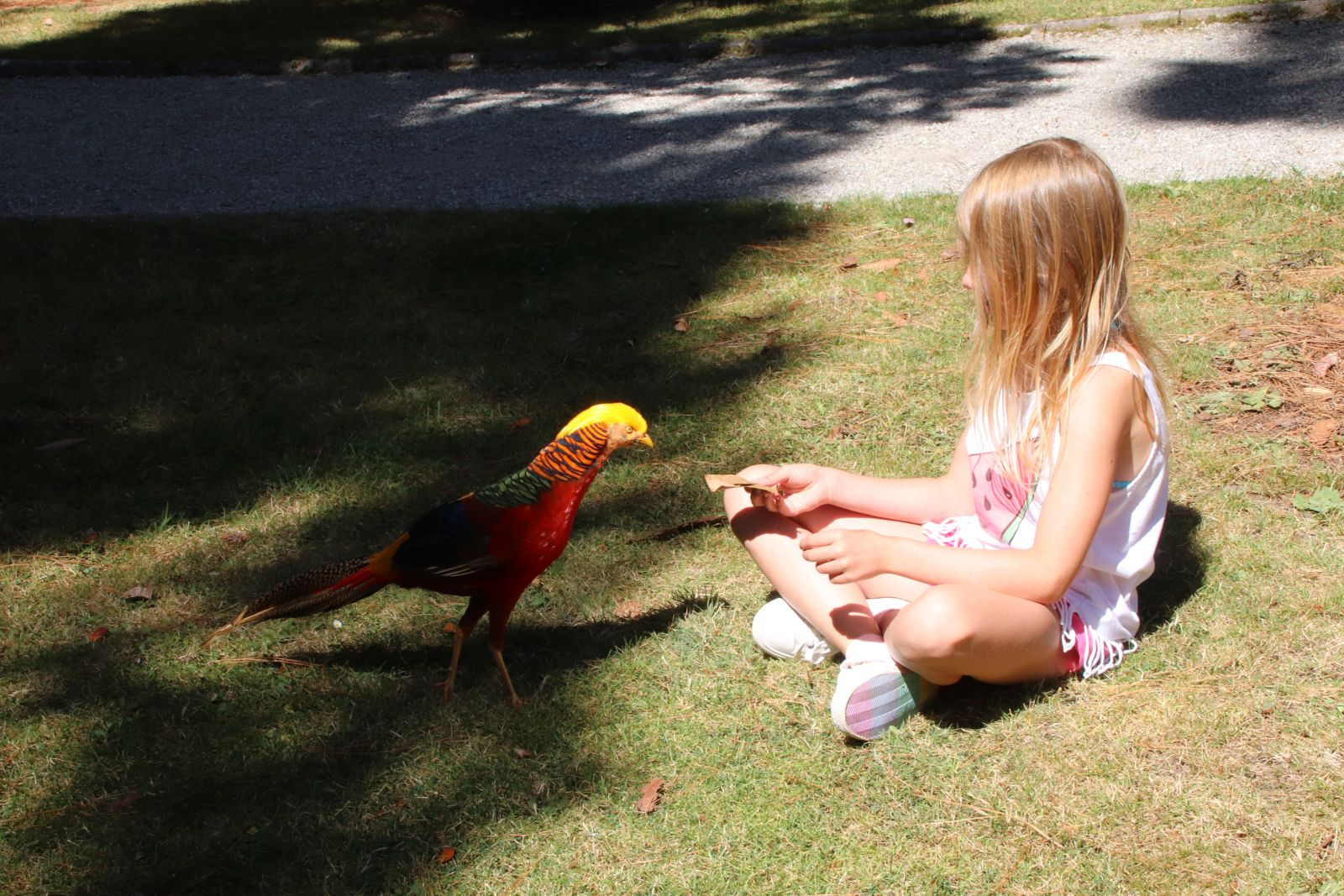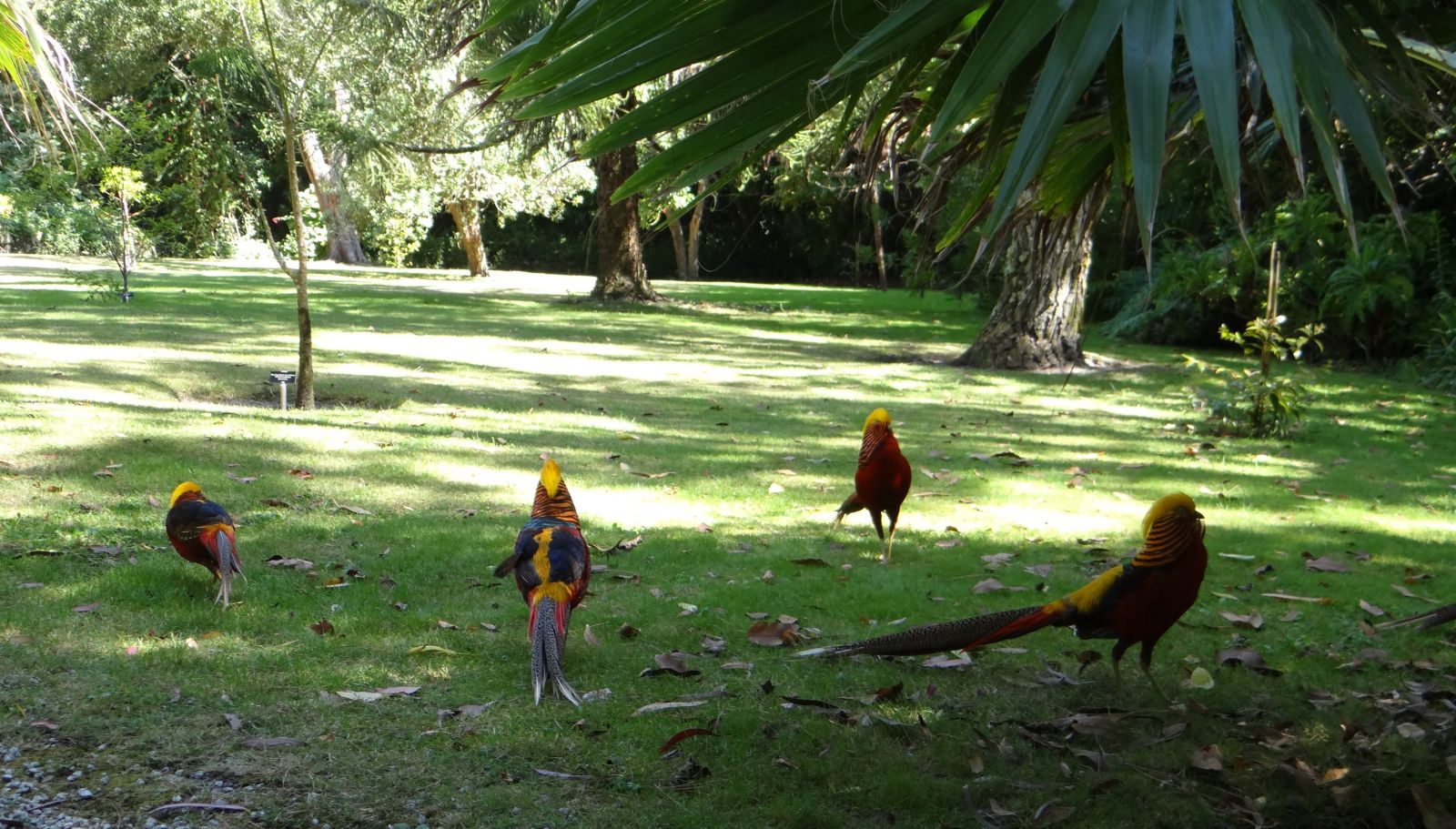 And we escape again
At Tresco, the abbey garden, that's not all. The weather is nice and warm, a time conducive to idleness ... at the end of the world, it seems to us. These suspended moments, in a piece of paradise, do so much good to our souls.
Ness runs there.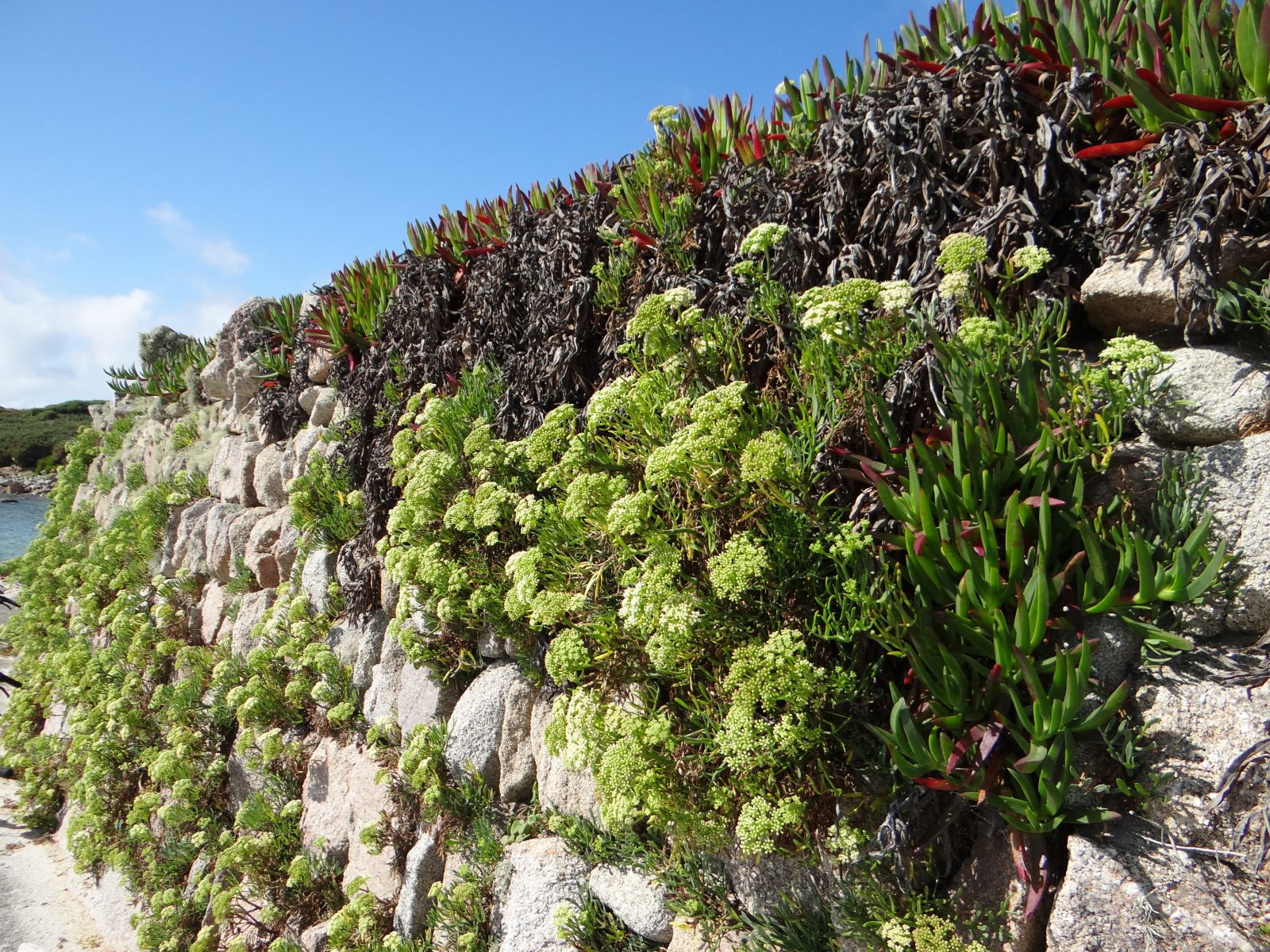 Alone, at the end of this world, thousands of grains of sand, a little earth, a little stone, what if we stayed there forever?